Wildcats move back into 2nd place with 5-2 win over Bulls
January 7, 2015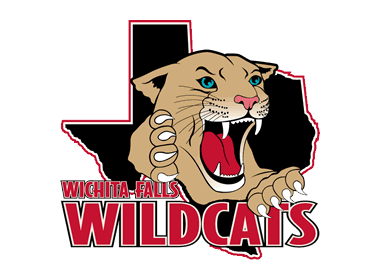 Amarillo 2 @ Wichita Falls 5 (by Ben Horner) - Three points from Colin Staub helped the Wichita Falls Wildcats claim their third win in succession, as they defeated the Amarillo Bulls, 5-2, and the Kay Yeager Coliseum on Tuesday night.
Nick Farmer also potted a goal and an assist in the win, and Alex Falconer, Cam Knight and Erich Jaeger also found twine for Wichita Falls. David Zevnik earned the start in net, making 22 saves on 24 shots faced to claim his 11th victory of the year.
The scoring began in the 1st period after Jake Townsend chipped a loose puck into the offensive zone from just outside the blue line, Staub skated onto the disc and charged to the net. Staub faked a shot and cut towards the middle, before tucking a backhand effort through the five-hole of Jacob Weatherly to make it 1-0 at 5:28 of the frame.
Amarillo capitalized on that save later in the first, with Cody Gylling swatting home a rebound from an acute angle to level the score, 1-1, on a two-man advantage for the Bulls.
Early in the middle frame, a power play opportunity allowed Luke Novak to give Amarillo a 2-1 lead.
First, Alex Falconer marked his return to the lineup with his seventh of the year. Evan Okeley won a battle for possession and chipped to the middle where Falconer raced onto it, before beating Weatherly through the legs to make it 2-2.
Four minutes later, Cam Knight got involved in the scoring as he ripped a shot into the top corner to give the 'Cats a 3-2 lead on his seventh tally of the season.
Wichita Falls tacked on a third second-period goal at 17:12 of the frame, taking advantage of a power play opportunity of its own to do so. After a lengthy spell in the offensive zone for the Wildcats, Erich Jaeger hacked at a loose puck that barely fluttered over a prone Weatherly and nestled into the back of the net to give the red-and-black a 4-2 lead heading into the break.
After two more penalty kills in the frame and with the net empty for Amarillo, Staub and Farmer combined to kill off the contest, as Staub chipped the disc towards the empty cage for Farmer to put home, as the game ended 5-2.