NAHL announces Easton Hockey Divisional Stars of the Week
January 5, 2015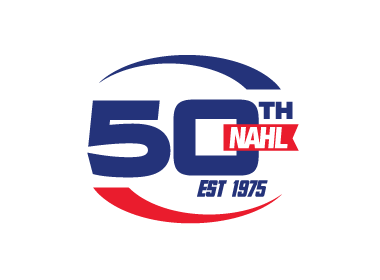 The North American Hockey League (NAHL) today announced the Divisional Stars of the Week presented by Easton Hockey for the week ending January 4, 2015. The Easton Hockey Divisional Stars of the Week is a weekly feature during the 2014-15 regular season that honors the top performing players in each of the four NAHL divisions. Only players that are nominated by their respective teams are considered for the Divisional Players of the Week award.
Central Division Star of the Week: Atte Tolvanen, goalie, Minot Minotauros
The Minotauros increased their Central Division lead this past week, taking 5 of a possible 6 points in three games. 20-year-old goalie Atte Tolvanen (6'0/188) played in two of the three games and allowed just one goal in regulation during the stretch. On New Year's Eve, the native of Vihti, Finland made 33 saves in a 4-1 win in Bismarck against the Bobcats. On Friday night, Tolvanen stopped all 20 shots that came his way through regulation and overtime, but earned just a point in a shootout loss. For the weekend, Tolvanen stopped 53 of a possible 54 shots that came his way and he has now won 7 of his last 8 games. He ranks in the Top 7 or better in wins, save percentage, goals against average and shutouts this season. "Atte has been a premier goalie in the league for over a year now and he is playing as good as I have seen him play. He is giving us a chance to win every night and proved this past week that even when we have trouble scoring, we still had a chance to win," said Minot head coach Marty Murray.
2nd Star: Chad Catt, G, Aberdeen Wings
Honorable Mention (alphabetical): Oskars Batna, F, Bismarck Bobcats – Colton Kramer, F, Minot Minotauros – Ryan Kubic, G, Brookings Blizzard – Hunter Shepard, G, Bismarck Bobcats
Midwest Division Star of the Week: Adam Carlson, goalie, Coulee Region Chill
Since October 25th, the Coulee Region Chill have lost just one of their last 19 games in regulation and this past weekend were faced with a tall task of facing the North Division-leading Janesville Jets in a home-and-home series and a road game in Austin on New Year's Eve. The Chill took 5 of a possible 6 points thanks in large part again to their goalie, Adam Carlson. The 20-year-old native of Edina, Minnesota was very good again in goal this past weekend as the 6'3/180 lbs. Mercyhurst recruit allowed just 2 goals in three games stopping a combined 96 of 98 shots that came his way. On New Year's Eve, Carlson made 34 saves in a 4-1 win in Austin. On Friday night, he made 33 saves and allowed just a single goal in regulation and overtime in a 2-1 shootout loss. He finished the weekend with a 29-save shutout on Saturday, his 4th shutout of the season, in a 3-0 win over the Jets. Carlson leads the NAHL in saves and wins and is 3rd in save percentage. "It was a big weekend against really good teams in Janesville and Austin. Coming off the news of getting an NCAA Division I commitment, Adam had zero let down. His focus now is getting better and winning a Robertson Cup, and he is playing like it," said Chill head coach AJ Degenhardt.
2nd Star: Ben Campbell, D, Kenai River Brown Bears
Honorable Mention (alphabetical): Hans Gorowsky, F, Fairbanks Ice Dogs – Joey Kaszupski, F, Kenai River Brown Bears – Patrick Munson, G, Fairbanks Ice Dogs
North Division Star of the Week: Casey Linkenheld, forward, Johnstown Tomahawks
The Johnstown Tomahawks made a big climb up the North standings thanks to three wins in four games this past week. Forward Casey Linkenheld, 19, was a force for the Tomahawks as the forward from Bartlett, Illinois, was able to rack up seven points (6 goals, 1 assist) in the four games. On Tuesday night, Linkenheld (6'0/185) scored one of Johnstown's three goals in a 6-3 loss against Fairbanks. The next night, he didn't score, but was a +1 in a 3-1 win. Over the weekend against Kenai River, Linkenheld had a hat-trick on Friday, which included the game-winning goal in a 5-3 win, and then on Saturday scored twice more, including another game-winning goal and added an assist in a 5-2 win and sweep of the Brown Bears. Linkenheld was also +3 for the week and now has 22 points in 25 games played this season."It was a big week for us to try and get points against some very good teams from the Midwest Division. Casey created chances all over the ice. His entire line played well at both ends of the ice, which led to some great chances that he finished on," said Johnstown head coach Mike Letizia.
2nd Star: Blake Weyrick, G, Janesville Jets
Honorable Mention (alphabetical): Trevor Cope, F, Soo Eagles – Evan Feno, F, Janesville Jets – Brendan Jaquay, F, Keystone Ice Miners – Nick Kossoff, G, Keystone Ice Miners – Trevor Recktenwald, F, Johnstown Tomahawks - Mitch Vandenburg, F, Soo Eagles
South Division Star of the Week: TJ Black, goalie, Lone Star Brahmas
The Lone Star Brahmas are all alone in 2nd place in the South thanks to three wins this past week and 19-year-old goalie TJ Black was in goal for all three wins. The native of Chicago, Illinois, began the week with a 12-save road shutout of the Rio Grande Valley Killer Bees on Monday. He followed that up with his second straight shutout, as he made 16 saves in a 5-0 home win against the Odessa Jackalopes on Friday. To finish the weekend, Black (5'9/160) made 20 saves in a 5-2 win over Odessa on Saturday, which completed the weekend sweep. In his 20 appearances so far this season, Black has only allowed more than two goals on only two occasions and his 1.83 goals against average ranks 3rd in the NAHL. "TJ has been playing very well the past couple of months. His rebound control has been fantastic and the chances that our opponents have had have been limited because their chances are one and done with the way he has been controlling his saves," said Brahmas head coach Dan Wildfong.
2nd Star: Nick Farmer, F, Wichita Falls Wildcats
Honorable Mention (alphabetical): Jake Ahlgren, F, Wenatchee Wild – Jasen Fernsler, F, Topeka RoadRunners – Will Harrison, F, Amarillo Bulls – Tanner Lomsnes, F, Corpus Christi IceRays – Luke Novak, F, Amarillo Bulls – Zach Quinn, G, Wenatchee Wild – Matej Tomek, G, Topeka RoadRunners - Jake Townsend, D, Wichita Falls Wildcats