Wilderness handle Magicians on Sunday, 4-1
January 5, 2015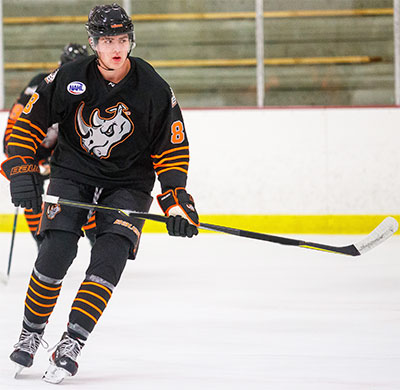 MN Wilderness 4 @ MN Magicians 1 – Three, 3rd period goals were the difference for the Minnesota Wilderness as they picked up a 4-1 road win against the Minnesota Magicians in the lone NAHL game on Sunday.
Aaron Miller picked up two assists in the game, which included the game's first goal, which came early in the 2nd period on Michael Covach's 10th goal of the season. Brett Gravelle picked up the second assist. Eight minutes later, Niklas Lehtimaki made it 2-0 with his team-leading 13th goal with assists to Darian Romanko and Bradley Johnson. Just :18 seconds later, Robb Stautz scored to make it 3-0 and it would stay that way after two periods.
Tyler Cline would add a power play goal early in the 3rd period to make it 4-0 for the Wilderness. The Magicians ended the shutout attempt of Ryan Anderson with just six seconds remaining as Kris McKinzie lit the lamp for the lone Magicians goal.
Anderson made 23 saves on the night for his 11th win of the season. Cole Weaver took the loss for the Magicians, making 30 saves.