NAHL announces Easton Divisional Stars of the Week
December 22, 2014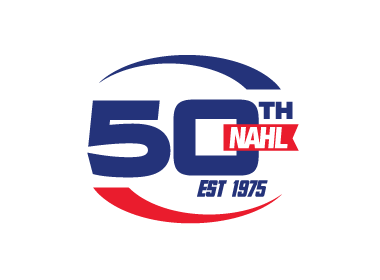 The North American Hockey League (NAHL) today announced the Divisional Stars of the Week presented by Easton Hockey for the week ending December 21, 2014. The Easton Hockey Divisional Stars of the Week is a weekly feature during the 2014-15 regular season that honors the top performing players in each of the four NAHL divisions. Only players that are nominated by their respective teams are considered for the Divisional Players of the Week award.
Central Division Star of the Week: Luke Dietsch, forward, Austin Bruins
The Central Division is currently a two-horse race thanks to a hot play of both Minot and Austin. The Bruins are right on the Minotauros heels thanks to a weekend home-and-home sweep of the Minnesota Magicians. 20-year-old forward Luke Dietsch has found a renewed energy in the month of December and that continued for the St. Paul, Minnesota native this past weekend as he totaled four points in the two wins. On Friday, Dietsch (6'1/200) had two assists in a 6-1 home win over the Magicians. On Saturday, Dietsch had the game-winning goal and another assist in a 4-1 road win. Dietsch was also +3 on the weekend and has 21 points in 32 games played this season. "Luke has really played well the past few weeks and has really meshed with his new linemates including Tony Uglem. He is doing the necessary things to score goals and make something happen on the ice," said Bruins head coach Chris Tok.
2nd Star: Tony Uglem, F, Austin Bruins
Honorable Mention (alphabetical): Colin O'Neill, F, Aberdeen Wings – Tanner Okeson, D, Aberdeen Wings – Tanner Salsberry, D, Bismarck Bobcats – John Snodgrass, F, Minot Minotauros – Atte Tolvanen, G, Minot Minotauros - Cullen Willox, F, Bismarck Bobcats
Midwest Division Star of the Week: Ryan Anderson, goalie, Minnesota Wilderness
There is a new leader in the Midwest Division and it is the Minnesota Wilderness. That is thanks in part to their great play during November and December, which included a weekend home sweep this past week of the Soo Eagles. 19-year-old goalie Ryan Anderson (6'1/190) played great during the weekend as the native of Roseau, Minnesota, stopped 43 of 45 shots in a pair of wins, which included his 4th shutout of the season. On Friday, Anderson stopped all 23 shots that came his way in a 3-0 shutout of the Eagles. On Saturday, he made 20 saves in an 8-2 win. Anderson's four shutouts currently ranks 2nd among all NAHL goaltenders. "Since Brock kautz got injured, Ryan has been a solid performer for us. He has been giving us a chance to win every night," said Wilderness head coach Corey Millen.
2nd Star: Tyler Cline, F, Minnesota Wilderness
Honorable Mention (alphabetical): Blake Kelley, F, Coulee Region Chill – Adam Lovick, F, Coulee Region Chill
North Division Star of the Week: Matt Jurusik, goalie, Janesville Jets
Perhaps no goalie in the NAHL is hotter right now than Janesville goalie Matt Jurusik, 17. The native of La Grange, Illinois, picked up his second straight Midwest Star of the Week honor thanks to another outstanding weekend as the Jets picked up a weekend home sweep of the Michigan Warriors. Jurusik (6'1/195) stopped 58 of the 59 shots that came his way in the two games, which included his second shutout in as many weeks. On Friday, Jurusik made 22 saves in a 6-1 win and on Saturday, he stopped all 36 shots that came his way in a 3-0 win. Jurusik has won his last seven starts, only allowing 10 goals in that span. "Matt has been very consistent for us, he has controlled games like a veteran this season. He has a lot of eyes on him and he keeps getting better and better. His focus is the team success and he is giving us opportunity to win every time he's in the net," said Jets head coach Joe Dibble.
2nd Star: Ryan Bednard, G, Johnstown Tomahawks
Honorable Mention (alphabetical): Alex Blankenburg, G, Keystone Ice Miners – Cam Cooper, D, Springfield Jr. Blues – Niko Dellamaggorie, G, Springfield Jr. Blues – Jon Hall, F, Keystone Ice Miners – Luke Lynch, F, Johnstown Tomahawks – Adam Winborg, F, Janesville Jets
South Division Star of the Week: Kasper Emanuelsson, defense, Amarillo Bulls
It was a big weekend for the Amarillo Bulls as they picked up a home sweep of the Lone Star Brahmas. Scoring was at a premium and Bulls defenseman Kasper Emanuelsson, 19, was not only good on the defensive end as the Bulls allowed just three goals, but he also chipped in offensively in both wins. The native of Leksand, Sweden, totaled three assists and was +3 in the two wins. On Friday, Emanuelsson (5'6/185) assisted on both Bulls goals, including the overtime-winner, in a 2-1 win. On Saturday, Emanuelsson assisted on the first Bulls goal in a 3-2 win. For the season, Emanuelsson is 2nd in Bulls scoring with 16 points in just 20 games played and he leads the team in plus/minus with a +6 rating. "Kasper is a very offensive-minder defenseman, who has a great shot, quick release and has great hockey sense. When he plays at both ends of the rink like he did this weekend, he is very effective hockey player," said Bulls head coach Jon Rogger.
2nd Star: Konstantin Chernyuk, D, Wichita Falls Wildcats
Honorable Mention (alphabetical): Austin Beaulieu, F, Wichita Falls Wildcats – Colin Burston, F, Wenatchee Wild – Mike Coyne, F, Wenatchee Wild – Tanner Creel, G, Odessa Jackalopes – Jacob Weatherly, G, Amarillo Bulls