Bulls give back during holiday season
December 22, 2014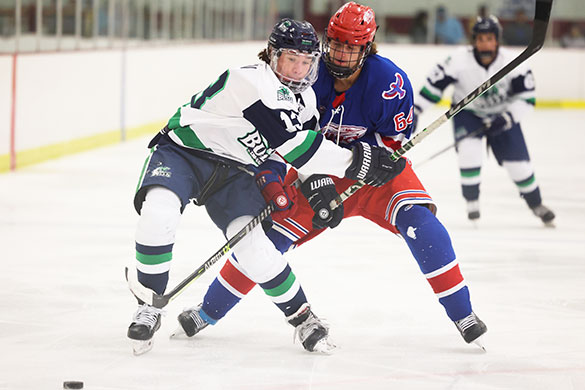 By Denis Puska, Amarillo Bulls
This time of the year is always difficult for families and children and the Amarillo Bulls did their best to bring some holiday cheer to them.
Bulls players were active in the community this past week with several visits including to local area hospitals. Candy canes and signed souvenir programs were given to children and staff at both BSA Children's Hospital Ward and Northwest Children's Hospital as Bulls players brought smiles to everyone's faces.
Several season ticket holders had a pleasant surprise as the Amarillo Bulls team bus rolled up to their doors and out popped the entire team. During the short visit players sang Christmas Carols and wish them a great holiday season. The appreciative Season Ticket holders made sure the Bulls players didn't leave empty handed as many had holiday treats for them.
One of the big promotions during the holiday season was the Bulls supporting the Amarillo College food pantry. Fans received free Bulls' tickets for giving three non-perishable food items. Bulls players took time for their schedule to guest co-host on the afternoon program on FM90 to talk more about the special promotion and the team.
The Amarillo Bulls have an extended Christmas break this year and their next opportunity to hit the ice as well as give back to the community will be on Sunday, Dec. 28 at 7:30 pm when they participate in a unique event called Hockey Day In Texas.
That night the Bulls will take on a celebrity team comprised of local personalities and those former professional hockey players who now call the Texas Panhandle home. Admission is $5 for that game and tickets can be picked up at the door. All proceeds from the 8 hour and 6 minute marathon game go to benefit Amarillo Youth Hockey.