Chill goalie Carlson makes NCAA DI commitment
December 16, 2014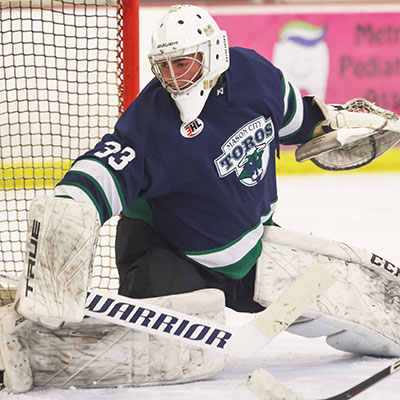 The Coulee Region Chill, proud members of the North American Hockey League (NAHL), are pleased to announce that goaltender Adam Carlson has committed to play NCAA Division I hockey for Mercyhurst College. Mercyhurst are members of the Atlantic Hockey Association (AHA).
It caps off a special couple of weeks for Carlson, 20, which also saw him honored as the NAHL Goaltender of the Month for November. The native of Edina, Minnesota, is a veteran who has developed into one of the NAHL's elite.
Carlson (6'3/180) started and played in all nine Chill games during the month of November, amassing a 6-1-2 record. Carlson faced a total of 313 shots during the month and made 296 saves. That equated to a 94.6% save percentage and a 1.84 goals against average.
Carlson has followed that up with three more wins in three tries in December, as he has now won his last five starts. Carlson is tied for 2nd in the NAHL with 14 wins and he leads the league in both games and minutes played. His 93.3% save percentage ranks him 3rd in the NAHL.
Carlson's story is one of dreams and opportunity. Coming out of high school in Minnesota, he didn't even start for his varsity high school team. Undrafted and untendered, he was the last goalie that was selected for Coulee Region's main camp in the summer 2013. He made the team and had a breakout performance at the 2013 NAHL Showcase, where afterward, he was named the NAHL Goaltender of the Month for September of 2013. The rest, as they say, is history.
"I am very excited about the entire situation. I talked to a lot a people and got some good advice and the common theme was to commit to a program that showed they really wanted me, and Mercyhurst was that team," said Carlson. "I felt like they were the ones that invested the most time and energy in wanting me to come to play for them, so I think it was right for me to give them my commitment. I feel so fortunate to have ended up with the Chill and the NAHL. It is up to the player to make the most of their opportunity, but the important thing about the NAHL and a team like the Chill is that the opportunity exists for every player. It isn't a dream or fiction. If you work hard and take advantage of the system in place, good things can happen and I am proof. Coming out of high school I had something to prove and the Chill and the NAHL allowed me that platform to improve and perform. I will work even harder to become a better goalie and show I am ready for the NCAA."
"Adam has been the backbone of our team this season and now his dream of playing college hockey is coming true. I could not be more excited for the kid as he has put many hours into earning this opportunity," said Coulee Region head coach AJ Degenhardt. "Mercyhurst will not only be getting a top notch goalie, but and outstanding kid as well. I cannot wait to see where his future in hockey takes him. The biggest compliment I can give him is that he is a competitor. He plays hard in all situations… practices and games. His level of motivation and competition never strays," said Degenhardt.