RoadRunners complete three-game sweep of Wild
December 15, 2014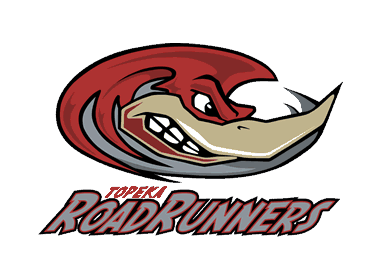 Wenatchee 2 @ Topeka 3
- The Topeka RoadRunners completed their pre-Christmas portion of the schedule with a 3 game sweep of the Wenatchee Wild, capped by a 3-2 win on Sunday evening in the Kansas Expocentre. Topeka got on the board first when Jasen Fernsler flipped home a puck at the side of the net, assisted by Sly Sutter and Daniel Brickley at 11:46 on the power play. The 'Runners added a second power play goal at 18:05 when Sly Sutter punched home his 11th of the year from Mike Gornall and Fernsler. Topeka led 2-0 after 1, outshooting Wenatchee 16-7. The second period saw the opposite, as the Wild outshot Topeka 18-7 and rallied to tie the game. The first goal came just :07 seconds into the period when Chris Jones sailed a floater toward the net that dipped and eluded Matej Tomek to cut the 'Runners lead to 2-1. Wenatchee tied the game on a Dakota Raabe shot that finished off a crisp crossing pass at 5:23 and the Wild had all the momentum. Topeka struck back as Ryan Polin ripped home a nice feed from below the goal line from Dominic Lutz at 13:18 and Topeka led 3-2 at the second intermission. The final period saw Topeka lock down with a combination of solid forechecking, tenacious defense and solid goaltending, holding off a furious Wenatchee push to hold on for the 3-2 win.
Boxscore
Johnstown 1 @ Springfield 3
- The Johnstown Tomahawks fell 3-1 in the weekend finale against the Springfield Jr. Blues on Sunday at the Nelson Center in Springfield, Ill. Grant Meyer got the Jr. Blues on the board first, as Grant Meyer deflected the Lester Lancaster shot past Johnstown goaltender Andy Lee at 9:02 of the first period. Casey Linkenheld tied the game early in the second period, scoring on a shot from above the right face-off circle at 1:09. Steve Quagliata earned the assist on the power-play goal. The score remained the same until the third period, when Joshua Lammon took advantage of a 2-on-1 opportunity to score a shorthanded goal with 6:51 remaining in regulation. Brady Tomlak set the final score with an empty-net goal as time expired. Dryden McKay stopped 21 of 22 shots in the win, while Andy Lee took the loss in his first start, stopping 23 of 25 shots. Johnstown went 1-for-5 on the power play and 2-for-2 on the penalty kill.
Boxscore