NAHL announces Easton Hockey Divisional Stars of the Week
December 8, 2014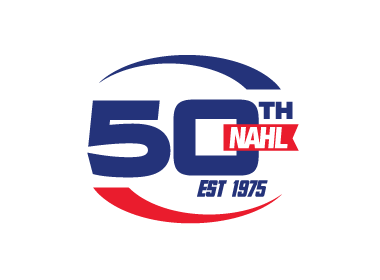 The North American Hockey League (NAHL) today announced the Divisional Stars of the Week presented by Easton Hockey for the week ending December 7, 2014. The Easton Hockey Divisional Stars of the Week is a weekly feature during the 2014-15 regular season that honors the top performing players in each of the four NAHL divisions. Only players that are nominated by their respective teams are considered for the Divisional Players of the Week award.
Central Division Star of the Week: Trevor Boyd, forward, Austin Bruins
The Austin Bruins posted two more wins this past weekend with wins over the Minnesota Wilderness and Minnesota Magicians. Leading the way was 19-year-old forward Trevor Boyd (6'3/200) who had five points over the weekend, including four goals. On Friday, the native of Muskegon, Michigan, had a hat-trick and an assist in a 7-3 road win against the Magicians. On Saturday, he added the only regulation goal and then the shootout winner in a 2-1 win over the Wilderness. He was also a +3 during the weekend. For the season, Boyd leads the Bruins in scoring with 24 points in 26 games played. "Trevor has done a good job recently of getting pucks to the net. He has been one of the most consistent players for us this season and right now he and his line are playing at a very high level," said Bruins head coach Chris Tok.
2nd Star: Tony German, D, Bismarck Bobcats
Honorable Mention (alphabetical): Joe Anderson, F, Brookings Blizzard – Jake Kielly, G, Austin Bruins – Christian Mohs, F, Minot Minotauros – Johnny Walker, F, Minot Minotauros – Cullen Willox, F, Bismarck Bobcats
Midwest Division Star of the Week: Sean Lang, defenseman, Coulee Region Chill
A three-game sweep of Kenai River moved the Coulee Region Chill into a tie for 2nd place in the Midwest Division and defenseman Sean Lang, 20, played a big role in his team's success. The native of Apple Valley, Minnesota, was able to register at least a point in all three wins as the Chill pick up three more wins to run their winning streak to five straight games. On Wednesday, Lang (6'2/190) had the game-winning goal in a 6-2 win. On Friday, he had two assists in a 6-4 win and on Saturday, Lang had another assist in a 5-2 win over the Brown Bears. In 20 games this season, Lang has 16 points. "Sean just recently returned from an injury, so for him to be playing this well right now is a testament to his skill and hard work. I thought he was very consistent in both ends of the ice," said Chill head coach AJ Degenhardt.
2nd Star: Richard Zehnal, F, Coulee Region Chill
Honorable Mention (alphabetical): Chris Amsden, G, Minnesota Magicians – Ryan Anderson, G, Minnesota Wilderness – Darian Romanko, F, Minnesota Wilderness
North Division Star of the Week: Mitch Fossier, forward, Janesville Jets
The biggest division lead in the NAHL belongs to the Janesville Jets thanks to their weekend home sweep of the Soo Eagles. Rookie forward Mitch Fossier, 17, racked up the points this weekend as the native of Alpharetta, Georgia totaled seven points in the two wins and was also a +5. On Friday, Fossier (5'11/175) had four assists in a 6-3 wins over the Eagles. On Saturday, Fossier had the game-winning goal and added two more assists in a 4-1 win. For the season, Fossier is 7th in Jets scoring with 18 points in 27 games played. Fossier is committed to play NCAA Division I hockey at the University of Maine. "Mitch did a little bit of everything this weekend. He and his line were great. As a rookie, he plays in all situations and plays well at both ends of the rink. He puts the team's success ahead of his own and that makes him very popular in the lockeroom with his teammates," said Jets head coach Joe Dibble.
2nd Star: AJ Marcinek, F, Michigan Warriors
Honorable Mention (alphabetical): Tyler Funk, F, Springfield Jr. Blues – Tommy Horn, F, Keystone Ice Miners – Brendan Jacques, F, Springfield Jr. Blues – Matt Jurusik, G, Janesville Jets – Nick Kossoff, G, Keystone Ice Miners
South Division Star of the Week: Max Reisinger, forward, Wichita Falls Wildcats
Before Max Reisinger head off to the World Juniors to play for his native Austria, the Wildcats forward earned South Star of the Week honors thanks to his six point weekend in a home sweep of the Corpus Christi IceRays. The 6'0/200 lbs. forward from Walding, Austria started the weekend with two goals and an assist in a 7-1 win on Friday. The next night, Reisinger, 19, had a goal and two assists in an 8-2 win. He was also a +5 on the weekend. In 21 games this season, Reisinger has 18 points. "Max is a great player and great kid. He has been playing really well for a few weeks now. He has become faster and quicker with the puck and is making very good decisions. We used him in all situations and he excelled," said Wildcats head coach John LaFontaine.
2nd Star: Andy Madej, D, Lone Star Brahmas
Honorable Mention (alphabetical): Ryan Cusin, F, Corpus Christi IceRays – Tyler Irvine, F, Topeka RoadRunners – Matt Koch, D, Wichita Falls Wildcats – Luke Novak, F, Amarillo Bulls – Zach Quinn, G, Wenatchee Wild – Daniel Rzavsky, F, Topeka RoadRunners – Sebastian Vidmar, F, Lone Star Brahmas – Jacob Weatherly, G, Amarillo Bulls