Wildcats goalie Shaw makes NCAA DI commitment
November 19, 2014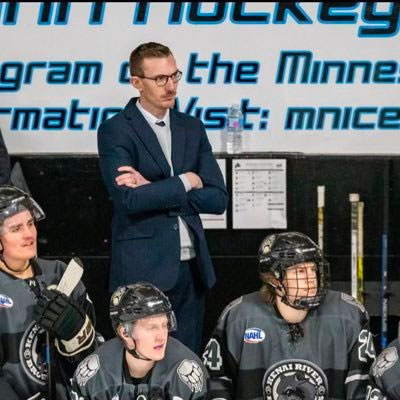 By Ben Horner, Wichita Falls Wildcats
Wichita Falls Wildcats and NAHL goaltender Austin Shaw has announced his commitment to play college hockey as a member of the Princeton University Tigers beginning in the fall of 2015.
"I am extremely excited to commit to Princeton, and I could not have done it without the help of my teammates and coaches," Shaw said. "Princeton is a special place, and one thing that really struck me was the hockey program is a great group of guys who were all humble, and there for the right reasons. I really believe in what [Princeton Head] Coach [Ron] Fogerty is doing, and I'm looking forward to a great few years."
Shaw's commitment marks the conclusion of a whirlwind few months that began with the goaltender fighting just to earn a place on the roster, and ended with him receiving more interest from college coaches than he ever had before.
"Coming into the season, I knew I was the rookie so I had to show that was my position to have," Shaw remarked. "I was never a crazy top prospect who was making a name for himself at 16, but I just jumped in there and tried to seize my opportunity [at the North American Hockey League Showcase] in Blaine, [Minn.] and things snowballed from there."
After turning heads with a shutout in his first-career start against the Minnesota Wilderness, Shaw suddenly found himself fielding calls from Division I programs from across the country.
"The speed of the recruiting process surprised me and my family a bit" Shaw said. "We were always the ones reaching out to coaches through some kind of mutual relationship, so it was really exciting to have coaches approaching me."
It could be easy for a player to lose focus with so much attention coming their way, however, Wildcats Head Coach John LaFontaine never had any concerns about the way his young goaltender handled himself.
"I was very impressed with the way Austin handled the whole process," LaFontaine said. "The attention he received was overwhelming at times, and he handled it with a professionalism and maturity beyond his years. He was just as, if not more concerned with the impact on his team and teammates, as he was about his recruiting process."
Through all the phone calls, conversations and visits, the Colorado-native remained determined to achieve his goal of attending an Ivy League institution.
"I've always had a dream of going to an Ivy League school," the netminder said. "I always tried to push myself in school, and grades were something that I took pride in. I think everyone wants to be a professional hockey player, but at some point that dream might run out, and you have to be prepared and have something to fall back on."
LaFontaine was quick to highlight that Shaw had never departed from his dream of attending an Ivy League school, saying "he showed great character to not be swayed from that goal with so much other attention around him."
With the recruiting process behind him and a commitment secured, Shaw now has only one goal in mind.
"I just want to focus on helping the team be as successful as we can be," he said. "It will be really nice not to have to worry about anything else but that."
Shaw becomes the first player in team history to commit to Princeton while playing for the Wildcats, and is the second player overall to commit to the Ivy League institution, joining defenseman Kevin Liss (2009-10) who committed to the Tigers after his time in Wichita Falls.