Big weekend has Blizzard back in business
December 14, 2009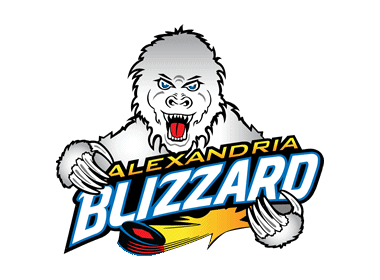 Read the full NAHL Weekly Release.
Mired in a six-game losing streak - five of which were decided by 2-1 counts - the Alexandria Blizzard took the Upper Midwest by storm last weekend, unleashing for 14 goals on its way to three much-needed victories.

"It's nice to see the players rewarded for their hard work," said Blizzard head coach Doc Delcastillo, whose team improved to 9-13-3 on the season. "Losing six in a row was very frustrating because we were playing pretty good hockey at the time."

The Blizzard opened its weekend with a 6-2 victory over North Iowa on Friday. Tommy Westmark, Steve Zierke and Simon Cederborg-Nilsson (game-winner) each connected for a goal and an assist in the win, and goaltender Chris Kamal turned aside 30 shots.

Westmark tallied the game-winning goal and an assist the next night as Alexandria downed the Outlaws, 4-3. Kyle Clay potted two goals in the victory, and Kamal made 39 saves.

On Sunday, Westmark added two more goals to his totals as the Blizzard doubled up the Albert Lea Thunder, 4-2. Brett Wall rang up the game-winning marker, and Kamal stopped 30 shots to pick up his third win in as many nights.

While not the record the Blizzard had hoped for 25 games into the season, with Delcastillo in his first season behind the Blizzard's bench and only three players returning from last season, the coach knew there would be a period adjustment.

"We're all pretty much new to the organization, but I've been happy with the foundation we've built for our team identity," said Delcastillo. "We work hard and we're very disciplined, on and off the ice, and we have a great group of young men who are very committed to the community of Alexandria."

Kamal, in his first season, has been a difference-maker for the Blizzard for much of the season. With his three wins last weekend, the 20-year-old netminder from Alpharetta, Ga., now holds a 7-6-2 record to compliment a 2.04 goals-against average (fourth among NAHL goaltenders) and a .928 save percentage.

"He's been very consistent for us and has given us a chance (to win) in every game we've played this season," said Delcastillo. "He works extremely hard in practice and he'll only continue to get better.

"If there's a Division I team looking for a goalie next year, Chris should be on their radar."

As should Clay, another college hopeful who leads the Blizzard in scoring with 10 goals for 21 points through 25 games.

"Kyle's and incredible leader," Delcastillo said of the 20-year-old from Henderson, Nev. "He's done a great job for us, on and off the ice, and he'll help a team at the Division I level next season. He has a great scoring knack around the net."

And he's also helped take the team under his wing, along with fellow captains Tyler Swanson and Wall, a Lake Superior State University (CCHA) recruit.

"Our veterans have shown great leadership qualities," said Delcastillo. "Those three guys have done an outstanding job."

The Blizzard also boasts a gifted crop of newcomers, including Westmark, forward Alex Alenbernd and defenseman Michael Piepper, all of whom have made marked progress since September.

"We have some very good young players who've shown great strides since the beginning of the season," said Delcastillo. "These guys, in particular, have taken another step over the last month."

And continued improvement will only lead to more college attention. With Wall the only Blizzard player committed to a Division I program to date, Delcastillo has little doubt more will follow suit with more success, on and off the ice.

"The interest in our team and our players will continue to get better," said the coach. "The recruiting process is a long one, and I'd expect at this point the players who've shown they're ready for the next level will be recognized and recruited."

And Delcastillo, a Minnesota native who boasts years of coaching experience in the junior and Division I ranks, can't say enough about his new surroundings when it comes to grooming his student-athletes for college puck and beyond.

"Alexandria is a great city," he said. "The support we get from the community is awesome. My family and our team have been very impressed."

And with the holidays approaching, the Blizzard wants nothing more than to continue its winning ways as it battles its way up the Central Division standings.

"We need to continue to play defense the way we did in the first half (of the season) and try to find ways to score more goals second half," said Delcastillo.
AROUND THE NAHL
ALASKA AVALANCHE: Forward Blake Huppert (Wasilla, Alaska) connected for a goal and three assists as the Avalanche split a pair of games against Kenai River.

ALBERT LEA THUNDER: Forward Brett Meyers (Brooklyn Park, Minn.) potted two goals, including the game-winner, and an assist as the Thunder skated to a 7-3 victory over Bismarck on Friday.

ALEXANDRIA BLIZZARD: Chris Franks (Apple Valley, Minn.) chipped in two assists in three Blizzard wins, tying him for 11th in league scoring among defensemen with 14 points.

ALPENA ICEDIGGERS: With their game against Motor City postponed last weekend due to inclement weather, the IceDiggers will host Marquette for three games beginning on Friday.

BISMARCK BOBCATS: Forward Casey Kleisinger (Edwards, Colo.) struck for three goals and an assist as the Bobcats split a two-game series with Albert Lea. "Casey is becoming one of the most complete players in the NAHL," said head coach Byron Pool. "He's always paid great attention to detail on the defensive side of the puck, and this year he's really picked up his offensive game."

FAIRBANKS ICE DOGS: In his first start of the season on Saturday, goaltender Joe Phillippi (Shoreview, Minn.) made 33 saves in a 5-3 win over Kenai River.

JANESVILLE JETS: With their two-game series against Motor City postponed last weekend due to inclement weather, the Jets will host Traverse City for a pair of games beginning on Friday.

KENAI RIVER BROWN BEARS: Forward Johan Skinnars recorded four goals last week in his first three games with the team, including two (game-winner) in the Brown Bears' 4-2 win over Fairbanks on Saturday.

MARQUETTE RANGERS: Returning from injury, goaltender Kevin Kissaw (Goodrich, Mich.) made 27 saves in the Rangers' 5-2 win over Traverse City on Thursday. It was his first start since Oct. 30. "Kevin's return was a big lift for our hockey club," said head coach Kenny Miller. "He's a leader on this team and, when he's on his game, he's an elite goaltender."

MOTOR CITY METAL JACKETS: With their three games last weekend postponed due to inclement weather, the Metal Jackets will travel to St. Louis for a two-game set beginning on Friday.

NORTH IOWA OUTLAWS: Forward Markus Gander (Italy) assisted on three goals as the Outlaws dropped a two-game set against Alexandria. He was also a plus-3 on the weekend.

OWATONNA EXPRESS: Forward Cory Thorson (Crystal, Minn.) connected for a goal and three assists as the Express dropped three games to Topeka.

SPRINGFIELD JR. BLUES: Forward Ross Andersen (River Falls, Wis.) scored the Jr. Blues' only goal of the weekend as they dropped two games to St. Louis.

ST. LOUIS BANDITS: In his first game with the Bandits - a 3-0 win over Springfield on Friday - defenseman Patrick Raley (Inverness, Ill.) notched the game-winning goal.

TEXAS TORNADO: Forward Scott Deur (Big Rapids, Mich.) put home a goal in regulation and one in the shootout as the Tornado downed Wichita Falls on Saturday, 5-4.

TOPEKA ROADRUNNERS: Forward Erik Higby (New Braunfels, Texas) racked up seven points (goal, six assists) as the RoadRunners skated to a three-game sweep over Owatonna. "Erik worked hard consistently every game last weekend and was a factor in every area," said assistant coach R.J. Enga.

TRAVERSE CITY NORTH STARS: Forward Doug Clifford (Woodhaven, Mich.) tallied three goals, including the game-winner in the North Stars' 3-2 triumph on Saturday, as Traverse City split a pair of games with Marquette.

WENATCHEE WILD: Defenseman Kyle Brodie (Northglenn, Colo.), the league's leading scorer among blueliners, has committed to Bemidji State University (CHA) for next season when the program joins the WCHA.

WICHITA FALLS WILDCATS: Forward Brian Sheehan (St. Louis) connected for two goals - he leads the league with 21 - and and assist as the Wildcats picked up three points in two games against Texas. "Brian continues to put points up for us," said head coach John Bowkus. "He has a great shot and seems to find a way to score some timely goals."