Surging Ice Dogs beginning to bark out West
November 30, 2009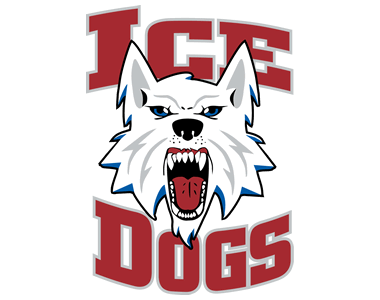 Battling inconsistency for the better part of the season, the Fairbanks Ice Dogs can now call themselves winners of six in a row, thanks in part to three more victories last weekend over the Kenai River Brown Bears.

The wins position Fairbanks in third place in the West Division standings, four points behind Alaska, which dropped two games last weekend to Wenatchee.

"Anytime you can go on the road and get three wins, it's huge," said Ice Dogs head coach Josh Hauge, whose team improved to 16-11-1 on the season. "We haven't strung a lot of wins together, so it's been very nice to get on this streak."

Aaron McGill and Tyler Voigt each connected for a pair of goals in the Ice Dogs' 6-2 win on Friday. Jared Larson scored the game-winner and added an assist, and goaltender Mike Taffe made 22 saves between the pipes.

The next night, Michael Juola put home two goals and two assists and Larson again rang up the game-winning goal and two assists as Fairbanks doubled-up Kenai River, 4-2. Taffe stopped 19 shots.

On Sunday, the Ice Dogs skated to a 3-2 shootout victory as Kyle Politz and James Saintey scored in regulation and McGill tallied the winner in the shootout. Taffe turned aside 24 shots in regulation and overtime and five of six in the shootout.

The Ice Dogs' winning streak comes on the heels of a disappointing stretch in which they picked up just one point in six contests. Hauge pegs Fairbanks' 6-2 loss at home to Texas on Nov. 13 as his team's wakeup call.

"We'd lost some games that we felt we should have won prior to that (game against the Tornado), but nothing really seemed to get the guys' attention until we got embarrassed like that," said the coach.

Taffe has been front and center in the Ice Dogs' reversal of fortunes. The 18-year-old netminder from Maple Grove, Minn., has played every minute during the team's winning streak to improve to 11-1 on the season.

"He was very good for us and he's given us a chance (to win) every time he's played," said Hauge. "He has so much potential and ability."

Upfront, Politz has demonstrated a tireless work ethic and continues to generate chances, according to Hauge. The coach has also been happy with the line of Voigt, Joe Krause and Jon Feavel.

Jon Schreiner, Josh Nelson, Brock Carlston and Zach Tolkinen have impressed on the blue line.

"We have a great group of guys and we have the ability to score a lot of goals," said Hauge. "But we haven't been as consistent as we need to be and we're still learning to defend as a team."

As for the first-year Ice Dogs, Sean O'Roarke, an 18-year-old from Alto Loma, Calif., has shown plenty of promise on defense.

"He'll be a very good college hockey player someday," said Hauge.

Speaking of college, the first two players from this year's Ice Dogs team recently locked up their Division I commitments in Juola (Brown University, ECAC) and Jared Linnell (University of Alaska, WCHA). Hauge has little doubt more college plans will be laid in short time.

"We expect to have a few more commitments in the near future," he said. "We've had a lot of schools asking about a lot of different guys right now."

To no surprise, Fairbanks continues to prove itself as one of the premier junior hockey destinations. On top of its college commitment list, which annually hits double-digits, the team is averaging over 2,000 a game in attendance to date - second most in the entire NAHL.

"There's no better place to play junior hockey," said Hauge. "Our fans are so great and very supportive, and the players that come here are part of our family and I think that's different from a lot of teams."
AROUND THE NAHL
ALASKA AVALANCHE: Forward Nardo Nagtzaam (Netherlands) added to his team-leading point total (27) with two assists in a pair of Avalanche losses to Wenatchee.

ALBERT LEA THUNDER: Forward Alex Niestrom (Darien, Ill.) connected for a pair of goals and an assist in the Thunder's 6-1 triumph over Owatonna on Saturday. He was also a plus-3. "Alex had a stellar night," said head coach Chuck Linkenheld. "His consistent three-zone play this season hasn't been overlooked by his team and coaches."

ALEXANDRIA BLIZZARD: Forward Tommy Westmark (Appleton, Wis.) scored both goals in the Blizzard's pair of 2-1 losses to Bismarck.

ALPENA ICEDIGGERS: Goaltender Marco Wieser (Austria), who's expected to serve as Austria's No. 1 goaltender at the upcoming World Junior Championships, backstopped the IceDiggers to two wins over Traverse City, stopping 73 of 81 shots in three starts.

BISMARCK BOBCATS: Goaltender Ryan Faragher (Fort Frances, Ontario) turned aside 85 of 89 shots in regulation and overtime and three of four in a shootout in three starts (2-0-1). "Ryan has responded nicely to being given the starting position and his numbers speak for themselves," said head coach Byron Pool. "He's truly one of the top goaltenders in the NAHL."

FAIRBANKS ICE DOGS: Defenseman Zach Tolkinen (Lino Lakes, Minn.) recorded a goal and three assists in the Ice Dogs' three-game sweep over Kenai River.

JANESEVILLE JETS: With last weekend off, the Jets will travel to Motor City this weekend for a three-game set against the Metal Jackets beginning on Thursday.

MARQUETTE RANGERS: Forward Scott Henegar (Trenton, Mich.) recorded two goals, including the game-winner, in the Rangers' 4-1 win over Motor City on Friday. "Scott's a strong kid who plays with passion every night," said head coach Kenny Miller. "He's a physical force every time he steps on the ice."

MOTOR CITY METAL JACKETS: Forward Steve Brancheau (River Rouge, Mich.) tallied a pair of goals and an assist as the Metal Jackets split a two-game set with Marquette.

NORTH IOWA OUTLAWS: Forward Ryan Bohrer (St. Paul) put home a goal in regulation and the only goal of the shootout as the Outlaws ended Bismarck's seven-game winning streak with a 3-2 victory on Saturday.

OWATONNA EXPRESS: Forward Dan Cecka (Woodbury, Minn.) tallied three goals and an assist as the Express went 2-1 last weekend.

SPRINGFIELD JR. BLUES: Forward Ross Anderson (River Falls, Wis.) notched three goals and two assists as the Jr. Blues split a pair of games with Topeka. He was also a plus-5 on the weekend.

ST. LOUIS BANDITS: With last weekend off, the Bandits ready for a three-game series in Wenatchee beginning on Friday. St. Louis defeated the Wild in the Robertson Cup Championship Tournament finale last season in overtime.

TEXAS TORNADO: In his second start with the team, goaltender Freddy Edwards backstopped the Tornado to a 6-2 victory over Wichita Falls on Saturday, turning aside 34 shots. "Freddy was huge in the net," said head coach Tony Curtale. "He showed excellent rebound control and made some phenomenal saves to keep the momentum going our way."

TOPEKA ROADRUNNERS: Forward Erik Higby (New Braunfels, Texas) struck for three goals, including the game-winner in the RoadRunners' 5-2 victory on Saturday, and an assist in a two-game split against Springfield. "Erik has been working hard in every zone and it's paid off on the scoresheet lately," said assistant coach R.J. Enga. "His work ethic is second to none."

TRAVERSE CITY NORTH STARS: Forward Garrett Thompson (Traverse City) connected for the game-winning goal and an assist in the North Stars' 4-1 win over Alpena on Saturday.

WENATCHEE WILD: In only his second start with the team, goaltender Brendan Jensen (El Granada, Calif.) made 28 saves in the Wild's 3-1 triumph over Alaska on Friday. A 1993-born, he's the youngest player on Wenatchee's roster.

WICHITA FALLS WILDCATS: Forward Brian Sheehan (St. Louis), the team's leading scorer with 26 points, tallied two goals and an assist as the Wildcats dropped a pair of games to Texas.