A record number of players on NHL Central Scouting list
September 23, 2014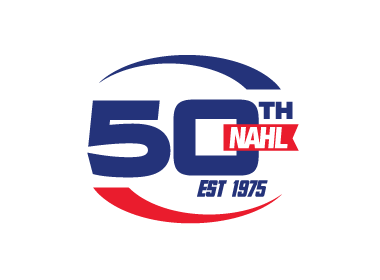 On the strength of another record-breaking NAHL Showcase, the North American Hockey League (NAHL) is please to announce that 13 players, were recognized on the National Hockey League's (NHL) 'Prospects to Watch' list for 2015 draft-eligible players Wednesday with the release of NHL Central Scouting's preliminary list of players to watch in North America and Europe.
The list included 10 players that are currently playing in the NAHL this season and three former players that are in another league.
The only other non-major junior league in North America that had more players listed than the NAHL was the USHL. A total of 46 NHL scouts, including those from NHL Central Scouting, were on hand this past week scouting players at the NAHL Showcase.
The lists, comprised of "A," "B" and "C" players for the upcoming season in each of the major junior hockey leagues, are sent to NHL team scouts for the purpose of tracking the top draft-eligible players entering the 2014-15 season. All "A" skaters have been identified as potential first-round picks, while "B" players are considered second- or third-round candidates. The players on the "C" list are thought to be fourth-, fifth- or sixth-round possibilities. Central Scouting's preliminary rankings will be revealed in November. That list includes the top 25 prospects for each of the various leagues throughout North America and Europe.
Current NAHL players on the list
Vaughan Ahrens, G, Minnesota Magicians
Ryan Bednard, G, Johnstown Tomahawks
Tim Faulkner, D, Springfield Jr. Blues
Hugo Gallet, D, Austin Bruins
Christian Hausinger, D, Odessa Jackalopes
Matthew Jurusik, G, Janesville Jets
JC MacLean, F, Austin Bruins
Tristan Rostagno, D, Amarillo Bulls
Tanner Schachle, F, Kenai River Brown Bears
Matej Tomek, G, Topeka RoadRunners
NAHL players now in another league
Logan Halladay, G, Janesville Jets (2013-14)
Zach Jordan, F, Minnesota Wilderness (2013-14)
Ryan Larkin, G, Michigan Warriors (2014-15)
Players from the NAHL on the list include Topeka RoadRunners goaltender Matej Tomek, who is the highest ranked NAHL player on the list with a B-rating. Tomek was just named the NAHL South Division Star of the Week yesterday. Former Wenatchee Wild goaltender Chase Perry, who was drafted in the 5th round by the Detroit Red Wings in last summer's 2014 NHL Entry Draft and is now playing for Colorado College, was also one of the 'B' rated NAHL players on the list a year ago.
Other current NAHL players on the list include: Minnesota Magicians goalie Vaughan Ahrens, Johnstown Tomahawks goalie Ryan Bednard, Springfield Jr. Blues defenseman Tim Faulkner, Austin Bruins defenseman Hugo Gallet, Odessa Jackalopes defenseman Christian Hausinger, Janesville Jets goalie Matthew Jurusik, Austin Bruins forward JC MacLean, Amarillo Bulls defenseman Tristan Rostagno and Kenai River Brown Bears forward Tanner Schachle.
This year's list also features three former NAHL players. They include goalie Logan Halladay, who played for the Janesville Jets last season, played in the 2014 NAHL Top Prospects Tournament as a part of the NAHL 18U Selects and committed to the University of Minnesota while playing in the NAHL last season. Also included in former Minnesota Wilderness forward Zach Jordan, who played in the NAHL during the 2013-14 season and goaltender Ryan Larkin, who began this season with the Michigan Warriors.
NHL Central Scouting will release its midseason rankings of 2015 draft-eligibles in January, followed by its final rankings in April. The Florida Panthers will host the 2015 NHL Draft at the BB&T Center in Sunrise, Florida. Next year's Draft will be held over two days, Friday, June 26 and Saturday, June 27, 2015. NHL club executives, scouts and coaches will be present on the NHL Draft floor while more than 15,000 fans and 500 print, television and radio media are expected to attend.
A total of six players with NAHL ties were selected in this past summer's 2014 NHL Entry Draft.