NAHL Showcase comes to a close with Austin capturing title
September 21, 2014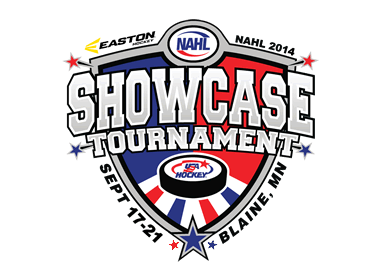 The NAHL portion of the 12th annual NAHL Showcase came to a close on Saturday and taking home the annual Showcase title was the Austin Bruins for the second year in a row. Austin finished the event with a perfect 4-0 record, as did the Topeka RoadRunners. However, Austin finished the event with a +18 goal differential, while Topeka was +15, thus claiming the annual title.
It was another tremendous event all the way around. A total of 333 NHL, NCAA and junior scouts attended the event during the past four days, making the second straight season that the number of scouts that checked in was over 330+. Attendance from fans and parents was also up this season.
Traditionally, the beginning of the season is a tough time for offenses, but that wasn't the case for the 2014 NAHL Showcases. The offenses came to play as a total of 305 goals were scored in the 48 total games, equaling 6.3 goals per game during the event. Saturday was the highest scoring day of the event as 84 goals were scored in the 12 games.
Austin Bruins 9 vs. Fairbanks Ice Dogs 4 – The Bruins captured the 2014 NAHL Showcase title with a 9-4 win over the Fairbanks Ice Dogs in a rematch of the 2014 Robertson Cup Final. Austin finished the event with a perfect 4-0 record and outscored their opponents 26-8. Their +18 goal differential was better than Topeka's +15. The RoadRunners also went 4-0 at the event. Fairbanks led the game at one point, 3-1 on goals from Ethan Somoza, Adam Anderson and Chandler Madry. However, the Bruins responded with goals from nine different players including Zach Kennedy, Josh Wilkins, William Feeney, Pat Lauderdale, Brian Bachnak, Alex Petterson, Landon Letwin, Nico Sturm and Jacob Kullberg. Jacob Hetz had the other Fairbanks goal. Boxscore
Johnstown Tomahawks 6 vs. Odessa Jackalopes 4 – The Tomahawks scored four 3rd period goals as the finished the Showcase with a 2-2 record as they defeated Odessa 6-4. The Jackalopes also finished with a 2-2 record at the event. Odessa got goals from Razmuz Waxin-Engback, Andrew McLean, Hampus Sjodahl and Alex Alger. Johnstown responded with goals from six different players including Tanner Barnes, Luke Lynch, Alex Jaeckle, Joe Drabin, Andrew Romano and Cam Bleck. Ryan Bednard picked up the win in goal making 18 saves. Boxscore
Wichita Falls Wildcats 4 vs. Michigan Warriors 2 – The Wildcats finished with a 3-1 Showcase record as they doubled up the Michigan Warriors, 4-2. With the loss, the Warriors finished with a 0-4 record at the event. After the opening two periods were scoreless, all the scoring came in the 3rd period. The Wildcats got two goals from Kevin Charyszyn and others from Matt Koch and Austin Beaulieu. Scoring for the Warriors was Colton Horton and Tyler Groat. Austin Shaw picked up his second straight win making 30 saves. Boxscore
Keystone Ice Miners 4 vs. Corpus Christi IceRays 3 (SO) – The Ice Miners picked up their first win of the Showcase as they edged the IceRays 4-3 in a shootout. Keystone finished with a 1-2-1 record at the event, while Corpus Christi finished with a 2-1-1 record. Matt Jones and Jon Hall gave Keystone a 2-0 lead. The IceRays knotted things up at 2-2 with goals from Connor Bucsis and Tanner Lomsnes. Brendan Jaquay scored in the 3rd period for the Ice Miners as did Wes Michaud for Corpus Christi. Jaquay was the lone player who scored in a shootout. Boxscore
Janesville Jets 4 vs. Lone Star Brahmas 1 – The Jets dominated from start to finish outshooting the Brahmas 33-13 in a 4-1 win. Janesville finished with a 2-2 record as did Lone Star. Drew Callin scored the lone goal of the 1st period, while Mitch Fossier added a 2nd period goal. Cody Wickline scored the lone Brahmas goal on the power play in the 3rd period, but the Jets responded with a pair of goals from Brandon Schultz and Adam Winborg. Matt Jurusik picked up the win, making 12 saves. Boxscore
Soo Eagles 5 vs. Rio Grande Valley Killer Bees 0 – The Eagles fired 47 shots on goal in a dominating 5-0 win over the Killer Bees. Soo finished with a 3-1 record for the event while Rio Grande Valley went 1-3. Chase Matson and Trevor Cope opened the scoring with two 1st period goals. The Eagles added two more goals in the 2nd period from Drew Holcombe and Trevor Cope. Denver Pierce added a 3rd period goal. Jack Berry picked up the shutout making 20 saves. Nick Schmit took the loss making 42 saves. Boxscore
Amarillo Bulls 3 vs. Springfield Jr. Blues 2 – After a scoreless 1st period, the Bulls jumped out to a 2-1 lead in the 2nd period on goals from Charlie Combs and Mitchell Vanderburgh. Josh Lammon had the goal for the Jr. Blues. Brady Crabtree scored early in the 3rd period to push the lead to 3-1, but Springfield held tough with a power play goal from Brady Tomlak. However the Jr. Blues could not find the equalizer. Jacob Weatherly made 30 saves in the win, while Jeremy Wik made 16 saves in the loss. Amarillo finished with a 2-1-1 record, while Springfield was 1-3. Boxscore
Minnesota Wilderness 4 vs. Brookings Blizzard 3 – The Wilderness scored the last three goals of the game as they came from behind to beat Brookings, 4-3. Minnesota finished with a 3-1 record, while Brookings was 2-2. Brookings jumped out to a 3-1 lead with goals from Viktor Lindell, Beau Michaud and Joe Anderson. Billy Exell had the lone tally for the Wilderness through the middle of the game until Ivan Chukarov scored twice to tie the game at 3-3. Michael Covach added the game-winning goal with seven minutes to go. Brock Kautz picked up the win, making 14 saves. Boxscore
Minot Minotauros 4 vs. Wenatchee Wild 3 (SO) – The Minotauros erased Wenatchee leads of 2-0 and 3-1 as they triumphed in a seven-man shootout, 4-3. Minot finished with a 2-2 record at the event, while Wenatchee was 1-2-1. The Wild went up 2-0 on goals from David Powlowski and James Mathias. Christian Mohs scored for Minot to cut the deficit to 2-1, but Ivan Bondarenko scored to make it 3-1 Wild. Mohs scored again to make it 3-2 late in the 2nd period and then Johnny Walker scored just :11 seconds into the 3rd period to tie the game at 3-3. In the shootout, Alexander Kasitsyn and Blake Lizotte scored for the Minotauros, who got 23 saves from Atte Tolvanen in the win. Boxscore
Minnesota Magicians 4 vs. Bismarck Bobcats 2 – The Magicians scored twice in the 3rd period to break a 2-2 tie and defeat the Bismarck Bobcats 4-2. The Magicians finished the event with a 3-1 record, while Bismarck was an even 2-2. Cullen Willox scored both Bismarck goals including the only goal of the 1st period and again late in the 2nd period to tie things at 2-2 after Minnesota got two goals from Lukas Laub and Nathan Krusko. In the 3rd period Tony Uglem scored the game-winning goal and Braxton Collins added an insurance goal in the win. Vaughan Ahrens picked up the win in goal for Minnesota making 32 saves. Boxscore
Topeka RoadRunners 7 vs. Kenai River Brown Bears 1 – The RoadRunners finished the Showcase in style with a big 7-1 win over Kenai River as Jasen Fernsler led the club with two goals and two assists. Topeka finished the Showcase with a perfect 4-0 record and moved to 6-0 on the season. Kenai River finished the Showcase with a 1-3 record. Topeka jumped out to a 4-0 lead on goals from Fernsler, Jack Kelly, Sly Sutter and Mike Gornall. After Matt Wikman scored the lone Brown Bears goal, Topeka got three more from Joseph Hall another from Fernsler and one from Sly Sutter. Drew Vogler made 22 saves in the win. Boxscore
Aberdeen Wings 3 vs. Coulee Region Chill 2 (SO) – The Wings edged the Chill 3-2 in a shootout in the final game at the Showcase for both clubs. The Wings finished the event with a 3-1 record while the Chill finished 2-1-1. Aberdeen took a 1-0 lead early in the 1st period on a goal from Michael Soucier. The Chill responded with two goals in the 2nd period to take a 2-0 lead from Richard Zehnal and Adam Lovick. Kyle Haak would tie the game in the 3rd period for the Wings with his fourth goal of the Showcase. In the shootout, Haak, Soucier and Tanner Okeson would all score to secure the win. Boxscore