Red-hot Bobcats roar to top of the Central
November 23, 2009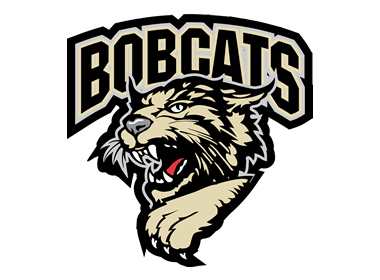 Read the full NAHL Weekly Release.
With points in their last 12 games, including five straight wins, the Bismarck Bobcats have clawed their way to the top of the NAHL's Central Division.

All the more impressive for a team that stumbled out of the gates with a 0-5-2 mark.

"After our seventh game, if you would've told me we could be back near the top of the division before Thanksgiving, I probably would've given you anything," said Bobcats head coach Byron Pool, whose team improved to 12-7-5 on the season.

"Anytime you dig yourself into a hole like that it can be tough to recover, so I'm extremely proud of our guys and the resilience they showed bouncing back. They stayed extremely positive and continued to put their best effort forth every night. It's been a lot of fun to be a part of the turnaround."

The Bobcats rolled off three more wins last weekend, starting with a 2-1 victory over Alexandria on Friday. Ryan Jacobson and Dominic Panetta scored for Bismarck, and goaltender Ryan Massa turned aside 32 shots.

Sam Rendle and Jason Fabian found the back of the net the next night as the Bobcats skated to another 2-1 triumph over the Blizzard. Goaltender Ryan Faragher picked up the win in goal (20 saves).

On Sunday, Nick Jensen put home two goals and Rendle added a goal and an assist in Bismarck's 5-4 victory over the Owatonna Express. Massa stopped 27 shots between the pipes.

"The players have really started to buy into what we want out of them," said Pool of his team's progress. "Their work ethic has increased, they've become stronger defensively and they believe in a team-first philosophy. They've fully committed themselves to becoming the best team they can possibly be."

Rendle has certainly been doing his part. With 14 points through 23 games, the 19-year-old defenseman from Grand Rapids, Minn., has been logging a ton of important minutes on Bismarck's blue line.

"He really brings an element to our game that was missing last year," said Pool. "He really sees the game at a different level. He's our quarterback back there, especially on the power play. He's started to contribute offensively, but has become a lot stronger defensively."

And the Bobcats' good fortunes continue in the crease. After boasting a pair of now-Division I goalies in Matt Grogan (University of Connecticut) and David Bosner (Air Force Academy) last season, Faragher and Massa, both of whom hold save percentages well north of .900, are making their cases as legitimate college recruits.

"Once again, we're blessed," said Pool of his goaltending situation. "These two guys will make you a good coach in a hurry. They put in a lot of hours at and away from the rink making themselves better players. They're very consistent and give us a chance to win every night."

Pool credits his assistant coach, Layne Sedevie, a former Division I and professional goaltender, for helping the tandem evolve.

"He puts in a lot of time with these two guys and it shows with their stats constantly lowering," said Pool.

Coming off a strong postseason and Robertson Cup Championship Tournament appearance last season, Casey Kleisinger has also risen to the occasion. His 24 points (seven goals) leads the team and already bests his point total from a year ago (23).

"He's a guy who brings a tremendous amount of energy and hard work to the rink everyday," said Pool of the 20-year-old from Edwards, Colo. "He's always been extremely strong in his own end and on the penalty kill, but we knew that in order to be a strong team we'd need Casey to produce at the other end and, so far, he hasn't disappointed.

"He's going to make an excellent Division I hockey player."

Speaking of college recruits, the Air Force-bound Fabian, who ranks second on the team in scoring with 23 points, is also proving himself as one of the league's elite frontmen.

"He had a great summer preparing for this season and it's paid off," said Pool. "It'd be scary to see how good a year he'd be having if he didn't miss eight weeks at the end of summer with a broken hand."

After a slow start to his second season, Jensen is another forward who has gotten back on track recently.

"We've started to see the real Nick Jensen the last couple of weekends," said Pool. "When he's on, there aren't too many forwards with his size (6-foot-3, 210 pounds) or skill in our league, and that makes him very tough for opposing players to handle."

Tim Serratore is also starting to find his groove, giving the Bobcats a formidable third line while playing a big role on the club's second power-play unit.

"He's a huge part of our hockey team," said Pool.

Bismarck's lone-returning defensemen, Devin Schmitt and John Avino, also earned Pool's praise, both for their exploits on the ice and their leadership.

"For the most part, they've been very consistent and have done a nice job bringing along the young defensemen," said the coach.

Among the newcomers, both Jacobson and Panetta have wasted no time contributing offensively, and Pool has high expectations for forwards Brett Bower, Trent Johnson and Bryce Schmitt.

"I think they're going to have very good second halves for us, not unlike Casey (Kleisinger) and Tim (Serratore) did last year," said Pool.

The Bobcats also got a boost from a recent trade with Wichita Falls that brought forward Sean McKenzie and defenseman Matt Shost to Bismarck.

"Matt gave us another solid, puck-moving defenseman and really added to our depth back there," said Pool. "Sean has been a nice addition to the Fabian-Jensen line. He has great hockey sense and brings a little sandpaper to his game, which is something we were really lacking."

With Fabian the only player with a college deal in place, Pool has little doubt that, with continued success, plenty more Bobcats will have their Division I plans sealed in no time.

"We feel we have a number of players at every position that should be able to play at the next level," said the coach. "It should be a lot of fun to watch them develop the rest of the year."

And Pool doesn't just speak for the Bobcats' college promise, but the entire NAHL.

"Teams like Air Force and Bemidji State, which are loaded with NAHL players, have had great success at the national level in recent years proving that our players can be significant contributors at the next level," he said.

Having played 15 of 20 games on the road since September's NAHL Showcase Tournament, the Bobcats' schedule will only get rosier with more games in front of their home fans.

"The VFW (Sports Center) is such a great place to play," said Pool. "It's a tremendous atmosphere. We typically play in front of capacity crowds, and there's no better place to be than the VFW on a Saturday night. The crowds are large and loud.

"That, paired with the distance teams have to come to play us, gives us a very nice home-ice advantage."

Happy with their about-face since their turbulent start, the Bobcats continue to stress progress as they set their sites on a return trip to the Robertson Cup Championship Tournament.

"The players have to realize that we still need to see a lot of improvement if we want to become a championship-caliber team," said Pool. "We need to continue to get better each and every day. We play the remainder of our games within division, so there's no room for mistakes."

AROUND THE NAHL
ALASKA AVALANCHE: Forward Kyle Pichler (Anchorage) rang up two goals, including the overtime game-winner, in the Avalanche's 3-2 victory over Wenatchee on Friday.

ALBERT LEA THUNDER: Forwards Stephen Obarzanek (Macomb, Mich.) and Niko Kapetanovic (North Prairie, Wis.) scored for the Thunder in its 6-2 loss to Owatonna on Saturday.

ALEXANDRIA BLIZZARD: Goaltender Chris Kamal (Alpharetta, Ga.) turned aside 52 of 56 shots in a pair of 2-1 losses to Bismarck. He leads all NAHL goaltenders with a 1.89 goals-against average.

ALPENA ICEDIGGERS: With Friday's game against Traverse City postponed due to player illnesses, the IceDiggers will play their next five games against the North Stars beginning on Friday.

BISMARCK BOBCATS: Head coach Byron Pool is convinced a favorable schedule ahead will only help his team's progress. "Now we can start focusing on some better practice habits since we're back home in the second half," he said.

FAIRBANKS ICE DOGS: Goaltender Mike Taffe (Maple Grove, Minn.) turned aside 39 of 44 shots to pick up both wins between the pipes against Kenai River.

JANESVILLE JETS: Goaltender Matt Wichorek (Anchorage) allowed only three goals against in regulation and overtime (39 saves) as the Jets picked up three points in a two-game set with Motor City.

KENAI RIVER BROWN BEARS: Forward Brad Fusaro (Soldotna) connected for two goals and two assists as the Brown Bears dropped four games last week. "I'm honored to know a kid who doesn't play to the scoreboard and does his absolute best each day," said head coach Oliver David. "He's a treat to watch."

MARQUETTE RANGERS: With last weekend off, the Rangers will host Motor City for a two-game series beginning on Friday.

MOTOR CITY METAL JACKETS: Goaltender Jason Torf (Hermosa Beach, Calif.) made 28 saves in regulation and overtime and three of four in the shootout as the Metal Jackets bested Janesville on Saturday, 3-2.

NORTH IOWA OUTLAWS: Forward Ryan Boher (St. Paul) added to his team-leading point total (21) with a goal in the Outlaws' 10-3 loss to St. Louis on Friday.

OWATONNA EXPRESS: Forward Chris Bournazos (Naperville, Ill.) connected for a pair of goals in the Express' 6-2 victory over Albert Lea on Saturday.

SPRINGFIELD JR. BLUES: Second-year forward Nick Curry (Bettendorf, Iowa) has committed to the University of Massachusetts-Lowell (Hockey East) for next season.

ST. LOUIS BANDITS: Forward Brooks Bertsch (Dubuque, Iowa) connected for three goals and two assists as the Bandits won a two-game series over North Iowa. He was also a plus-4 on the weekend.

TEXAS TORNADO: Forward Jack Prince (United Kingdom) rang up four goals in regulation and one in Saturday's 5-4 shootout victory as the Tornado skated to a two-game sweep over Wichita Falls. "Jack scored some big goals when we needed them," said head coach Tony Curtale.

TOPEKA ROADRUNNERS: Forward Cole Schneider (Williamsville, N.Y.) connected for two goals and three assists as the RoadRunners celebrated a two-game sweep over Springfield. "Cole has been a consistent all-around player since arriving here in Topeka," said assistant coach R.J. Enga. "His speed and ability to shoot the puck has helped us not only at 5-on-5, but on our special teams as well."

TRAVERSE CITY NORTH STARS: With Friday's game against Alpena postponed due to player illnesses, the North Stars will play their next five games against the IceDiggers beginning on Friday.

WENATCHEE WILD: Forward Michael Di Puma (Chicago) rang up two goals, including the overtime game-winner, in the Wild's 3-2 triumph over Alaska on Saturday.

WICHITA FALLS WILDCATS: Forward Daniel Gentzler (Manhattan Beach, Calif.) tallied two goals and two assists as the Wildcats finished with a 0-1-1 mark against Texas.