24 in 24 Series: Wichita Falls Wildcats
September 11, 2014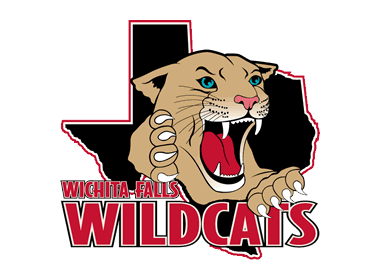 The 24 Teams in 24 Days series features a look at all 24 teams in the NAHL for the 2014-15 season, with a new team being highlighted daily, leading all the way up until the start of the regular season on Friday, September 12th as six NAHL teams take to the ice on Opening Night. 24 in 24 will go in-depth into each NAHL team and will include interviews with all 24 head coaches in the NAHL, as they provide fans with their expectations and outlook for the 2014-15 season, including taking a look at their roster and their strengths as a team. It will also take a look back on the 2013-14 season and how each team fared and what they accomplished. Best of all, 24 in 24 is done to provide the fans of the NAHL with an inside look at their favorite team and what to expect.
Wichita Falls Wildcats
John LaFontaine (1st year)
2013-14 record: 31-25-4, 66 pts. (4th in the South Division)
2013-14 leading scorer: Kyle Bauman (58 GP, 21 G, 20 A, 41 pts, +8)
2014 Playoffs: Lost in the South Division Semi-Finals to the Amarillo Bulls, 3 games to 0
2014-15 Division: South
First regular season game: Saturday, September 13th vs. Odessa Jackalopes, 7:05pm
Home opener: Saturday, September 13th vs. Odessa Jackalopes, 7:05pm
The Wichita Falls Wildcats traditionally start the season sprinting out of the gate and last year was no exception. The Wildcats started the season with a 6-1-1 record and after their first 15 games they were in 1st place in the South Division with a 10-2-3 record. The Wildcats kept things consistent for the most part until January when they went through a stretch of 11 games, only winning two of those. However, the Wildcats would easily make the playoffs after a two-year hiatus where they would face the Amarillo Bulls in the Semi-Finals. Unfortunately, the Wildcats were swept in three straight games as their season came to a close.
Even though the Wildcats fell short of advancing in the playoffs, their NCAA commitment numbers were outstanding and a big contributor to the overall league success. 13 players with Wildcat ties (10 current) made commitments throughout the season, including, but not limited to, their top four scorers lead by leading scorer Kyle Bauman (Bemidji State), defenseman Sam Piazza (Michigan) and forwards Tyler Ledford and Will Vosejpka (Air Force).
In an effort to further improve what the Wildcats had built to this point, the Wildcats decided that a change was needed, so in late April, head coach Paul Baxter was named the President and General Manager and the search for a new head coach was underway. The message from ownership was clear, they wanted a team that would bring a championship to Wichita Falls. The coaching search only took a few weeks as the Wildcats found their new bench boss in experienced coach John LaFontaine. LaFontaine was no stranger to junior hockey, having spent seven seasons at the helm of the Bozeman Icedogs from 2000 to 2007. While there, he coached multiple championship teams, leading the Icedogs to the America West Hockey League championship in 2001-02, as well as a North American Hockey League regular-season title during the 2005-06 campaign. LaFontaine twice earned Coach of the Year honors during his stint in Bozeman, receiving the award in 2000-01 (AWHL) and 2005-06 (NAHL).
"Being back in the NAHL is fun and exciting. From what I have seen so far, the talent is deeper, the play is faster and the players are more skilled than when I was last in the league eight years ago," remarked LaFontaine. "I am thankful for the opportunity to be behind the bench again. I think the leadership of this team has shares my vision of a Championship and that is very important that we are on the same page. They have provided us with all the resources and tools to be a success this season."
LaFontaine said that when they were considering who would make up the 2014-15 roster, they wanted first and foremost to be strong up the middle. That started with defensemen and continued with the forwards. The Wildcats will have eight returning players from last year's club, with five of those being forward or defensemen who fit the mold. The others are new faces, which include a handful of players who are already committed to NCAA programs. "The guys that are already committed have a different motivation, but they need to have the type of attitude that they are going to work even harder to improve so that when they arrive in college, they are ready to play right away," said LaFontaine. "They should want to help their teammates without commitments try and earn a commitment while playing here. It is all part of a hard-working attitude that we were looking for."
With two returners in goal and a third in the mix to compete as well, LaFontaine said that he considers goaltending a strength heading into the season. Both Chase Munroe and David Zevnik saw significant minutes last season and newcomer Austin Shaw is coming off a very good midget career and is the biggest of the three. "I think having the two returners back is always something that will boost the team's confidence, however, all three guys are capable and talented. They play different styles and rely on different strengths to stop the puck, so we will see how they respond and push each other to start the season."
All four returning forwards also contributed significantly last season. Colin Staub had 31 points, while Nick Farmer had 26 points, Evan Okeley had 17 points and Max Reisinger had 14 points. They join a group of new forwards that are strong up the middle and will be tough to stop. "Our assessment is that all the returning forward have come back improved and ready to be impact players. The all are quicker, stronger and faster. It really starts with those four guys and we built around them with guys who would be a nice fit and compliment them," said LaFontaine.
On defense, Jake Townsend and Matt Koch are back as the returners. "I think defensemen are the hardest position in the NAHL to develop, but we already have two very good ones in Jake and Matt," said LaFontaine. "Forwards are faster and bigger and from a defenseman's point of view, they have to keep up with them without the clutching and grabbing, while making good decisions."
In addition to Okeley and Koch, five new players enter the season committed to Division I programs in forwards Austin Beaulieu (Alabama-Huntsville), Kevin Charyszyn (Air Force), Erich Jaeger (Air Force), Dan LaFontaine (Canisius) and defenseman Cam Knight (Alabama-Huntsville). Dan LaFontaine is John's newphew and son of John's brother, former NHL Hall of Famer Pat LaFontaine. John LaFontaine said he was looking forward to coaching him this season. "I think it will be great. Pat and I are very close and Dan is exciting to develop into a player that can go to the NCAA and be successful at the next stage of his hockey career."