24 in 24 Series: Odessa Jackalopes
September 5, 2014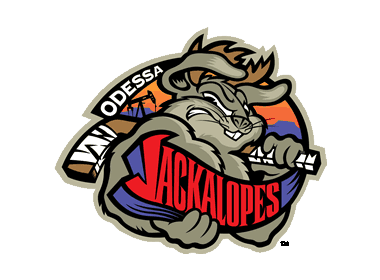 The 24 Teams in 24 Days series features a look at all 24 teams in the NAHL for the 2014-15 season, with a new team being highlighted daily, leading all the way up until the start of the regular season on Friday, September 12th as six NAHL teams take to the ice on Opening Night. 24 in 24 will go in-depth into each NAHL team and will include interviews with all 24 head coaches in the NAHL, as they provide fans with their expectations and outlook for the 2014-15 season, including taking a look at their roster and their strengths as a team. It will also take a look back on the 2013-14 season and how each team fared and what they accomplished. Best of all, 24 in 24 is done to provide the fans of the NAHL with an inside look at their favorite team and what to expect.
Odessa Jackalopes
Head Coach: Greg Gatto (2nd year)
2013-14 record: 15-40-5, 35 pts. (7th in the South Division)
2013-14 leading scorer: Alex Alger (56 GP, 12 G, 16 A, 28 pts, -15)
2014 Playoffs: Did not qualify
2014-15 Division: South
First regular season game: Saturday, September 13th @ Wichita Falls Wildcats, 7:05pm
Home opener: Thursday, October 30th vs. Rio Grande Valley Killer Bees, 7:05pm
It was another tough season for the NAHL's Odessa Jackalopes in 2013-14. Coming off a six-win season in 2012-13, the Jackalopes did more than double that last season with 15 wins, but still remained well out of playoff contention in the South Division. The Jackalopes played their best hockey in the middle of the season where they had a stretch of 14 games in which they won seven. However, Odessa's undoing came in the beginning and the end of the regular season. After dropping their first four games, the Jacks won two in a row, only to then drop their next 10 straight games to post a 2-15-0 record after 17 games. At the end of February, the Jackalopes made a coaching change as Matt Cressman was dismissed and Greg Gatto was hired.
"I knew coming in last season I had only had 10 games to coach, so I had a goal to really evaluate the players and see who I wanted to come back for this season. It was very valuable in building a team for this year," said Gatto. "I first wanted to establish the identity we wanted moving forward and see who was the right fit for this season. I hadn't coached junior hockey in 10 years, so it was also a good experience for me and really got me involved in what we were going to go through in the off-season with the draft and tryout camps."
The last time the Jackalopes were in the playoff conversation was during the 2011-12 season when they had Connor Hellebuyck between the pipes, who went on to win the Mike Richter Award as the top goalie in the NCAA this past season. Gatto said that heading into the 2014-15 season, that is something he wanted to work towards. "I made it a point to get out there and see as much hockey as I could. I thought we really lacked on the puck moving side of things and having defenseman that could consistently move the puck up the ice and transition into offense," said Gatto. "I also wanted to make sure that we were making the best use of our four import spots on the roster. I think we were happy with the players that we identified for this year's roster.
With all that said, the Jackalopes do have a fair number of returners coming back for the 2014-15 season. "For me, I wanted to identify first who wanted to come back. Playing in West Texas is a unique experience and I wanted to be sure that I brought back guys that wanted to genuinely be here," said Gatto. "I wanted those back that had strong leadership qualities and guys that bought into being involved in the Odessa community during their time here."
The returning players for Odessa are very significant because of their production and experience last season. Leading scorer and Miami University recruit Alex Alger returns as does Razmuz Waxin-Engback, who was 3rd on the team in scoring with 20 points last season and voted team MVP. Chad Guderian, who was 5th in scoring also is back as is defenseman Andrew McLean. The Jackalopes also will have Jesse Junttila on defense, who they acquired from Janesville and who is committed to play for Northern Michigan following his junior career. "Character is a big part of the veterans we brought back and we are also fortunate that they are guys who are going to be expected to produce on the ice as well and will have the necessary experience under their belt to do so," said Gatto.
Both goaltenders will be new for Odessa, including Swedish import Robin Johansson. Johansson is just the latest in a long line of NAHL goalies coming over from Sweden and appears to have the size and experience to be successful in the NAHL. "Robin's compete factor is through the roof and he doesn't quit on anything. I love a goalie that hates giving up goals and I think Robin is a guy who will fit in nicely here and he already has had some NCAA teams asking about him," said Gatto. The other goalie on the roster is Parker Butler, who has previous experience in the NAHL.
As for some of the new blood expected to come in and improve the Odessa roster, Gatto is optimistic about Swedish-born defenseman Andreas Soje, as well as, brothers Christian and Kenny Hausinger, who are both NCAA commits to Sacred Heart and who both should be able to come in and help right away. Another addition in Corey Hoffman, who is committed to Cornell University and who played with the Jackalopes two years ago and is one of six players on the roster who is committed to an NCAA school. "I think having this many players committed to play NCAA hockey to start the season is a first for us. One of the first things we brought up was how to motivate this group in particular. We don't want them to let off the gas and we want them to make the teammates around them better. We want them to improve to the point where they can go into their respective NCAA program and be an impact player," said Gatto.
As for Gatto's expectations for this season, he feels like the Jackalopes outlook is a positive one. "I think we are ready to take it to the next level from an on ice and off ice standpoint, but no question we would like to make the playoffs. It will be a challenge in the beginning because we start out with 14 straight road games, but that is something we have to do if we want to make the playoffs. I want the fans of Odessa to be excited again and I think with this year's group, they are going to like what they see and also like the fact that they will enjoy being a part of this community."
Next up in the NAHL 24 in 24 series: Rio Grande Valley Killer Bees, September 6th