24 in 24 Series: Minot Minotauros
September 4, 2014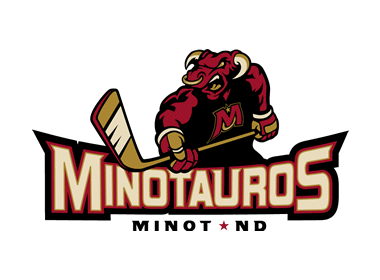 The 24 Teams in 24 Days series features a look at all 24 teams in the NAHL for the 2014-15 season, with a new team being highlighted daily, leading all the way up until the start of the regular season on Friday, September 12th as six NAHL teams take to the ice on Opening Night. 24 in 24 will go in-depth into each NAHL team and will include interviews with all 24 head coaches in the NAHL, as they provide fans with their expectations and outlook for the 2014-15 season, including taking a look at their roster and their strengths as a team. It will also take a look back on the 2013-14 season and how each team fared and what they accomplished. Best of all, 24 in 24 is done to provide the fans of the NAHL with an inside look at their favorite team and what to expect.
Minot Minotauros
Head Coach: Marty Murray (4th year)
2013-14 record: 24-33-3, 51 pts. (4th in the Central Division)
2013-14 leading scorer: Michael Louria (53 GP, 26 G, 26 A, 52 pts, -5)
2014 Playoffs: Lost to the Austin Bruins in the Central Division Semi-Finals, 3 games to 1
2014-15 Division: Central
First regular season game: Wednesday, September 17th vs. Janesville Jets, 8:15pm
Home opener: Friday, September 26th vs. Austin Bruins, 7:35pm
It was like déjà vu all over again for the Minot Minotauros last season. With a sub .500 record, the Minotauros found themselves in a dogfight towards the end of the regular season to secure the fourth and final playoff spot. After doing so, they were matched-up with the Austin Bruins in the Central Division Semi-Finals for a second straight season. Like the playoffs of 2013, the playoffs of 2014 would be just as exciting as the Minotauros gave the Bruins everything they had. After taking Game 1 in Austin, the Minotauros dropped the next three games, all by a goal, including Game 4, which went to three overtimes.
"Each year we want to keep doing a little better and take it to a higher level than the year before, so in that sense, I was a little disappointed. However, I think we are slowly getting there. We didn't help ourselves with a slow start, so that has to improve, but we feel we are right there and just have to take it to the next level," said head coach Marty Murray.
Murray wasn't joking about the slow start. The Minotauros limped out of the gate, going 2-10-2 in their first 14 games of last season. They then went on a 16-game run, which they only lost three games in regular to move their record to over .500. That was followed by another tough stretch, which saw them win only six of their final 19 games. The Minotauros were the second to least penalized team in the league, which meant they maintain a lot of discipline. However, they had the league's worst power play at just 10.3% and scored the third fewest goals in the NAHL at just 2.17 last year.
However, the Minotauros followed suit with almost every other NAHL team and had some very notable NCAA commitments. A total of 13 players (11 active) committed to NCAA schools last season, which was an all-time high for the franchise. "I think the league has really gained a lot in the credibility department and I can speak from personal experience. Coming from Canada and playing pro hockey, I wasn't very familiar with the set-up in the United States as it relates to putting kids in the NCAA. It has been an eye-opening experience at how good the league is, how much talent there is and one that I am glad to be a part of the past few seasons."
Murray said that while constructing a team for this year there were two big needs, which were goaltending and offense. Both goalies from a year ago, Brandon Wildung and Merrick Madsen, are off to play NCAA Division I hockey this season. With that in mind Murray picked up Atte Tolvanen, who played in the NAHL for the Minnesota Magicians last season.
Their other goalie is Tanner Holmes, who played high school hockey in Minnesota for Thief River Falls. Tolvanen put up very respectable numbers last year for the Magicians, including a save percentage that hovered around 92%. He also played in the NAHL Top Prospects Tournament. "I like what I have seen out of Atte so far and I think both goalies are going to be capable of playing well in this league," said Murray.
Offensively, Murray said they needed more firepower and more depth. "I think some of the guys we have coming back as veterans like Jake Howie, Colton Kramer and Troy Degler are going to be looked upon to really step up in those leading roles of production on offense," said Murray. The Minotauros also acquired Nick Monfils from Corpus Christi in the off-season and Murray thinks he could be a key component as well. Murray is also high on Swedish-born forward Tim Athley, who has experience playing in the Swedish Super Elite League.
"He is a guy that is always around the net and someone that can hopefully make our power play a lot better. I would like to see us have a balanced scoring attack and make sure it is scoring by committee. All of these veterans are going to have to take it to another level for us to be successful," said Murray.
On defense, the Minotauros return Jon Lizotte, who made the NAHL All-Rookie 2nd Team last season and also defenseman Kyle Kruenegel. Both Lizotte and Kruenegel were the only regular Minotauros players on the roster last season that finished on the plus side in the +/- ratings. Swedish defenseman Rasmus Sorgardt will also provide depth at the position.
Looking at the rest of the Minotauros roster for this season, it is clear to see that Murray wanted to go with a slightly older team and one that had players that had experience playing in junior hockey. "It goes a long way when you are up against guys that are older, bigger and stronger in the league. We also hope that there is less of a learning curve so we get off to a better start this year," said Murray. "I think the last two years have taught us that we are close to becoming a team that we have envisioned since we entered the league. I think having a more experienced group will help us get some more offense and hopefully get us deeper into the playoffs."
Next up in the NAHL 24 in 24 series: Odessa Jackalopes, September 5th