24 in 24 Series: Lone Star Brahmas
August 31, 2014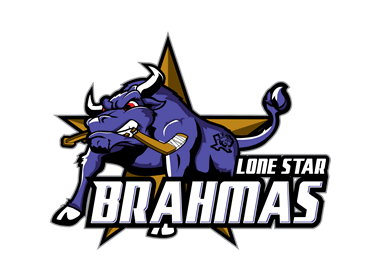 The 24 Teams in 24 Days series features a look at all 24 teams in the NAHL for the 2014-15 season, with a new team being highlighted daily, leading all the way up until the start of the regular season on Friday, September 12th as six NAHL teams take to the ice on Opening Night. 24 in 24 will go in-depth into each NAHL team and will include interviews with all 24 head coaches in the NAHL, as they provide fans with their expectations and outlook for the 2014-15 season, including taking a look at their roster and their strengths as a team. It will also take a look back on the 2013-14 season and how each team fared and what they accomplished. Best of all, 24 in 24 is done to provide the fans of the NAHL with an inside look at their favorite team and what to expect.
Lone Star Brahmas
Head Coach: Dan Wildfong (2nd year)
2013-14 record: 23-33-4, 50 pts. (5th in the South Division)
2013-14 leading scorer: Matt Lison (58 GP, 19 G, 14 A, 33 pts, -17)
2014 Playoffs: Did not qualify
2014-15 Division: South
First regular season game: Wednesday, September 17th vs. Minnesota Magicians, 10:00am
Home opener: Friday, October 10th vs. Corpus Christi IceRays, 7:30pm
If a late start in building a team wasn't tough enough, the Lone Star Brahmas were also put behind the 8-ball early last season because of a start which saw them win only four of their first 18 games. It wasn't until July 27th that the Brahmas were officially launched into the NAHL, so the slow start was understandable. It was also head coach Dan Wildfong's first venture into junior coaching after coaching in the pro ranks. Things progressively got better as the season went along and by the end of the season the Brahmas were playing well enough to finish in 5th place in the South Division. There were many bright spots in the Brahmas first season. First was the play of forward Matt Lison, who not only finished first in points, goals and game-winning goals, but also secured an NCAA opportunity at Bowdoin College. Second, the Brahmas found their goaltender of the present and future in TJ Black, who really emerged in December of last season, which included Star of the Week honors. Lastly, the Brahmas revitalized a former junior market in North Richland Hills, Texas, to the point where the team was one of 11 in the NAHL to finish with an average attendance of 1,400 or more.
"I think our entire organization learned a lot. The entire transition from pro to junior hockey happened really fast, but I felt as the season went along we got better and better, which was encouraging," said Wildfong. "I thought we did a good job of adding pieces to the puzzle to make us more successful and hopefully that momentum continues into this season."
Wildfong continued… "One thing we learned about the NAHL is you always have to be teaching and preparing the players. The talent level and entire league set-up is second to none. It really gives young players an opportunity to be successful and live out the next stage of their hockey careers."
Wildfong also did a good job in building for this season, which he had the full season to prepare for and the Brahmas enter the 2014-15 campaign with several key veterans back to the roster. "We had the entire season to build a team for the 2014-15 season and I learned that the one thing that is so important to have on a roster is experience. Last year, we had 18 players that had never played junior hockey before, which was too many to win and be successful at this level," said Wildfong. "I learned you need a nice mix of both veteran and younger players to have a chance at success."
Wildfong has one of the key positions already taken care of with his starting goalie TJ Black. Black ended last season with a flourish, going 6-1-1 in his last eight games and despite the fact the team finished 10 games under .500, Black finished the season with a 14-14-0 record with a goals against average of 2.40 and a save percentage of 92.3%. He seemed to play his best when it was against the best teams.
A host of veteran players returning has the Brahmas very optimistic this season because of that much need experience factor that Wildfong was gunning for. Some of the key returners include forwards Sebastian Vidmar, Roman Uchyn, Liam Stirzinger, Michael Crowley and defensemen Alexey Solovyev and Johan Steen. Vidmar and Uchyn both produced over 20 points last season and Crowley and Stirtzinger add experience and depth. Solovyev and Steen may be the best and biggest returning defensive combination in the league, also with the much needed experience in the NAHL to make the club successful.
"At the end of last season, these veteran players got a taste of success in this league and I am hoping it made them a little hungrier in the off-season to come back this year and do what they need to do to make the team successful," said Wildfong. "At this level, everything is so close. Everyone is well coached, so it really boils down to finding out if your best players can respond and answer the call on a regular basis. More often times than not, that is the difference between winning and losing because it is a very fine line. We have to find that extra percentage in order to be have a different result than last season."
As for any of the new players on the Brahmas roster this season, Wildfong said it is going to take some time to assess the talent and see where they fit in. "I am really excited about a lot of the new guys we have this season. It is one of the reasons we brought everyone in a little earlier this year because we wanted to start the process as soon as we could," said Wildfong. "We really feel like we have the right balance of veteran players and new players, which was one of our goals in building this year's team."
"We want to get off to a better start this season. We understand that last season was just that and we have moved on. I want our team to be performing their best from the very first game, because those games at the Showcase are important, both from a standings perspective and a performance perspective," said Wildfong. "I don't want to show up at the Showcase 'just trying to get our feet wet,' but I want to show up there and compete. I want everyone ready and playing their best."
Next up in the NAHL 24 in 24 series: Michigan Warriors, September 1st