24 in 24 Series: Keystone Ice Miners
August 30, 2014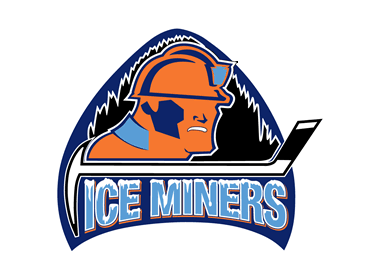 The 24 Teams in 24 Days series features a look at all 24 teams in the NAHL for the 2014-15 season, with a new team being highlighted daily, leading all the way up until the start of the regular season on Friday, September 12th as six NAHL teams take to the ice on Opening Night. 24 in 24 will go in-depth into each NAHL team and will include interviews with all 24 head coaches in the NAHL, as they provide fans with their expectations and outlook for the 2014-15 season, including taking a look at their roster and their strengths as a team. It will also take a look back on the 2013-14 season and how each team fared and what they accomplished. Best of all, 24 in 24 is done to provide the fans of the NAHL with an inside look at their favorite team and what to expect.
Keystone Ice Miners
Head Coach: Michael Gershon (3rd year)
2013-14 record: 35-15-10, 80 pts. (1st in the North Division) *as the Port Huron Fighting Falcons
2013-14 leading scorer: Bryan Yim (56 GP, 20 G, 30 A, 50 pts, +14)
2014 Playoffs: Lost in the North Division Finals to the Michigan Warriors 3 games to 1 *as Port Huron Fighting Falcons
2014-15 Division: North
First regular season game: Saturday, September 13th vs. Johnstown Tomahawks, 7:30pm
Home opener: Saturday, September 13th vs. Johnstown Tomahawks, 7:30pm
Another successful season for the Port Huron Fighting Falcons and head coach Michael Gershon took place in 2013-14, but a geographical change was in store for the organization. On May 9th the team announced that it was moving to Connellsville, Pennsylvania and would be renamed the Keystone Ice Miners. The team Connellsville inherited was coming off a very successful season in which the club won the NAHL's North Division during the regular season with a 35-15-10 record. The team's season came to an end in the North Division Finals in a loss to the Michigan Warriors. A total of seven current and former players also made NCAA commitments throughout the season.
"We went a little younger last year, which is why we were very happy with winning 35 games and winning the North Division title during the regular season," said Gershon. "It was good to see them buy into our system and work hard towards the goal of winning a division title was something that was very rewarding, especially considering they were a younger group. Unfortunately, we ran into a very good Michigan Warriors team, who was playing their best hockey of the season during the playoffs. Things like that happen, but it didn't damper what we thought was a successful season."
Because the team was younger last year, it set Gershon and the Ice Miners up for the potential to have an older more veteran group this season in Connellsville. "We are going to be in a growing and emerging hockey market in Connellsville and the fans are very knowledgeable. We have already seen how passionate the people in the area are about hockey and I look forward to them bringing that same passion to the Ice Mine with this group of players," said Gershon. "I think there is an excitement build that this community is going to have a team to call their own and a team that is going to be competitive and tough to play again each night."
The Ice Miners had the potential to bring back a total of 17 players who were in a Fighting Falcons uniform last year, but Gershon decided on 11, which means that almost half the team will be NAHL veterans. "From our standpoint, it was just trying to reload and put together the best team we could. I think we are going to be better than we were last year, so that is very encouraging. We are very happy with the progress of the veterans we have coming back, but we also have some exciting and young players that are doing to add a dynamic to this team," said Gershon.
Gershon believes that the strength of this year's team will be the team speed and the team defense. "We built from the back out and that meant starting with our goaltending and we are very excited to have Alex Blankenburg coming back," said Gerhson. Blankenburg, 19, returns for his third year in the NAHL and has established himself as an elite goaltender in the league. Last year, he ranked in the Top 8 in both goals against average (2.12) and save percentage (93.1%). He also appeared in the NAHL Top Prospects Tournament.
In front of Blankenburg will be a very strong defensive corps, led by five returning players in Alex Archibald, Niko Coffman, Nick Le Sage, Lucas Little and Reed Scahill. Archibald is entering his fourth NAHL season and not only put up 28 points last season, but also led the team in plus/minus with a +22. The other four all registered double digit points last season including Le Sage (19 points), Scahill (16 points), Coffman (12 points) and Little (11 points).
Up front, five more veteran players return to line-up including: Vito Aluia, Noah Batis, Taylor Fernandez, Jon Hall and Austin Romzek. Aluia led that group with 33 points followed by Batis (21 points), Romzek (19 points), Hall (16 points) and Fernandez (13 points).
The quality of veterans combined with the skill of the new faces has Gershon optimistic about the team's chances this year. "We think there is a ton of potential for the new players. They are exciting, but they are young, so it may take a little time for them to adapt," said Gershon. The list of new players includes five 17-year-olds and a 16-year old. "I think there are going to be a lot of NCAA scouts in our building if these guys live up to their potential.
Some of the new players that could have an impact are defenseman Keenan Sabatini, who at 6'3/190 lbs. is a physical presence with a hard shot and can move the puck. Other new players include Jacob Coleman and Cameron Smith, who like Sabatini are just 17-years-old and both Coleman and Smith are committed to NCAA Division I schools.
"We want to get off to a quick start. We have our home opener before we go to the Showcase and we would like to win that. We would also like to play well at the NAHL Showcase. Long term, we want to win the North Division and have a chance to play for the Robertson Cup. Our ultimate goal is to move the players onto the highest levels of hockey they can play," concluded Gershon.
Next up in the NAHL 24 in 24 series: Lone Star Brahmas, August 31st