24 in 24 Series: Kenai River Brown Bears
August 29, 2014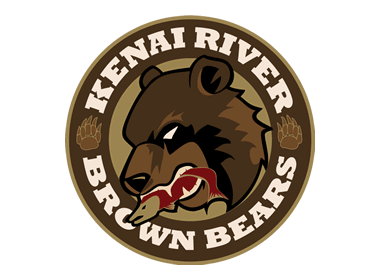 The 24 Teams in 24 Days series features a look at all 24 teams in the NAHL for the 2014-15 season, with a new team being highlighted daily, leading all the way up until the start of the regular season on Friday, September 12th as six NAHL teams take to the ice on Opening Night. 24 in 24 will go in-depth into each NAHL team and will include interviews with all 24 head coaches in the NAHL, as they provide fans with their expectations and outlook for the 2014-15 season, including taking a look at their roster and their strengths as a team. It will also take a look back on the 2013-14 season and how each team fared and what they accomplished. Best of all, 24 in 24 is done to provide the fans of the NAHL with an inside look at their favorite team and what to expect.
Kenai River Brown Bears
Head Coach: Geoff Beauparlant (2nd year)
2013-14 record: 28-24-8, 64 pts. (4th in the Midwest Division)
2013-14 leading scorer: Alec Butcher (60 GP, 24 G, 42 A, 66 pts, +20)
2014 Playoffs: Lost in the Midwest Division Semi-Finals to the Fairbanks Ice Dogs, 3 games to 2
2014-15 Division: Midwest
First regular season game: Friday, September 12th vs. Fairbanks Ice Dogs, 7:30pm
Home opener: Friday, September 12th vs. Fairbanks Ice Dogs, 7:30pm
The Kenai River Brown Bears were proof that in order to have a punchers chance in the playoffs, all you have to do is make the show. The Brown Bears got in the post-season on the very last day of the regular season and found themselves matched up against their rival, the Fairbanks Ice Dogs. The Brown Bears took the eventual Robertson Cup Champions to the brink as they fell in overtime in the fifth and deciding game of their Midwest Division Semi-Final series.
It did not damper what was an exciting season for the Brown Bears. The beginning of the season was one of the highlights. After the Brown Bears lost their opening round series to the Ice Dogs, they went perfect at the NAHL Showcase and won eight of their next nine games to put themselves in 1st place in the Midwest. The Brown Bears also had another good year in the commitment department with a total of nine players ending up with NCAA opportunities.
"We were happy with the fact that we met some of our goals and had some notable NCAA commitments. Anytime a player doesn't return because he has moved on to the higher levels of hockey that lets us know that we are doing something right. It is a continuing sense of pride for our organization and tells us we are doing the right things," said Beauparlant. "We did a lot of good things last year including having the best start the season that this organization has ever had and going undefeated at the NAHL Showcase, so there were definitely some things to be proud of. I think the talent level in the NAHL right now is very good and we have some great quality and depth in the players and the coaches. We do a great job across the board in promoting and developing our players and we also benefit from the league-wide events that take place."
Because of all the players that moved on, Beauparlant and the Brown Bears will only have five players from last year's squad returning to the team this year, which will make them relatively young and inexperienced. Gone is almost the entire offense from a year ago, which produced league MVP and leading scorer Alec Butcher. Also gone and off to NCAA Division I schools are high-scoring forwards Sebastian Fuchs and Albin Karlsson. Of the five returning players, only one of them is a forward, which is Matt Rudin.
"We needed to address our depth and our scoring. We didn't produce enough team offense last year. I think the strength of this year's team is going to be defense because we return our top goaltender and three defensemen," said Beauparlant. "I have to give a lot of credit to our scouting staff because with that type of turnover, we are very excited with what we have in camp right now to start the season."
Tyler Andrews, Gustav Berglund and Ben Campbell make up the collection of returning defensemen, while Zach Quinn will return in goal. Campbell is a two-year veteran, who split time between the Brown Bears and Fairbanks last season and had 18 points. Andrews put up 16 points and Berglund nine points along with providing a physical presence as well. Quinn showed flashes of brilliance last year, which included being in goal for the Brown Bears good fortune at the start of the season and he also posted a 92.4% save percentage last season.
There are a lot of new players, many of which Beauparlant is excited about. In the off-season, the Brown Bears picked up Maurin Bouvet from the Corpus Christi IceRays. Bouvet had 25 points last year and Beauparlant said that he should play a key role this season in Kenai River. "We played Corpus Christi four times last year and I really liked him as a player and know what he is capable of. He is tough to play against and I really think he is going to be able to provide some of the veteran leadership we need." Beauparlant also is excited about a couple of import players, as well as, the addition of another veteran goalie. Although he did not go into details of who they were, he said that he feels there will be more depth this year.
"I hope they can all adapt quickly, but it will be scoring by committee this year, which is more of what we are shooting for," said Beauparlant. "I think there were a lot of question marks heading into our main camp because we did have 20 spots to fill, but I feel confident that we group we have has the talent and skill to be competitive. Now it is just a matter of seeing how well they work and fit together as a group."
"We would love to duplicate the start we had last season, but we have to be more consistent. We put ourselves in a tough spot last year where we were waiting until the last day of the regular season to find out if we were even going to be in the playoffs," said Beauparlant. "I think this season our goal is to not only make the playoffs, but advance past the first round. That is something this organization is ready for. However, our first priority remains to develop and advance players. We feel really good about what has happened here the last couple of years and we want to see that continue. If we turnover 15 guys a year because they are moving onto the higher levels of hockey, I am OK with that. We are looking forward to a successful season."
Next up in the NAHL 24 in 24 series: Keystone Ice Miners, August 30th