24 in 24 Series: Janesville Jets
August 27, 2014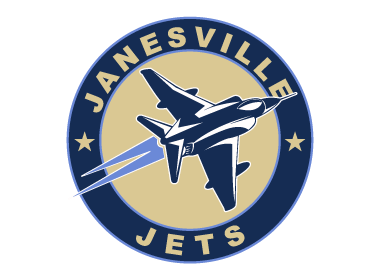 The 24 Teams in 24 Days series features a look at all 24 teams in the NAHL for the 2014-15 season, with a new team being highlighted daily, leading all the way up until the start of the regular season on Friday, September 12th as six NAHL teams take to the ice on Opening Night. 24 in 24 will go in-depth into each NAHL team and will include interviews with all 24 head coaches in the NAHL, as they provide fans with their expectations and outlook for the 2014-15 season, including taking a look at their roster and their strengths as a team. It will also take a look back on the 2013-14 season and how each team fared and what they accomplished. Best of all, 24 in 24 is done to provide the fans of the NAHL with an inside look at their favorite team and what to expect.
Janesville Jets
Head Coach: Joe Dibble (3rd year)
2013-14 record: 32-24-4, 68 pts. (3rd in the North Division)
2013-14 leading scorer: Jordan Himley (59 GP, 25 G, 24 A, 49 pts, +2)
2014 Playoffs: Lost in the North Division Semi-Finals to the Michigan Warriors, 3 games to 0
2014-15 Division: North
First regular season game: Friday, September 12th @ Soo Eagles, 7:30pm
Home opener: Friday, September 26th vs. Springfield Jr. Blues, 7:00pm
Although the playoffs did not end like the Janesville Jets wanted it to, it didn't damper what the Jets were able to accomplish last season. For the third time in the team's five-year history, the Jets were able to win 30+ games, but it was the Jets commitment numbers that drew the most attention. The Jets had a total of 15 current or former players commit to play NCAA hockey during the 2013-14 season. That included nine players who played for the Jets during the season and included such players as Logan Halladay (Minnesota), Kyle Patava (Army), Alex Shuchuk (Wisconsin), Michael Bigelback (MSU-Mankato), Drew Callin (Bentley), Jordan Himley (Air Force), Robin Hoglund (Minnesota), Jesse Juntttila (Northern Michigan) and Nick Petrella (Holy Cross).
The Jets were a .500 hockey team midway through the season, but a late season surge saw them win 10 of their final 12 games and end up in 3rd place in the North Division. Despite being swept by Michigan in the North Division Semi-Finals, head coach Joe Dibble said that he was proud of the team last year. "Our number one focus here in Janesville is doing the best for our players and putting them in opportunities to be successful and move onto the next levels of hockey, so from that aspect we are really happy with what happened last season," said Dibble. "The exciting thing to see is that it isn't just us, but it is league-wide. All the coaches share the same vision and passion that I do and that is working hard for your players. We try and do as much as we can to make sure they have the best opportunity possible for success."
Dibble said that beyond the commitments, the 32 wins and the playoff spot, last year was a learning experience on the ice. "We had a really young team last year, so the first half of the season was a big roller coaster ride. I think our development and maturity started to show last season because we were playing some really good hockey and ended up two points out of 2nd place," said Dibble. "After getting swept by Michigan in the playoffs, our veteran group of players that are coming back this year did not leave with a good taste in their mouth. Hopefully it is something that motivates them and gives them a sense of unfinished business heading into this season."
In building a team for this season, the Jets will have a veteran presence, but needed to address their goaltending. Gone are goalies Logan Halladay and Brock Kautz from last season and in their place Dibble has brought in what he believes are two top prospects in Matt Jurusik and Johan Skantz. Jurusik is just 17-years-old and is from LaGrange, Illinois, which is just two hours away from Janesville. Jurusik just backstopped the USA Under 18 Select Team to a Bronze Medal in the Ivan Hlinka Memorial Cup Tournament and played last season for the Cleveland Barons 18U team. Skantz, 19, is a product of the Super Elite League in Sweden and comes to the Jets for his first experience with hockey in North America. "I think Jurusik is going to be one of those goalies that hopefully follows in the footsteps of Logan Halladay from last year. He is one of the best 17-year-old goalies in the United States. We have a great mix with him and Skantz, who is a little more experienced, but has yet to experience the North American game. I think both have the ability and potential to be top goaltenders in this league."
The Jets also return a good group of scorers, which include forwards Kyle Patava and Drew Callin, who both made NCAA Division I commitments last year and who both proved they could score last season. Patava led the team in assists with 25 and had 39 points, while Callin had 16 goals and 33 points. Other notable veteran forwards on the roster include Evan Feno and Mario Bianchi, who had 10 goals and 19 points with the Minnesota Magicians last season.
Alex Smith and Ian Janco highlight the veteran returning defensemen, but Dibble thinks that with the new additions along the blueline, not only will the Jets be bigger, but also more involved offensively. "This season we are big on the back end and we need to work on having them jump in the play. I think you are going to see a nice mix of guys that create offense and play solid defense," said Dibble.
There is a host of new forwards that Dibble remains excited about, which include newcomers Zach LaValle, Nicolas Erb-Ekholm and Cullen Munson. LaValle is from Minnesota and played for Hill-Murray in high school and spent last season with the Chicago Steel in the USHL. Dibble said that he thinks he will thrive with the Jets. "Zach has a great hockey I.Q. and is a good playmaker that can shoot the puck." Erb-Ekholm is another player from the Swedish Super Elite League that Dibble describes and very skilled and exciting. Munson played the past three seasons for Edina High School in Minnesota, winning state titles the last two years and who is committed to Army.
"We tried to find guys who have skill, can compete and who have a desire to win," said Dibble. "We were not satisfied with how the playoffs ended up last season and this year, just making the playoffs isn't going to please anybody in that lockerroom. We know the commitments will come, but our main goals include trying to get better everyday. We would also like to win the North Division and give ourselves a shot at the Robertson Cup."
Next up in the NAHL 24 in 24 series: Johnstown Tomahawks, August 28th