24 in 24 Series: Bismarck Bobcats
August 22, 2014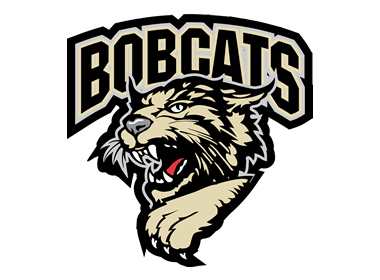 The 24 Teams in 24 Days series features a look at all 24 teams in the NAHL for the 2014-15 season, with a new team being highlighted daily, leading all the way up until the start of the regular season on Friday, September 12th as six NAHL teams take to the ice on Opening Night. 24 in 24 will go in-depth into each NAHL team and will include interviews with all 24 head coaches in the NAHL, as they provide fans with their expectations and outlook for the 2014-15 season, including taking a look at their roster and their strengths as a team. It will also take a look back on the 2013-14 season and how each team fared and what they accomplished. Best of all, 24 in 24 is done to provide the fans of the NAHL with an inside look at their favorite team and what to expect.
Bismarck Bobcats
Head Coach: Layne Sedevie (5th year)
2013-14 record: 31-24-5, 67 pts. (3rd in the Central Division)
2013-14 leading scorer: Nate Repensky (59 GP, 12 G, 38 A, 50 pts, +18)
2014 Playoffs: Lost in the Central Division Finals, 3 games to 2 to the Austin Bruins
2014-15 Division: Central
First regular season game: Wednesday, September 17th vs. Soo Eagles, 7:45pm
Home opener: Saturday, September 27th vs. Austin Bruins, 7:15pm
One goal in the final game of the Central Division Finals was all that separated the Bismarck Bobcats from a sixth straight playoff division title and an appearance in the Robertson Cup final four. That is just how good the Bobcats, who won the NAHL Robertson Cup National Championship in 2010, have been in recent years. The Bobcats can also boast that their 11th year in the NAHL was probably their best from a community support standpoint as they set a new team record for average attendance, while continuing to be a staple in the Bismarck-Mandan, North Dakota, community.
This past year was another solid one for the Bobcats, who not only won at least 30 games for the sixth consecutive season, but had 11 NCAA commitments, including 10 current players. "I think first and foremost, we were very proud of the number and type of commitments we had last season," said head coach Layne Sedevie. "That's what it is all about. I think we expected to be in and win the Division Finals, so when we fell just short it was a little shock to the system, but it was a good battle with Austin and I think it is motivation for us going into this season."
The Bobcats will have some rebuilding to do. Gone is their top goaltender (Aaron Nelson), their top defenseman and leading scorer (Nate Repensky) and top forward and goal scorer (Stanislav Dzakhov) from a season ago. Repensky was named as the NAHL Defenseman of the Year last season, as well as, named to the All-NAHL 1st Team. The good news is that trio along with several others are headed to the NCAA to play Division I hockey this season. "I think it is a reflection of the depth and parity of the NAHL. We are very proud as an organization to move players onto the NCAA. If you ask me what is at the forefront of what are league is about, it is moving players onto the next level. It is something that is a top priority for our organization."
In constructing a roster for the 2014-15 season, the majority of the roster will be new faces. The Bobcats lost 13 players from last year's team, which was an experienced and veteran line-up. First and foremost, will be finding another starting goaltender who can come in and not only thrive, but follow in the long line of consecutive Bobcats goalies who have made NCAA Division I commitments. Sedevie, a former goalie himself, said he takes pride in seeing his netminders not only move onto the next level, but flourish there as well. "Aaron (Nelson) left some big shoes to fill because no goalie played more games or minutes in the NAHL last season than him. He was our workhorse and now it is up to some else to take that role and run with it," said Sedevie.
The first goalie that comes to mind is Scott Albertoni, who has a year of NAHL experience under his belt and is still just 17-years-old. Albertoni started the season last year in Corpus Christi, but then was traded to Bismarck. "We need to have two good guys who will push each other and Scott certainly is capable," said Sedevie. "Because we don't have that veteran goalie with 50-60 games of experience returning, it may be goaltending by committee to start the season, but that is the way our entire team will be as well. There are just simply too many new faces to know who is going to step up and earn that playing time."
As for the veterans coming back, Evan Giesler returns up front having scored 42 points a season ago. Another dangerous scorer, Cullen Willox, will also return having scored 34 points a season ago. Other veterans that Sedevie mentioned were forward Matt Perry and defenseman Ryan Callahan "Those are the guys who are going to have to step up right away for us. They understand what an NAHL season is like and how you need to act as a hockey player."
As for the new faces in the line-up, Sedevie said that he is very excited at some of the players who were acquired through tenders and draft picks. One of those players is Alex Strand, who played towards the end of the season in six games with the Bobcats. Strand is a highly-touted prospect from Roseau High School in Minnesota, where as the captain last year he scored 68 points and led his team to a spot in the Minnesota State Finals last year. Other new faces to the line-up include defensemen Joe Tyran and Nate Werhane, who both played Midget AAA hockey last year. "We are just hoping that the guys who we feel can come in and play right away at the junior level come in and exceed our expectations. There is going to be a lot of opportunity for the new players to shine, but that first part of the season will be to see how they react to game situations and the daily battle in the NAHL," said Sedevie.
To begin the season, Sedevie said his goals for the team will remain simple. "To start the season we want the group to understand the tradition we have established. We want them to understand the mindset that the previous teams had in being able to have a chance to win a Robertson Cup at the end of the season," said Sedevie. "No matter what type of group we have, we want to win our division and want to put ourselves in a position to win a Robertson Cup. Beyond that, the other big goal for us will be to move more players onto the NCAA than we did this past year."
Next up in the NAHL 24 in 24 series: Brookings Blizzard, August 23rd