24 in 24 Series: Austin Bruins
August 21, 2014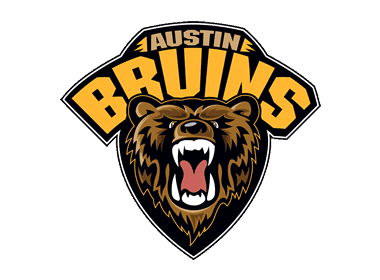 The 24 Teams in 24 Days series features a look at all 24 teams in the NAHL for the 2014-15 season, with a new team being highlighted daily, leading all the way up until the start of the regular season on Friday, September 12th as six NAHL teams take to the ice on Opening Night. 24 in 24 will go in-depth into each NAHL team and will include interviews with all 24 head coaches in the NAHL, as they provide fans with their expectations and outlook for the 2014-15 season, including taking a look at their roster and their strengths as a team. It will also take a look back on the 2013-14 season and how each team fared and what they accomplished. Best of all, 24 in 24 is done to provide the fans of the NAHL with an inside look at their favorite team and what to expect.
Austin Bruins
Head Coach: Chris Tok (5th year)
2013-14 record: 40-19-1, 81 pts. (1st in the Central Division)
2013-14 leading scorer: Jay Dickman (59 GP, 28 G, 36 A, 64 pts, +36)
2014 Playoffs: Lost in the NAHL Robertson Cup Finals, 2 games to 0 to the Fairbanks Ice Dogs
2014-15 Division: Central
First regular season game: Wednesday, September 17th vs. Michigan Warriors, 4:30pm
Home opener: Friday, October 3rd vs. Aberdeen Wings, 7:05pm
The 2013-14 season was one for the record books for the Austin Bruins and the probably the best in the four-year history of the Austin, Minnesota-based NAHL club. On the ice, the Bruins were one of the best in the league. For the second straight season, the Bruins won at least 40 games and also won their second straight Central Division title. However, the hurdle for the Bruins had always been the playoffs, but 2014 was different. Austin finally got past their rival Bismarck to win the Central Division playoff crown and then had to contend with the Topeka RoadRunners, on the road, in the NAHL Robertson Cup Semi-Finals. Down 1-0 in the series, the Bruins won the final two games of the series including the clincher in overtime to advance to the Robertson Cup Finals. After a long plane ride to Fairbanks, Alaska, the Bruins battled until the end in one of the toughest places to play in junior hockey, but fell to the Ice Dogs 2 games to 0 including a thrilling overtime game in Game 1.
The Bruins also had 14 players (12 current) make NCAA commitments throughout the 2013-14 season, which was the most for the team in franchise history for one season and played a big role in the overall number for the NAHL, which currently stands at 222 NCAA commitments from the 2013-14 season. The college list for the Bruins reads like a who's who for schools, including the likes of Nick Lehr who is off to Minnesota, Sam Kauppila (St. Lawrence), Lucas Kohls and Guillaume Leclerc (UMass-Lowell), Jay Dickman (Bemidji State) and Brennan Sanford (Michigan State) just to name a few. 2013-14 also marked the second straight season that the Bruins operated at over 85% capacity for their home games, which several sellouts.
However, those commitments and success were built upon a veteran roster that head coach Chris Tok had spent 2-3 years constructing. So, the Bruins enter this season in what is largely considered a rebuilding mode. "We did what we wanted to do this past season and that was very satisfying. We put together a plan, saw it mature and develop over the course of a couple a seasons and then saw it pay off with the success we had on the ice and with moving guys on," said Tok. "We were really excited of the number of commitments and where they are headed. I think this year more than any other, you are seeing a record number of commitments because guys are mature and college ready. I think the NAHL has a great network of coaches who understand how to develop players who not only can play at the next level, but be big time contributors."
Despite the success from last year, Tok said that he enters the season with a little bit of unfinished business. "We don't have a lot of returning players, but those that are returning including myself feel like there is a little bit left to do. To get so close last year and fall just short leaves a certain taste in your mouth and certain hunger to try and get back to that situation and have a different result," said Tok. "It was something that even the new guys joining the team this season have brought up, despite the fact they didn't go through it. I think the common feeling is that everyone on this year's team wants a crack at that again, whether they were involved last year or not."
To begin the 2014-15 season, Tok said that it is going to mirror a little bit of what they went through their first season in 2010-11. "There are so many new faces to start the year that to open the season that I am going to make sure that first and foremost everyone is on the same page. We only have five returning players, so team building and understanding what our goals are will be something that is emphasized early. This is not a veteran group and very few guys will have played hockey together so that will be a priority."
Returners to the Bruins include forwards Luke Dietsch and Brian Bachnak and defensemen Jake Arroyo and Cory Dunn. "I do think the guys coming back all are capable of being very effective leaders on and off the ice. We will lean on that group to get our message across," said Tok. "Nothing has come easy for any of them and all have faced some adversity along the way, so I fully expect them to translate that into leadership skills that will rub off and reflect on the guys who haven't been through it before."
As for the new players in the line-up, the Bruins will have two new faces between the pipes in Zach Driscoll and Jake Kielly. They have some big shoes to fill as two-year starter Nick Lehr is off to the University of Minnesota. Driscoll is a big-time prospect from Eastview High School in Minnesota, while Kielly is also a Minnesota native who played Midget AAA hockey last year for Victory Honda. Tok said that while both are young (still in high school), both have already received some NHL attention. Tok also said that new forward JC MacLean is someone he is excited to see play and has dynamic skills up front.
Finally, Tok said that he is excited about the stability of the organization, which includes an additional ownership piece. "I think that when we started this thing back in 2010, there was a little bit of uncertainty if it would work or not, but after our many successes this past season, I think everyone in the community has seen how committed we are to building a winning and successful program for the long term," said Tok. "That extends off the ice to our community and fans, who are also a big reason behind our success and stability."
Next up in the NAHL 24 in 24 series: Bismarck Bobcats, August 22nd