24 in 24 Series: Amarillo Bulls
August 20, 2014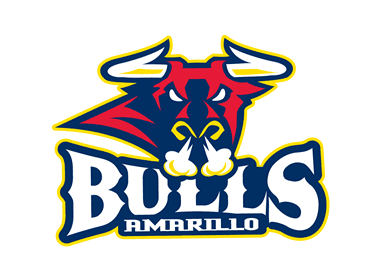 The 24 Teams in 24 Days series features a look at all 24 teams in the NAHL for the 2014-15 season, with a new team being highlighted daily, leading all the way up until the start of the regular season on Friday, September 12th as six NAHL teams take to the ice on Opening Night. 24 in 24 will go in-depth into each NAHL team and will include interviews with all 24 head coaches in the NAHL, as they provide fans with their expectations and outlook for the 2014-15 season, including taking a look at their roster and their strengths as a team. It will also take a look back on the 2013-14 season and how each team fared and what they accomplished. Best of all, 24 in 24 is done to provide the fans of the NAHL with an inside look at their favorite team and what to expect.
Amarillo Bulls
Head Coach: Jon Rogger (1st year)
2013-14 record: 40-14-6, 86 pts. (1st in the South Division)
2013-14 leading scorer: Mike Davis (60 GP, 28 G, 35 A, 63 pts, +28)
2014 Playoffs: Lost in the South Division Finals to the Topeka RoadRunners, 3 games to 2
2014-15 Division: South
First regular season game: Wednesday, September 17th vs. Wenatchee Wild, 10:30am
Home opener: Friday, September 26th vs. Rio Grande Valley Killer Bees, 7:05pm
40 wins, a division title, 13 NCAA commitments and one win away from making back to the Robertson Cup final four would have most teams ecstatic and rewriting the franchise record books when it comes to those type of successes. However, for the Amarillo Bulls it is becoming the norm. The 2013 NAHL Robertson Cup National Champions answered the bell for the entire season with a target on their chest. The Bulls won the South Division regular season title and had at least 40 wins for a third consecutive season. However, the Bulls were edged out in the South Finals by the Topeka RoadRunners in the fifth and deciding game at home. Despite the loss, the Bulls had a tremendous season, which also included setting a new team record for average attendance (2,355).
Over the course of the past four seasons, no NAHL club has won more regular season games or had more NCAA commitments. That type of success saw the departure of head coach Dennis Williams, who was behind the bench for all four of those seasons. Williams ended up taking the head coaching position with the Bloomington Thunder in the USHL, but it was a former NAHL assistant coach and at the time, current USHL head coach that would be selected as the next head coach for the Bulls. Enter Jon Rogger, who is a native of St. Louis, Missouri, and spent the past two seasons as Head Coach for the Des Moines Buccaneers in the USHL. Rogger's name is a familiar one in NAHL circles as he was the Assistant Coach for the St. Louis Bandits team that won the Robertson Cup in 2008 under then head coach Jon Cooper, who is now the head coach for the NHL's Tampa Bay Lightning.
Rogger said that since he was hired in early May, it has been a whirlwind of activity. "It has been a busy summer that is for sure, but I fell like my past experience in the league and experience the last two seasons in Des Moines really prepared me for what was ahead," said Rogger. "There have nothing but great things said about the Amarillo Bulls organization and Coach Williams did a tremendous job the past four seasons. We worked hard this summer in identifying the players that wanted to come to Amarillo, work hard and win a Championship. What is has happened in Amarillo the past four years is something very special and I hope to continue that."
The Bulls will only have six veteran players returning to the team in 2014-15, which is also the Bulls fifth anniversary season in the NAHL. With the losses of leading scorer Mike Davis, defenseman Joe Grabowski and both goaltenders to the NCAA, this year's group will be new and relatively young. "I knew coming in that we were going to be light on veterans, but that is OK because I think the guys we have coming in share the same attitude and mission of those that have been here," said Rogger. "We are going to play tough, strong and in your face hockey for 60 minutes, much like the Bulls of the past have done. That was a recipe for success here and it is a philosophy I share."
"Those that are arrive here on August 25th have to be in great shape. We have to get off to a good start and part of that is being prepared to work hard from the very moment we start practicing. It also gives me a gauge to see who has been putting in the work this summer," said Rogger. "The NAHL Showcase is such and unique and important event and I want to make sure we are at the top of our game while we are there. We also take pride in developing players for the NCAA and the Showcase is a unbelievable opportunity for these players to perform at their best."
One of the things that Rogger noticed immediately about the Bulls organization was the passion and support of the surrounding Amarillo community. "I've heard such great things about the community and have really been accepted with open arms. Our fans know what they are talking about and are very knowledgeable about the NAHL product. I moved down here recently and am excited to be a permanent resident of the area."
One of the big holes to fill for the Bulls is in goal because both goalies, Paul Berrafato (Holy Cross) and Collin Delia (Merrimack), are off to NCAA Division I schools. Rogger hinted that he is interested to see new goalie Jacob Weatherly, who played the last few seasons for the Colorado Rampage. Weatherly, 18, is coming off an injury, but should be ready for the start of the season. Beyond that Rogger said that he is going to take the wait and see approach with all of the new players. "I can't speak too much about the new guys until I get a good look at them in training camp, but we feel good about the talent level."
Although they only have six veterans returning, two of the key components from last year's #2 ranked offense will be back in Cody Gylling and Mitchell McPherson. Gylling will be entering his third NAHL season, while McPherson will be entering his fourth. Both are efficient scorers and not afraid to play with toughness and grit. "Both Cody and Mitchell are team leaders and will do what it takes to win, so having veteran leadership like that is going to be important for us," stated Rogger. On defense, the Bulls have Ben Jentsch and Dean Rhymer returning and both bring size and grit to a line-up that will lean heavily on the few veterans it has.
Next up in the NAHL 24 in 24 series: Austin Bruins, August 21st