24 in 24 Series: Aberdeen Wings
August 19, 2014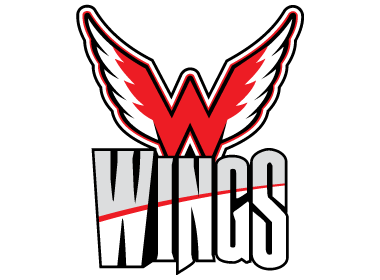 The 24 Teams in 24 Days series features a look at all 24 teams in the NAHL for the 2014-15 season, with a new team being highlighted daily, leading all the way up until the start of the regular season on Friday, September 12th as six NAHL teams take to the ice on Opening Night. 24 in 24 will go in-depth into each NAHL team and will include interviews with all 24 head coaches in the NAHL, as they provide fans with their expectations and outlook for the 2014-15 season, including taking a look at their roster and their strengths as a team. It will also take a look back on the 2013-14 season and how each team fared and what they accomplished. Best of all, 24 in 24 is done to provide the fans of the NAHL with an inside look at their favorite team and what to expect.
Aberdeen Wings
Head Coach: Francis Anzalone (1st year)
2013-14 record: 38-18-4, 80 pts. (2nd in the Central Division)
2013-14 leading scorer: TJ Roo (56 GP, 22 G, 32 A, 54 pts, +9)
2014 Playoffs: Lost in the Central Division Semi-Finals to the Bismarck Bobcats, 3 games to 0
2014-15 Division: Central
First regular season game: Wednesday, September 17th vs. Johnstown Tomahawks, 4:45pm
Home opener: Friday, September 26th vs. Bismarck Bobcats, 7:15pm
The Aberdeen Wings kick off the NAHL 24 in 24 series as the NAHL season is just a mere three and a half weeks away from commencing once again. With 38 wins, a berth in the Robertson Cup Playoffs and 13 current and former players making NCAA commitments last season, last season was a rousing success for the Wings. The wins and commitments were franchise highs and the Wings finished just a point behind the Austin Bruins for 1st place in the Central Division. Despite being derailed in the playoffs by the Bismarck Bobcats, last season was one for the record books for Aberdeen. On top of all that, the Wings are one of the gems in the NAHL when it comes to community support. They also set a new franchise record for average attendance last season and many teams have remarked that the Odde Ice Center in Aberdeen is the toughest place to play in the NAHL.
Back in May, the Wings announced that head coach Travis Winter was returning to his alma mater Bemidji State University as an assistant coach and current Wings assistant Francis Anzalone would take over as head coach for the 2014-15 season moving forward. In just 16 months guiding the Wings, Winter compiled a record of 53-24-7, not to mention the record-breaking number of wins and NCAA commitments. Despite the fact this will be Anzalone's first head coaching gig, he is well versed in how to operate, build and manage a team as he and Winter had been together for five years.
"From a personal standpoint, I think am pretty comfortable with the day-to-day hockey operations stuff, but I made it a goal to really educate myself on how the league rules work and the administrative responsibilities that come along with being in a head coach in the NAHL," said Anzalone. Anzalone, 26, has been coaching at the competitive youth and junior levels since he was 18. His experience extends beyond his resume, having grown up around the game through his father Frank, who has coached at the junior, collegiate and professional levels for over 30 years. The Sault Ste. Marie, MI native is excited to take the next step in his own career while continuing the work he and Winter had started. "I'm really fortunate that the transition has been very smooth. We have a great staff here that have helped with that and I am very excited for the upcoming season."
Aberdeen lost eight of their top 10 scorers from last year, including NAHL Rookie of the Year TJ Roo, who follows Winter to Bemidji State. Anzalone said that when he was constructing a team, the offense was the first thing he wanted to address. "I wanted to bring in some forwards that had a little more grit. We have to be good in all areas of the ice and I wanted guys who put a responsibility in all areas." The Wings also lost two major pieces along the defense to NCAA Division I commitments in All-NAHL 1st Team member Jake Horton and also Dillon Eichstadt. "Those are two big losses for us on the back end, but we have four returning defensemen and I feel confident that our defense will once again be solid," said Anzalone.
The Wings are also fortunate to have veteran goalie Chad Catt back in goal. Catt has been a workhorse the last two seasons in the NAHL and has incredible career numbers in a Wings uniform. Last season, Catt was 3rd in the NAHL in save percentage with a 93.7% mark and also ranked in the top 10 in shutouts (4), goals against average (2.18) and saves (1,054). "Chad has been a big staple of our success the last year and a half, so to have a guy like that back in goal really gives us some confidence, particularly to start the season," remarked Anzalone. "Our biggest concern to begin the season is goal scoring, but I would imagine there are 23 other NAHL head coaches who are probably thinking the same thing."
"We are fortunate to have the pieces in place for success. We have a tremendous and committed owner in Greg Odde. We also have a great and passionate fan base. Aberdeen is a town made for junior hockey. The players get a great life experience while they are here," said Anzalone. "Our fans back us 100% no matter if we are winning or losing. I think that our biggest goal is to make a positive impact on the players while they are here and a big part of that is their daily interaction within the community."
Anzalone said there are three main goals he has in mind when the Wings begin the 2014-15 season. "We want to keep building our program, we want to keep growing our culture and we want to keep developing players. If we do those things, winning will be a by-product," said Anzalone. "We don't talk about winning nearly as we emphasize development and doing the right things on a daily basis."
Anzalone said that one of the Wings biggest positives to open the season is the fact that both returning and new players all want to be in and playing in Aberdeen. "I think all of the returning guys know the culture and understand what it takes to be successful in the NAHL. They have enjoyed their time here thus far and that means a lot to us. On the flip side, 13 of the 17 players we tendered or drafted will be in Aberdeen to start the season. The teams that do well are those that scout and develop players and we feel that we have done a good job at that to start the 2014-15 season, and that's all we can ask for right now," said Anzalone.
Next up in the NAHL 24 in 24 series: Amarillo Bulls, August 20th