Robertson Cup Semi-Finals Preview
May 2, 2014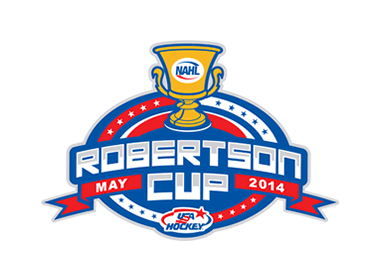 The final four teams remaining in the NAHL Robertson Playoffs take to the ice this weekend beginning on Friday with Game 1 in both series. With the new format this year, the top two teams remaining with the best regular season records, Fairbanks and Topeka, won the right to host the Semi-Final series this weekend, which will be a best of three. All games in both series are schedule for Friday, Saturday and Sunday (if necessary).
Robertson Cup Semi-Final #1
#4 Michigan Warriors @ #1 Fairbanks Ice Dogs – As long a Fairbanks kept winning, they knew they would be in a position like they are currently in, which is hosting the most important games of the season to date in what is one of the toughest places to play in the NAHL. The sold out crowds at the Big Dipper Ice Arena will be very pro-Fairbanks and ready for another Championship. The Ice Dogs are the only remaining team of the four to have won a Robertson Cup. History favors the Ice Dogs, as they have won their three previous meetings with the Warriors. The first game in the Robertson Cup round-robin back in 2011, when Fairbanks won, 4-2. Three days later, the Ice Dogs beat the Warriors by the same score in the Championship Game for the Robertson Cup. In 2012-13, the teams met for the third time at the NAHL Showcase as Fairbanks edged out a 5-4 win. However, it is said that goaltending can win you Championships and if Michigan goalie Trevor Gorsuch plays the way he did in the opening two rounds, the Warriors have a great chance to win the series, especially since they have to win just two games.
What they are saying:
Fairbanks head coach Trevor Stewart: "We've just got to go out and play hard and I believe that's the mentality that every team will have at this time of the year, the last four teams remaining. We're excited that we have this opportunity, and now we just want to make the most of it by going out and playing hard and playing our game. I know Michigan is disciplined and they don't take any undisciplined penalties. We can't expect things to be given to us, we have to go out and earn it."
Michigan head coach Moe Mantha: "I tell our players to be smart and control your emotions. The key against Janesville and Port Huron was they were top power-play teams in the (NAHL) regular season, operating at 17 to 18-percent efficiency. Why give those guys extra opportunities to win the game? There is not much room for error in a short playoff series. One bad shift, one bad goal can cost you the season. When we get the total team effort that we have been getting and when we play tough, disciplined hockey, we are tough to beat."
Robertson Cup Semi-Final #2
#3 Austin Bruins @ #2 Topeka RoadRunners – The RoadRunners have had their fair share of chances the last seven years to capture the Robertson Cup. In 2008, they finished in 3rd place and in 2011, they hosted the event, in which Fairbanks eventually won and the RoadRunners finished 4th. However, armed with a very balanced team that includes scoring, tough defense, one of the best goalies in the league and the memory of teammate Peter Halash, many think Topeka is a team of destiny. After winning 'the hard way' against Amarillo in the South Finals, in where they won all three games on the road, Topeka has the home-ice advantage for the series against Austin. This is the first ever meeting between the two clubs. After two years of trying, the Bruins finally overcame Bismarck for the Central crown and like Topeka, are looking for their first ever Robertson Cup title. Two of the league's top goalies will go head-to-head in the series as Topeka's PJ Bridges goes against Austin's Nick Lehr, and the series also features two of the top four scorers in the NAHL in Austin's Jay Dickman (64 pts.) and Topeka's Tyler Poulsen (61 pts.)
What they are saying:
Topeka head coach Scott Langer: "I think it's more exciting for us to play a team we never get to play. For the staff to be able to prepare against (a new team), it's kind of fun. It's motivating because you're going to have to be good, and we're going to have to change on the fly once we get them on the ice and see what they're doing. They skate extremely well. They have very good goaltending, as every team has at this time. They have pretty good size, and they do things really well. They're very well-coached (under Chris Tok), that's for sure."
Austin head coach Chris Tok: "From the beginning of the season our number one goal was to make the playoffs, then we wanted to win the division title. The ultimate goal is to win the Robertson Cup. We've been knocking over the dominoes to get to the Robertson Cup and now its starting us right in the face. We've got to win four games to get it. Topeka is similar to Bismarck. They have a solid goaltender and they pack it in and keep you to the outside. We're going to have to get guys in front of the net, just like we did against [Bismarck goalie] Aaron Nelson."