NAHL alum Bishop named Vezina Trophy finalist
April 25, 2014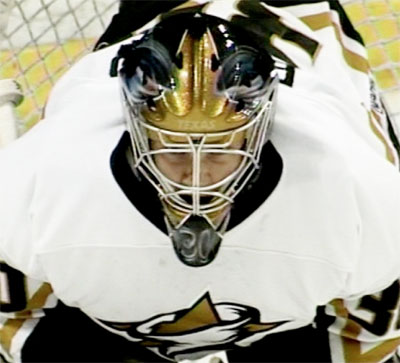 NAHL graduate Ben Bishop of the Tampa Bay Lightning, Tuukka Rask of the Boston Bruins and Semyon Varlamov of the Colorado Avalanche are the three finalists for the 2013-14 Vezina Trophy, which is awarded "to the goalkeeper adjudged to be the best at his position," the National Hockey League announced today.
The general managers of the 30 NHL clubs submitted ballots for the Vezina Trophy at the conclusion of the regular season, with the top three vote-getters designated as finalists. The winner will be announced Tuesday, June 24, during the 2014 NHL Awards from Encore Theater at Wynn Las Vegas. The 2014 NHL Awards will be broadcast by NBCSN in the United States.
Bishop set multiple franchise records in backstopping the Lightning to a second-place finish in the Atlantic Division in his first season as a starter. He became the Lightning's all-time leader for wins in a season with his 31st on Mar. 15 against New Jersey and finished the season ranked fourth in the NHL with 37. Bishop also set a franchise mark in save percentage (.924). He tied for fourth in the League in shutouts (five) and placed seventh in goals-against average (2.23).
Bishop played in the NAHL during the 2004-05 season for the Texas Tornado. During that season, he led the Tornado to their second of three straight Robertson Cup Championships. He also led the NAHL in wins that season with 35, ranked 2nd in goals against average (1.93) and was 3rd in save percentage (92%). He was also named to the 2004-05 NAHL All-Rookie Team that season. During the season, Bishop committed to play NCAA Division I hockey for the University of Maine and later in the Summer of 2005 was drafted by the St. Louis Blues.
"I'm excited for next year," Ben Bishop said. "As crazy as it sounds, I'm ready to go." Rising to the occasion this year when the team needed him most, Bishop soon became a standout starter while battling through a number of ailments.
"It's pretty remarkable how he came through," head coach Jon Cooper said. "It wasn't just one thing with him, he had so many things break down on him, but he gamed though it all year."
Despite Bishop's tremendous regular season, he was unable to play in the first round of the Stanley Cup Playoffs because of a dislocated elbow. The injury occurred on April 8 versus the Toronto Maple Leafs when Bishop dove for a puck less than six minutes into the game. His elbow was then popped back into place when Bishop went back to the locker room and he worked hard to be back by Game 6 if Tampa Bay could hold out.
And though the questions will always linger on the what-ifs of having Bishop available in the postseason, the Bolts were grateful to have him playing well for as long as he did.
"We can gripe about being swept in the first round," Cooper said. "But without Bishop before, there may have not been a first round."