Topeka hosts Amarillo for Game 3 on Thursday
April 24, 2014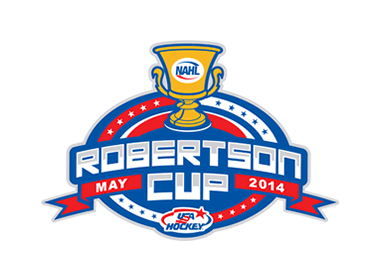 Victories of 3-2 and 3-1 in Amarillo put the Topeka RoadRunners on the brink of winning the South Division championship, which the 'Runners will try to clinch at 7:05pm on Thursday at Landon Arena. If the Bulls take Game 3, the fourth game will be Friday night in Topeka.
Fans can watch the game live on FASTHockey
The RoadRunners have won five straight playoff games for the first time in franchise history. Topeka has surrendered just seven goals in the playoffs while scoring 14. They also have never trailed in the post season this year heading into the third period, and have allowed just one power play goal. Tyler Poulsen and Jasen Fernsler each have four goals. The RoadRunners have only given up just one goal in the second period.
The Amarillo Bulls have never trailed 2-0 in a best-of-five playoff series in their history. With a goal on Saturday night, the Bulls have outscored their opponents 8-3 in the first period. However the middle stanza has been the toughest one with the Bulls being outscored by four. The Bulls have only trailed once in the post season going into the third period.
Jake Kamrass, Yu Hikosaka and Mike Gornall have netted two goals apiece for the RoadRunners. Amarillo has struggled to solve RoadRunners goaltender P.J. Bridges, who has turned aside 55 of the 58 shots he's faced in the series.
Maybe the most telling stat is that dating back to the regular season and including the playoffs, the RoadRunners have won nine straight games over the Bulls.
Topeka Head Coach Scott Langer: "I think our effort has to be even better. The question is can it (be better)? Because we played two very, very good games, and we left everything out on that ice surface. But in order to get through a team like Amarillo, we're going to have to take it up another notch."
Amarillo Head Coach Dennis Williams: "Like I told our players in Game 3 in Wichita Falls last week, they were going to act like a caged dog with their back in the corner. That's us now. We have nothing to lose, right? We are down two."