Wild beat Brown Bears on Thursday, 4-2
February 28, 2014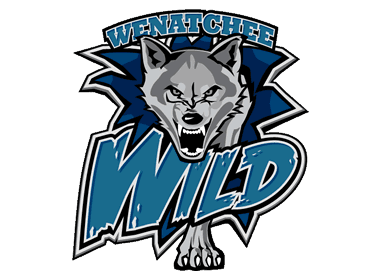 Kenai River Brown Bears 2 @ Wenatchee Wild 4 - The Wenatchee Wild returned home Thursday night to host the Kenai River Brown Bears in the first of a big three-game Midwest Division showdown and rode a three-goal third period to their fifth consecutive win over Kenai River by a final count of 4-2, in front of 2,316 fans at the Town Toyota Center.
Parker Tuomie opened the scoring, stuffing home a power play goal at the right post, giving the Wild a 1-0 lead. The second period was a defensive struggle, with Wenatchee outshooting the Brown Bears 12-6, but neither team was able to dent the twine.
David Powlowski put home a loose puck at the left post 1:34 into the third period. The goal, assisted by Tuomie, gave the Wild a 2-0 lead. Kenai River had an opportunity on an Albin Karlsson penalty shot, but a glove save by Chase Perry kept the Brown Bears off the board. Wenatchee would net their second power play goal on a backhander by Alex Rauter, putting the Wild on top by a count of 3-0. Kenai River scored 4 minutes later, as Alec Butcher scored a power play goal, slicing the Wenatchee lead to 3-1. It became a one-goal game shortly thereafter, as Jack Gessert scored unassisted at 14:34 to bring Kenai River to within one, at 3-2. However, Brendan Harris would score just 26 seconds later, at 15:09, restoring a two-goal lead for the Wild, at 4-2. The Brown Bears would pull the goaltender in the final minute but could get no closer, as Wenatchee skated home the 4-2 win.
The Wild outshot Kenai River 32-17. Perry had 15 saves for Wenatchee and Zach Quinn 28 for the Brown Bears.