NAHL announces Easton Divisional Stars of the Week
February 24, 2014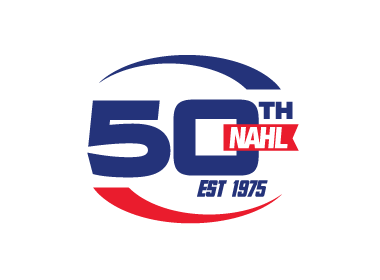 The North American Hockey League (NAHL) today announced the Divisional Stars of the Week presented by Easton for the week ending February 23, 2014. The Divisional Stars of the Week is a weekly feature during the 2013-14 regular season that honors the top performing players in each of the four NAHL divisions. Only players that are nominated by their respective teams are considered for the Divisional Players of the Week award.
Central Division Star of the Week: Conor Andrle, forward, Brookings Blizzard
In what can be described as a 'must-win' situation Conor Andrle and the Brookings Blizzard captured a pair of weekend games from the Bismarck Bobcats in a home-and-home series. The 20-year-old forward from St. Louis Park, Minnesota, had three goals and an assist and had a +2 rating in the two weekend wins as the Blizzard maintained their playoff hopes. On Friday, Andrle (5'9/175) had two goals, including the game-winner, in a 4-2 home win over the Bobcats. The next night, Andrle scored the game-tying goal and assisted on another in a 4-3 win in Bismarck. For the season, Andrle is second on the team in scoring with 31 points in 46 games. He also played in last week's NAHL Top Prospects Tournament for Team Central. "It was a short week with Top Prospects, but Conor played well there and took that momentum into Bismarck series," said Blizzard head coach Cory Laylin. "He scored some big goals in the series and he played hard in defensive zone that translated into offense."
2nd Star: Nick Lehr, G, Austin Bruins
Honorable Mention (alphabetical): Connor Girard, G, Brookings Blizzard – Kyle Haak, F, Aberdeen Wings – Niko Hildenbrand, F, Austin Bruins – Jadin Martin, F, Minot Minotauros – TJ Roo, F, Aberdeen Wings – Brandon Wildung, G, Minot Minotauros
Midwest Division Star of the Week: Parker Tuomie, forward, Wenatchee Wild
If the playoffs started today, the Wenatchee Wild would be in the mix in the Midwest Division. This past weekend, the Wild split their weekend series in Johnstown against the Tomahawks, but 18-year-old forward Parker Tuomie was a factor all weekend. The native of Biemerhaven, Germany had five points on the weekend, which included scoring four of Wenatchee's six goals in the two game series and adding an assist. On Friday, Tuomie (5'9/178) had two goals and an assist and was +2 in a close 4-3 loss. On Saturday, Tuomie scored two more goals in a 3-2 win. For the season, Tuomie is second on the Wild roster in scoring with 42 points in 40 games played. Tuomie played in the NAHL Top Prospects Tournament last week as a part of the NAHL 18U Selects team. "Parker has been one of our better players consistently and you need those type of players when you are playing in Johnstown," said Wild head coach Bliss Littler.
2nd Star: Thomas Lindstrom, F, Minnesota Wilderness
Honorable Mention (alphabetical): Alec Butcher, F, Kenai River Brown Bears – Nick Hinz, D, Fairbanks Ice Dogs – Kyle Lee, F, Fairbanks Ice Dogs – Troy Loggins, F, Wenatchee Wild – Vincent Stefan, D, Kenai River Brown Bears
North Division Star of the Week: Bryan Yim, forward, Port Huron Fighting Falcons
Just a few weeks ago, the Port Huron lead in the North was down to just two points. However, after a four-game winning streak, which included a weekend sweep of the Janesville Jets, the Fighting Falcons lead is back to up eight points. 19-year-old captain Bryan Yim led the way this weekend with two goals and two assists in the two wins. Yim (5'8/172), who is the Fighting Falcons leading scorer this season with 38 points in 46 games, began his weekend with a goal and an assist in a 4-0 shutout on Saturday against the Jets. On Sunday, the Farmington, Michigan native scored the game-winning goal and had another assist in a 3-1 win. Yim also spent last week playing the NAHL Top Prospects Tournament for Team North. "I thought Bryan was one of our best forwards this weekend. His play, his hockey sense and his ability to lead really stood out," said Port Huron head coach Michael Gershon. "We got off to a slow start on Sunday and Bryan really gave us some momentum."
2nd Star: Dakoda Menslage, D, Johnstown Tomahawks
Honorable Mention (alphabetical): Brendan Jacques, F, Springfield Jr. Blues – Max Kalter, F, Springfield Jr. Blues – Jonathan Kopacka, D, Port Huron Fighting Falcons – Colin Larkin, F, Michigan Warriors – Jordan Watt, F, Johnstown Tomahawks
South Division Star of the Week: Kyle Gattelaro, forward, Amarillo Bulls
The Amarillo Bulls crept closer to another South title with two wins past weekend in Corpus Christ and veteran NAHL forward Kyle Gatterlaro had a very productive weekend. The native of Delray Beach, Florida had four points in the two wins, which included three goals and an assist. Gattelaro, 20, started the weekend with two goals in a 3-0 shutout of the IceRays on Saturday. He continued on Sunday with another goal and an assist in a 6-1 win. For the season Gattelaro (6'0/185) has 36 points in 46 games played. He also participated in the NAHL Top Prospects Tournament last week as a member of the South team. "I thought Kyle skated really well, tracked the puck at both ends of the ice and made things happen with his speed," said Bulls head coach Dennis Williams. "Kyle used that speed to win puck battles and get to the puck first. His entire line played well last week."
2nd Star: Kyle Bauman, F, Wichita Falls Wildcats
Honorable Mention (alphabetical): PJ Bridges, G, Topeka RoadRunners – Yu Hikosaka, F, Topeka RoadRunners – Eric Purcell, F, Amarillo Bulls – David Zevnik, G, Wichita Falls Wildcats