Minotauros defenseman Dornbrock made NCAA DI commitment
February 20, 2014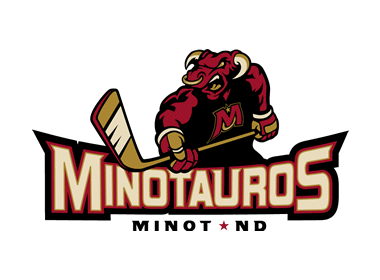 By Ken Oda, Minot MInotauros
The Minot Minotauros of the NAHL are proud to announce that defenseman Scott Dornbrock has committed to play NCAA Division I hockey next season for the Miami University RedHawks in Oxford, Ohio. Dornbrock, who was acquired via trade from the Topeka Roadrunners in November of 2012, has played 80 games for the Minotauros, posting four goals and 26 assists with a -2 rating.
The commitment was made at the North American Hockey League (NAHL) Top Prospects Tournament at which Dornbrock was representing the Minotauros on the Central Division Team. This was the second year in a row that Dornbrock was representing the Minotauros at the league's all-star event. Minotauros head coach Marty Murray attended the event and said "we are very happy for Scott, it's going to be a great fit for him. He played great at Prospects and separated himself from the pack."
Dornbrock is very excited by the decision saying "Miami has always been at the top of the list of schools I wanted to play at. I'm ecstatic to play at my dream school." He also wanted to thank the people who have helped him along the way "my mom, dad, and sister of course have helped me a ton through the years. I also want to thank my teammates and coaches, especially with the Tauros, who have helped me develop and get this opportunity."
Dornbrock becomes the second Minotauro to make an NCAA DI commitment this season joining goaltender Brandon Wildung (Mercyhurst College) and fourth all time including Tyler Parks (goaltender, St. Lawrence University) and Mason Morelli (forward, University of Nebraska-Omaha). Current Minotauros Merrick Madsen (goaltender Harvard University) and Michael Louria (forward, University of Massachusetts-Lowell) both also will be moving onto NCAA DI hockey but committed before joining the Minotauros. The Minotauros have also moved six players onto the NCAA DIII level.