NAHL announces Easton Divisional Stars of the Week
February 10, 2014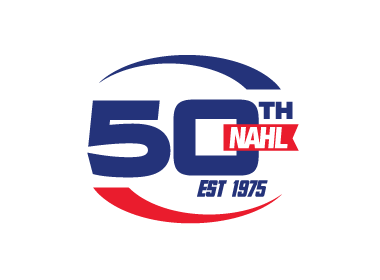 The North American Hockey League (NAHL) today announced the Divisional Stars of the Week presented by Easton for the week ending February 9, 2014. The Divisional Stars of the Week is a weekly feature during the 2013-14 regular season that honors the top performing players in each of the four NAHL divisions. Only players that are nominated by their respective teams are considered for the Divisional Players of the Week award.
Central Division Star of the Week: Jake Horton, defenseman, Aberdeen Wings
Second-year defenseman Jake Horton, 19, had a bog impact in Aberdeen's three wins this past week as the Wings picked up a win over Minot on Thursday and swept Brookings in a home-and-home series during the weekend. The native of Plymouth, Minnesota scored a goal in all three games and added an assist for a four-point week and +1 during the three wins. On Thursday, Horton (5'11/190) had the game-tying goal late in the 2nd period and an assist as the Wings came from 3-0 down to win 6-3. On Friday, Horton scored Aberdeen's first goal in a 2-1 win in Brookings. On Saturday, Horton scored the game-winning goal in the 3rd period as the Wings beat the Blizzard, 3-2. Horton, who will play for the Central Division team at the NAHL Top Prospects Tournament, is 3rd in the NAHL in scoring for defensemen with 31 points in 45 games played and he leads all NAHL defensemen with 18 goals. "Jake was a difference-maker for us this weekend as he has been many times this year," said Wings head coach Travis Winter. "He's a great leader, he's extremely competitive, and very coachable. He leads the way with his approach to getting better each day."
2nd Star: Aaron Nelson, G, Bismarck Bobcats
Honorable Mention (alphabetical): Henry Dill, G, Aberdeen Wings – Connor Girard, G, Brookings Blizzard – Russ Jordan, F, Brookings Blizzard – Filip Starzynski, F, Bismarck Bobcats
Midwest Division Star of the Week: Bryan Nies, goaltender, Minnesota Magicians
For the second straight week, a Minnesota Magicians played has been honored as the Midwest Division's Star of the Week and this week it is 20-year-old goaltender Bryan Nies. The native of Grand Forks, North Dakota, had his best weekend to date as he started in both wins as the Magicians ran their winning streak to a season-high three straight games with a weekend home sweep of the Springfield Jr. Blues. Nies (5'11/185) has been the starter in all three of those wins, including this past weekend when Minnesota beat Springfield 2-1 on Friday and 3-0 on Saturday. In the two wins, Nies faced a total of 62 shots and allowed just a single goal. He made 34 saves in Friday's 2-1 overtime win and on Saturday, he stopped all 27 shots that came his way for his first career NAHL shutout in a 3-0 win. "Bryan has stepped in and played great. He also played well the weekend before," said Magicians head coach Scott Meyer. "He made some huge saves and that really help the team build some momentum. He is in one of those zone and really feeling it right now and definitely playing the way he is capable of."
2nd Star: Adam Carlson, G, Coulee Region Chill
Honorable Mention (alphabetical): Willie Brooks, D, Fairbanks Ice Dogs – Alec Butcher, F, Kenai River Brown Bears – Jack Gessert, F, Kenai River Brown Bears – Mac Jansen, F, Coulee Region Chill – Will Johnson, F, Minnesota Magicians – Alex Rauter, F, Wenatchee Wild – Ethan Somoza, F, Fairbanks Ice Dogs
North Division Star of the Week: Alex Smith, defenseman, Janesville Jets
The recent addition of defenseman Alex Smith helped the Janesville Jets pick up a big weekend home sweep of the 1st place Port Huron Fighting Falcons this past weekend. Smith, 19, picked up four assists in the two wins as the Jets moved closer to the 4th and final playoff spot in the North Division. On Friday, the native of Brownstown, Michigan, assisted on all three Jets goals in a come-from-behind 3-2 win. On Saturday, Janesville again came from behind to beat the Fighting Falcons 4-3 in a shootout. After Port Huron had taken a 2-0 lead, Smith (6'1/180) assisted on the Jets first goal, which sparked another comeback. In nine games with the Jets this season, Smith has five points (all assists) with four of the points coming this past weekend. "Alex is a team-first type player. He is a very good skater and he can really shoot the puck," said Jets head coach Joe Dibble. "He makes great decisions with the puck in the defensive end, which allows him to join the rush and be a part of the offense. He is also very good on the power play and makes us much more effective when we have the man advantage."
2nd Star: Josh Shellman, D, Michigan Warriors
Honorable Mention (alphabetical): Kristofers Bindulis, D, Soo Eagles – Tyler Groat, F, Michigan Warriors – Brock Kautz, G, Janesville Jets – Lester Lancaster, D, Springfield Jr. Blues – Stefanos Lekkas, G, Springfield Jr. Blues – Denver Pierce, F, Soo Eagles
South Division Star of the Week: Sly Sutter, forward, Topeka RoadRunners
With two wins in Corpus Christi this past week, the Topeka RoadRunners climbed closer to 1st place in the South and continued their recent hot streak of going 11-1-2 in their last 14 games. 19-year-old forward Sly Sutter paced the offense this past weekend as the RoadRunners put up 11 goals in the two wins. On Thursday, the native of Warren, Michigan, scored the game-winning goal and added an assist in a 4-0 shutout of the IceRays. On Friday, Sutter (5'9/170) had two goals and assisted on Topeka's game-tying goal with less than a minute remaining in regulation as Topeka grasped a 7-6 win in overtime. In the two wins, Sutter had three goals and two assists for five points and was also a +3. In 39 games this season, Sutter has 20 points (9 goals, 11 assists). "Sly has been one of those guys that has been consistently improved since day one of the season. He adds a lot to our offensive depth and he has been really good on the power play," said RoadRunners head coach Scott Langer.
2nd Star: Tyler Poulsen, F, Topeka RoadRunners
Honorable Mention (alphabetical): Anthony Croston, F, Rio Grande Valley Killer Bees – Jake Durflinger, forward, Corpus Christi IceRays – Connor Kelly, F, Corpus Christi IceRays – Evan Schmidbauer, F, Rio Grande Valley Killer Bees