NAHL announces Easton Divisional Stars of the Week
January 20, 2014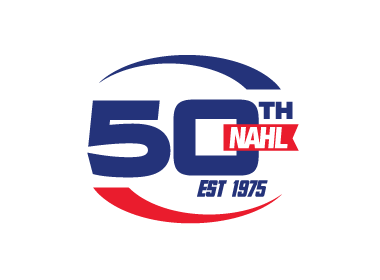 The North American Hockey League (NAHL) today announced the Divisional Stars of the Week presented by Easton for the week ending January 19, 2014. The Divisional Stars of the Week is a weekly feature during the 2013-14 regular season that honors the top performing players in each of the four NAHL divisions. Only players that are nominated by their respective teams are considered for the Divisional Players of the Week award.
Central Division Star of the Week: Brandon Wildung, goaltender, Minot Minotauros
Minot goaltender Brandon Wildung, 20, was a wall this weekend as the Minotauros picked up home wins over Brookings and Bismarck. On Saturday, the native of Minneota, Minnesota stopped all 16 shots that came his way for third shutout of the season as Minot beat Brookings, 1-0. On Sunday, Wildung (6'0/170) made 17 saves as the Minotauros came fro behind to defeat the Bismarck Bobcats, 2-1. Wildung allowed just a single goal in the two games and finished with a save percentage of 97.1%. For the season, Wildung has a record of 10-11-3, a goals against average of 2.38 and a save percentage of 92%.
2nd Star: Cory Dunn, defenseman, Austin Bruins
Honorable Mention (alphabetical): Connor Girard, goaltender, Brookings Blizzard – Kyle Haak, forward, Aberdeen Wings – Evan Hesse, forward, Brookings Blizzard – Alexander Kasitsyn, forward, Minot Minotauros – TJ Roo, forward, Aberdeen Wings
Midwest Division Star of the Week: Alec Butcher, forward, Kenai River Brown Bears
The Brown Bears picked up a big weekend sweep of the Minnesota Magicians to get a firmer grasp of a playoff spot and forward Alec Butcher, 19, made a big difference in the series. The native of Anchorage, Alaska, had four points including the game-winning goal each night, while also picking up a pair of assists. In Friday's 5-2 win, Butcher had an assist and scored the game-winning goals in the 2nd period. In Saturday's 4-2 win, Butcher (5'11/175) had another game-winning goal and an assist. Butcher is currently the NAHL's leading scorer with 48 points in 41 games played. "I thought Alec and his line was very consistent all weekend and did not make a lot of mistakes," said Kenai River head coach Geoff Beauparlant. "He prepares very well. He had a solid week of practice and it showed in the games. He finds the areas in the offensive zone to create offense."
2nd Star: Kevin Aldridge, goaltender, Fairbanks Ice Dogs
Honorable Mention (alphabetical): Blake Cates, goaltender, Coulee Region Chill – Gustaf Johansson, goaltender, Wenatchee Wild – Blake Kelley, forward, Coulee Region Chill – Duggie Lagrone, defenseman, Fairbanks Ice Dogs – Troy Loggins, forward, Wenatchee Wild – Matt Rudin, forward, Kenai River Brown Bears
North Division Star of the Week: Scott Cuthrell, forward, Soo Eagles
Over the weekend, the Soo Eagles not only picked up a weekend road sweep in Janesville against the Jets, but they also moved into 3rd place in the North Division in the process. Newly acquired forward Scott Cuthrell, 20, had a pair of goals in the wins and now has 15 points in 12 games with the Eagles. On Friday, Cuthrell (5'9/160) scored a power play goal in the Eagles 3-2 win. On Saturday, the native of Waterford, Michigan scored again in a 3-2 shootout win."Scott has been such a nice addition for us. He knows how to put the puck in the net. He has been nothing short of sensational," said Eagles head coach Bruno Bragagnolo. "I believe he is a NCAA Division I prospect because he knows how to score goals and is very smart."
2nd Star: Max Milosek, goaltender, Port Huron Fighting Falcons
Honorable Mention (alphabetical): Vito Aluia, forward, Port Huron Fighting Falcons – Nate Klebe, goaltender, Soo Eagles
South Division Star of the Week: PJ Bridges, goaltender, Topeka RoadRunners
Topeka goalie PJ Bridges had a little extra motivation this past weekend as the RoadRunners picked up a weekend sweep in Springfield. Two weeks earlier, Bridges (6'0/185) lost his teammate and roommate Peter Halash to a tragic car accident. In the first games since Halash's passing, Bridges was outstanding in the sweep as he stopped 59 of 60 shots in the two wins to remain the NAHL's top goaltender statistically. On Friday, the native of Waterford, Michigan, stopped all 24 shots that came his way for his 6th shutout of the season in a 3-0 win. On Saturday, Bridges made 35 saves in a 6-1 win. "PJ put the team on his back and he showed it this weekend. I think he had Peter in the back of his mind and it gave him some motivation to perform well," said Topeka head coach Scott Langer. "I have had a lot of good goalies in my time in Topeka and Peter is special. He is such a solid goalie and one that is going to make an impact at the next level."
2nd Star: Anthony Croston, forward, Rio Grande Valley Killer Bees
Honorable Mention (alphabetical): Mike Davis, forward, Amarillo Bulls – Ben Greiner, forward, Rio Grande Valley Killer Bees – Cody Gylling, forward, Amarillo Bulls – Josh Haverstrom, forward, Wichita Falls Wildcats – Jake Kamrass, forward, Topeka RoadRunners – Wes Michaud, forward, Corpus Christi IceRays – Forbes Ploszaj, goaltender, Corpus Christi IceRays – David Zevnik, goaltender, Wichita Falls Wildcats
About the NAHL
The NAHL, the only USA Hockey-sanctioned Tier II Junior league boasting 24 teams from across North America, prides itself on the social maturity and skill development of student-athletes ages 16-20 with aspirations of advancing to collegiate and/or professional hockey. To date during the 2013-14 season, over 70 NAHL players committed to NCAA schools. NAHL alum Patrick Kane was named the 2013 Conn Smythe Trophy winner as MVP of the 2013 Stanley Cup Playoffs, five players with NAHL ties were selected in the 2013 NHL Entry Draft and a total of 23 NAHL alumni appeared in the 2013 NCAA Frozen Four. For more information, visit www.nahl.com