Sunday Wrap-Up: Minotauros win late against Bobcats
January 19, 2014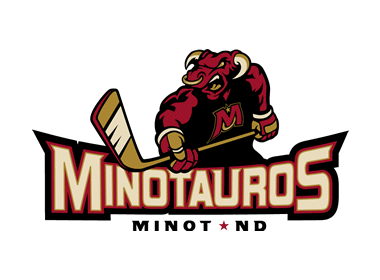 Bismarck Bobcats 1 @ Minot Minotauros 2 - Late game heroics and a two-goals 3rd period led the Minot Minotauros to a 2-1 win over the Bismarck Bobcats in Minot Sunday night.
Bismarck managed just 18 shots on goal, an effort that carried a 1-0 Bismarck lead to the third period, but no further, as Minot scored two in the final frame, including the gamewinner at 18:50 to turn the Bobcats away on their first of six straight road games.
Minotauros forward Jake Johnson scored the fourth short-handed goal the Bobcats have allowed this season at of the third to tie a game led 1-0 by Bismarck since the first. Alexander Kasitsyn was then credited with the game-winning goal as he finished a flurry in the Bobcat zone by beating the glove hand of Scott Albertoni on a rush at 18:50 of the third to seal the win.
Bobcat Nate Repensky scored the lone Bismarck goal at 14:47 of the first on a blast from the right point that snuck by Minotauro backstopper Brandon Wildung, giving the Bobcats a 1-0 lead they would hold to the third.
The lead could not stand up to a 34-18 Minot shots advantage, however, and the effort by Albertoni, his best of the season, was left empty.