Hockey Day in Minnesota: Carlson's climb
January 17, 2014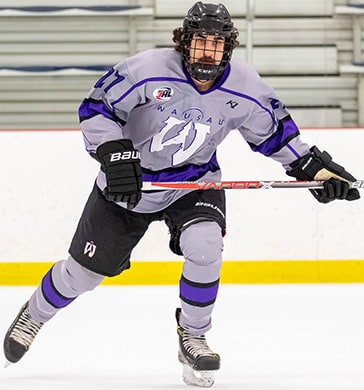 By Mike Doyle, Minnesota Wild
Before every game he's set to start, goaltender Adam Carlson jogs the Grandad Bluff overlooking La Crosse, Wis. The mesa neighbors Onalaska where Carlson plays for the Coulee Region Chill of the North American Hockey League (NAHL). It's a peaceful vista where the Edina native can clear his mind in preparation for the night's game.
The scenic view is a stark contrast to Carlson's young hockey career; a climb over the rocky bluffs might be more representative of his ascent to junior hockey, as the 19-year-old took an unlikely route to the NAHL.
Contrary to many teenagers who find themselves playing junior hockey, Carlson wasn't a highly sought after high school standout. In fact, the netminder was cut from the varsity team in his senior year at the talent-laced Edina High School.
However, this being the State of Hockey, there is a place for like-minded high schoolers who still want to play the sport: Minnesota's Junior Gold league. Two decades ago, Minnesota Hockey's District Directors created a league for players aged 15-18 who were either cut or opted out of playing high school.
"Obviously, it was disappointing," Carlson said. "But, I established a good relationship with the Junior Gold team and coaching staff."
After failing to make the high school team, Edina's Junior Gold coaching staff of Bill Smith, Doug Andreen, Rick Barnes and Jim Friedrichs was quick to contact the netminder and invite him to skate with the team.
"That season defined who I was as a hockey player," Carlson said.
The goaltender backstopped the team to a Junior Gold State Championship, allowing only two goals in three games including a decisive 6-1 win in the championship game against Blaine.
It would've been easy to hang up the pads after the state title, go off to college, maybe play a little club or drop-in hockey, but Carlson didn't want to end his competitive playing days after his senior year. No, before the season the goaltender set his sights on a higher aspiration: college hockey. While going from Junior Gold to college might be considered a long shot, Carlson's passion for the game drove him to want more, but hockey was going to be over if he didn't do something about it.
The summer between his junior and senior year of high school he started working at General Sports, a hockey shop in Edina. Through connections with the store, Carlson was hooked up with goaltending coach Ryan Ess, who runs DEVENIRGoaltenders School, and began training leading into his senior year.
Despite the setback of getting cut from Edina's varsity team, Ess and Carlson devised a plan. They went to dinner with Adam's parents, John and Lisa, and mapped out the path he'd have to take. This was just a steppingstone. He'd finish the season with his Junior Gold team, move onto the North American Tier III Hockey League (NA3HL), and then to the North American Hockey League (NAHL).
"It was love of the game and a lot of it was wanting to play college," Carlson said about the decision to continue past high school. "People I worked with (at General Sports) said that you have all the time in the world to grow up. That's when I made the decision to play Tier III."