December 13, 2013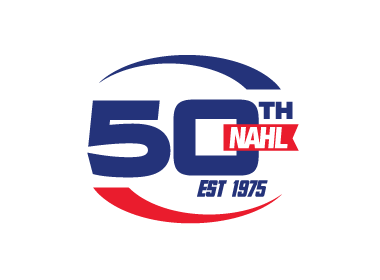 Just a few weeks ago the division leaders were enjoying leads of up to double digit points. Now, no division leader is safe, as the largest lead in any of the divisions sits at just four points. All four division leaders are in action this weekend and depending what happens, fans could see some new names atop of the divisions. That's how close things are right now in the NAHL, which makes for some intriguing games this weekend as the 2013 calendar year draws to a close.
Here is a look at this weekend's match-ups on Friday and Saturday:
Central Division
Austin Bruins vs. Brookings Blizzard – The Central Division leading Bruins have lost three of their last four and their division lead is down to just three points. However, they are 5-2 against the Blizzard this season. The Blizzard have lost five in a row and sit 10 points out of the fourth and final playoff spot in the Central Division. The Blizzard defeated the Bruins 3-1 back on November 23rd, which was the last time that Brookings found the win column. This weekend should see a good goaltending match-up as Austin's Nick Lehr goes against new Brookings goalie Connor Girard.
Bismarck Bobcats vs. Minot Minotauros – This series should be a good one for the lone reason that both teams are playing some good hockey as of recent times. The Bobcats haven't lost in regulation in their last six outings, dating back to November 22nd and goaltender Aaron Nelson has had the hot hand as of late. Minot had their seven-game winning streak snapped last weekend, but have still won seven of their last eight games. The Bobcats hold a 3-1-1 edge so far in the season series.
Midwest Division
Minnesota Magicians vs. Coulee Region Chill – It is a dogfight for the 3rd and 4th spots in the Midwest Division and the Magicians and Chill are two of the four teams that are separated by just a point for valuable playoff spots. The Chill come into the series with the benefit of recording a home-and-home sweep of the Magicians last weekend. Defenseman Brogan Rafferty was named the Midwest star of the week for his efforts. The Magicians are coming off a big 3-1 win on Wednesday over the Minnesota Wilderness.
Fairbanks Ice Dogs @ Kenai River Brown Bears – The Ice Dogs, who sit tied atop of the Division with 38 points, have been dominant against the Brown Bears this season, going 7-1 against their in-state rival to date. However, that lone loss came in their last game, as Kenai River finally broke through and defeated Fairbanks last weekend as the two teams split a series in Fairbanks. It was Kenai River's second win in their last 13 games. Brown Bears forward Albin Karlsson has scored the last three game-winning goals for the club.
Off: Minnesota Wilderness
North Division
Johnstown Tomahawks @ Port Huron Fighting Falcons – Port Huron's division lead is down to four points and Johnstown is one of two teams right behind them in 2nd place. The Fighting Falcons have lost their last three games and five of their last six. All of their games so far this season against the Tomahawks have been in Johnstown, so playing them in Port Huron will be a welcome sight for the Fighting Falcons, who hold a 3-1-2 record against Johnstown this season. Of their last 11 games, the Tomahawks have lost in regulation in only two of them, which has allowed them to climb into a tie for 2nd place with 34 points.
Michigan Warriors @ Soo Eagles – The Warriors have climbed into a tie for 2nd place in the North Division by winning their last three games, including a 4-3 shootout win in Soo back on December 4th. Goaltender Trevor Gorsuch has started on won all three of those games. The Warriors picked up a 4-3 win earlier this week against Port Huron on Wednesday thanks to a last second goal from Josh Shellman. The Eagles have lost four of their last five games and are 1-2-1 against the Warriors so far this season with their only win coming back on November 20th.
Springfield Jr. Blues @ Janesville Jets – The resurgent Jets have won four of their last five games to get to within five points of the fourth and final playoff spot in the North Division, currently held by the Jr. Blues. In their only previous meetings this season, Janesville took two of three games in Springfield back in late November. Janesville forward Robin Hoglund has 10 points in his last five games and is one of the hotter players in the league. Springfield has lost just once in regulation the last eight games, but will be without leading scorer Patrick Curry, who was traded to the USHL earlier this week.
South Division
Wichita Falls Wildcats @ Corpus Christi IceRays – The IceRays have won three in a row and five of their last six games to get back into playoff contention. Corpus Christi is being led by 16-year-old sensation Jake Durflinger, who is second on the team in scoring and has three of the last four game-winning goals for the IceRays. The IceRays have had success against Wichita Falls this season, going 2-1-1 against them thus far. After a 6-2 win on Wednesday over Lone Star, the Wildcats find themselves along in 2nd place in the South, just four points behind Amarillo. The Wildcats are riding a two-game winning streak.
Amarillo Bulls @ Topeka RoadRunners – To put the Bulls current three-game losing streak in perspective, it marks the first time in the team's four-year NAHL history they have lost three straight games in regulation. It has brought to Bulls back to the pack, which includes the RoadRunners, who are six points behind the Bulls in the standings. The Bulls are 5-1 against Topeka this season, but Topeka defeated the Bulls 4-3 the last time the two teams played back on November 30th in Topeka. Topeka's Jasen Fernsler has six points in this last five games.
Rio Grande Valley Killer Bees @ Lone Star Brahmas – This is the first visit for the Killer Bees to Lone Star since the first weekend of the year back on September 13-14. Rio Grande Valley has found success against the Brahmas this season, going 4-0-2 against them this season. The Brahmas are coming off a high of their first series sweep of the season last weekend against Amarillo. However, they were quickly humbled thanks to a 6-2 loss at Wichita Falls on Wednesday. Goaltender TJ Black, who won the South star of the week this past week, has started seven straight games for the Brahmas.
Off: Odessa Jackalopes
Out of Division
Wenatchee Wild @ Aberdeen Wings – In the lone out of division series in the NAHL this weekend, the Wild head East to take on the Wings. It is a big series for both clubs, but in particular the Wild, who sit just a point out of a playoff spot in the Midwest Division. The Wild have lost just once in regulation in their last seven games, but will be without leading scorer Parker Tuomie, who is representing Germany at the World Junior Championships. The Wings have just one win in their last four games (all against Minot). Forwards Kyle Haak and Erik Baskin both have five points in their last five games.