St. Cloud State head coach Brett Larson to speak at Dinner of Champions
May 4, 2018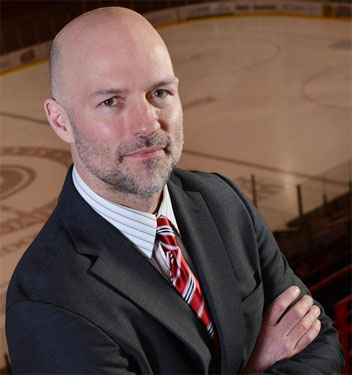 The North American Hockey League (NAHL) is pleased to announce that newly named St. Cloud State University head coach Brett Larson will be the keynote speaker at this year's Robertson Cup Dinner of Champions. The Robertson Cup Dinner of Champions takes place on Thursday, May 10th at 7pm at the Radisson Hotel in Roseville, Minnesota and will be attended by the four teams participating in this year's Robertson Cup. The event is closed to the public, but open to credentialed members of the media.
On April 13, 2018, Larson was named the new head coach of the St. Cloud State University NCAA Division I men's hockey program. Larson is the third coach at St. Cloud State in the history of the program, and SCSU's 17th head coach since the program stared intercollegiate play in 1931-32.
Larson most recently served as an assistant coach at his alma mater Minnesota Duluth from 2015 to 2018. He also was an assistant with the Bulldogs from 2008-11 and helped Minnesota Duluth win an NCAA Division I national title in 2011 and once again in 2018. The Bulldogs made five NCAA tournament appearances during Larson's tenure, finished as the NCAA runner-up in 2017, won the NCHC playoff title in 2017 and the WCHA playoff championship in 2009. At UMD, Larson coached and/or recruited one Hobey Baker Award winner, five All-Americans, eight future NHL'ers and one U.S. Olympian.
"I'm really excited and honored to be able to speak at the NAHL Robertson Cup Dinner of Champions. I have a great deal of respect for everything the NAHL stands for. Some of the best players I've ever been able to recruit have come out of the NAHL. Some of them were big parts of two National Championship teams at Minnesota-Duluth. I'm looking forward to recruiting those types of players to St. Cloud in the future," said Larson.
"We are honored and excited to have Brett Larson speak at our Robertson Cup Dinner of Champions. As a new head coach of one of the premier teams in the NCAA, as well as a former coach at the junior level, he is an ideal person to speak to our players and pass along his words of wisdom and his experience," said NAHL Commissioner and President Mark Frankenfeld. "Brett is someone who knows our league, has scouted NAHL players for years and understands exactly what he is looking for in a college-bound player. I know our players will relate to him and take away something valuable."
Larson, who served as the head coach for gold medal-winning Team USA at the 2012 World Junior A Challenge, returned to the collegiate ranks in 2013 when he joined the staff at Ohio State as an associate head coach. Many of the players Larson coached and recruited at Ohio State helped the Buckeyes advances to the Frozen Four in 2018. Larson also served as head coach and general manager with the USHL's Sioux City Musketeers from 2011-13. He spent two seasons in Sioux City and led that team to the USHL playoffs in 2011-12.
A Duluth, Minnesota native and 1991 Denfeld High School graduate, Larson played college hockey as a defenseman at UMD for four seasons (1991-95). He scored 24 goals and 43 assists in 133 career games. He captained the Bulldogs during his senior year in 1994-95 and was a three-time WCHA All-Academic team award recipient. He also landed the team's Community Service Award and was named UMD's Most Improved Player as a junior. Larson received his Bachelor's degree in criminology from UMD in 2004. An 11th round pick by the Detroit Red Wings in the 1990 National Hockey League draft, Larson went on to play 12 years in the professional ranks, including two (1990-2001) as a player-coach with the San Diego Gulls of the now-defunct West Coast Hockey League. He also played with the Colonial Hockey League's Madison Monsters, the East Coast Hockey League's Louisville Riverfrogs, the International Hockey League's Utah Grizzlies, Las Vegas Thunder and Long Beach Ice Dogs in addition to spending another five years in Denmark, Germany and England. He and his wife, Kelly, have two children (Lane and Calla).
The 2018 NAHL Robertson Cup Championship begins in one week and will be held from May 11-14 at Fogerty Arena in Blaine, Minnesota. The Robertson Cup crowns the NAHL's National Champion. For more information on the Robertson Cup Championship Tournament, including schedule, ticket information, hotels, rental cars and other event information, visit
http://nahl.com/robertson-cup/