Former NHL'er Leopold to speak at Robertson Cup Luncheon
May 11, 2016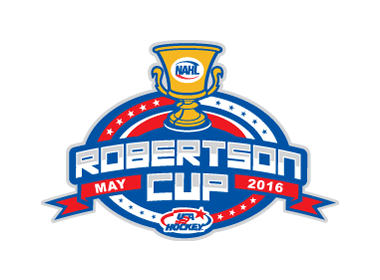 EDINA, MINNESOTA – The North American Hockey League (NAHL) is pleased to announce that former NHL player and Minnesota native Jordan Leopold will be the keynote speaker at this year's Robertson Cup Luncheon. The Robertson Cup Luncheon takes place on Thursday, May 12th at Noon at the Best Western Plus Hotel in Bloomington, Minnesota and will be attended by the four teams participating in this year's Robertson Cup. The event is closed to the public, but open to the media.
"We are thrilled and honored to have an NHL veteran like Jordan speak to our players at our luncheon. He is someone that has rightfully earned his true legendary status, particularly here in the state of Minnesota," said NAHL Commissioner Mark Frankenfeld. "As someone who took a familiar path to success in the NHL, which included games in the NAHL and NCAA, his story will resonate and be relevant to our players. He has a great familiarity with what these players are currently going through and what it takes to get the next levels of hockey."
Originally from Golden Valley, Minnesota, Leopold just completed a 12-year NHL career, which finished with him playing for his hometown Minnesota Wild during the 2014-15 season. The 6'1/205 lbs. defenseman played in 695 career NHL games and recorded 214 career points (67 goals, 147 assists). The Mighty Ducks of Anaheim originally drafted Leopold in the 1999 NHL Draft in the 2nd round, 44th overall, though he never make an appearance with the team. In his NHL career, Leopold has also played for the Calgary Flames, Colorado Avalanche, Florida Panthers, Pittsburgh Penguins, Buffalo Sabres, St. Louis Blues and Columbus Blue Jackets.
Leopold grew up playing high school hockey for the Robbinsdale Armstrong Falcons. In the 1997-98 season, Leopold played for the USNTDP 18-Team, which included 16 games in the NAHL, where he recorded seven points.
The following season, Leopold played NCAA Division I hockey for the University of Minnesota Golden Gophers from 1998 until 2002, where he helped the Golden Gophers win an NCAA national championship in 2002 despite pressure to leave the University early to play in the NHL. Leopold also won the Hobey Baker Award that season as the Nation's top player in NCAA Division I hockey.
Leopold and his wife Jamie have three daughters and a son. Leopold's trade to the Minnesota Wild, marking a return to his home state, gained the attention of media outlets after it was revealed that his 11-year-old daughter, Jordyn, wrote a letter to the Minnesota Wild coaching staff asking for them to trade for Jordan to be closer to family.
The 2016 NAHL Robertson Cup Championship begins on Thursday and will be held from May 12-15 at the Braemar Ice Arena in Edina, Minnesota. The Robertson Cup crowns the NAHL's National Champion.
For more information on the Robertson Cup Championship Tournament, including schedule, ticket information, hotels, rental cars and other event information, visit
http://nahl.com/robertson-cup/