Ice Wolves complete three-game sweep with win on Sunday
November 19, 2023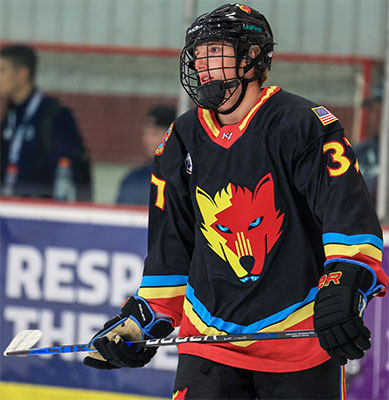 Colorado 2 @ New Mexico 3 – Thanks to the game-winning goal and an assist from defenseman Jack Dalton, the New Mexico Ice Wolves completed a three-game weekend home sweep against the Colorado Grit thanks to a 3-2 win on Sunday.
It was the Grit who struck first as less than four minutes into the game as Nicholas Capasso scored a power play goal with assists to Bowen Burke and Jordan Gudridge. Later in the period, the Ice Wolves equalized as Ryan Seelinger took advantage of a Grit turnover at their own blueline and ripped a shot past the glove of Grit goalie Jack Erickson for an unassisted goal that tied the game at 1-1.
To begin the 2nd period, the Grit would again score early in the frame as Romulus Riego De Dios sniped a shot from a sharp angle with an assist to Luke Helgeson to make it 2-1 for the Grit. However, the Ice Wolves would again have an answer later in the period as Ryan Johnson scored on a power play one-timer after a nice cross-ice pass from Yusaku Ando to make it a 2-2 game after 40 minutes.
In the 3rd period, the Ice Wolves took their first lead of the game as they would strike again on the power play as the puck found its way to Dalton at the top of the slot, who then fired a shot home to make it 3-2 with assists to Olivier Lamothe and Seelinger.
The win was a season-high 4th in a row for New Mexico, who moved into sole possession of 2nd place in the South Division.
Jackson Fuller picked up the win in goal, making 24 saves, while Erickson made 34 saves in the loss.