November 17, 2023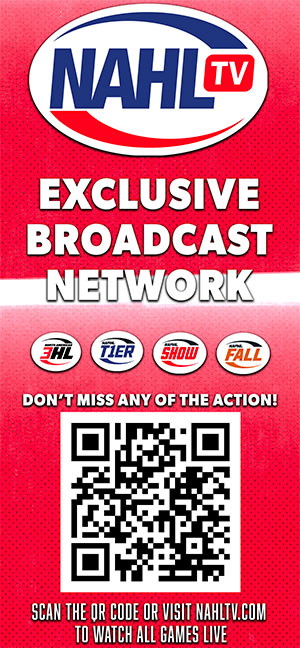 The NAHL gets back to action this weekend with 31 games on the schedule from Friday-Sunday.
The 2023-24 regular season is a third of the way done and the standings are tight at both the top of the standings and for the playoff spots in each division.
There were eight more NCAA Division I commitments this week, which brings the current 2023-24 season total to 121 players in the NAHL who have made commitments.
Less than three months remain until the 2024 NAHL Top Prospects Tournament, which will take place on February 5-6 at the UPMC Lemieux Sports Complex in Cranberry Township, PA. The NAHL Top Prospects Tournament is one of the most highly scouted events of its kind, featuring almost every NHL team and NCAA Division I school. it continues to provide the hundreds of NHL and NCAA scouts in attendance with a look at the best uncommitted players the NAHL has to offer, as well as some potential NHL Draft picks.
In the Central Division, the red-hot and 1st place Minot Minotauros put their four-game winning streak on the line as they host the North Iowa Bulls. The Austin Bruins look to get back on track as they host the Aberdeen Wings. The Bismarck Bobcats play host to the St. Cloud Norsemen with the teams tied for 3rd place in the standings, each with 22 points.
In the East Division, 3rd place Johnstown puts their four-game winning streak on the line as they visit Maine. Philadelphia is in Danbury with both teams looking to snap three-game losing streaks. The 1st place Maryland Black Bears host the New Hampshire Mountain Kings. The Northeast Generals are on the road looking to maintain a playoff spot as they travel to Rochester, who are three points back. New Jersey is idle.
In the Midwest, the action continues in Alaska as the Anchorage Wolverines battle the Kenai River Brown Bears in a home-and-home series. The Fairbanks Ice Dogs play host to the Chippewa Steel. In state side action, it's a battle of 1st and 2nd place as the Minnesota Wilderness host the Wisconsin Windigo. The final series has the Janesville Jets in Springfield to take on the Jr. Blues.
In the South Division, it's a busy weekend in New Mexico as the Ice Wolves are not only hosting the NAPHL T1ER West Showcase, but also play host to the Colorado Grit for three straight games. The 1st place Lone Star Brahmas put their three-game winning streak on the line as they travel to take on the Wranglers and former assistant Ryan Anderson. The Shreveport Mudbugs are back in action as they host Odessa. Finally, the Oklahoma Warriors are back home to host the Corpus Christi IceRays. El Paso is idle.
Watch all the action on NAHLTV
Friday, November 17
Philadelphia Rebels @ Danbury Hat Tricks, 07:00 PM EST
Maryland Black Bears @ New Hampshire Mountain Kings, 07:30 PM EST
Johnstown Tomahawks @ Maine Nordiques, 07:30 PM EST
Northeast Generals @ Rochester Jr Americans, 07:45 PM EST
Janesville Jets @ Springfield Jr. Blues, 07:05 PM CST
Aberdeen Wings @ Austin Bruins, 07:05 PM CST
Odessa Jackalopes @ Shreveport Mudbugs, 07:11 PM CST
Lone Star Brahmas @ Amarillo Wranglers, 07:15 PM CST
Corpus Christi IceRays @ Oklahoma Warriors, 07:15 PM CST
St. Cloud Norsemen @ Bismarck Bobcats, 07:15 PM CST
Wisconsin Windigo @ Minnesota Wilderness, 07:15 PM CST
North Iowa Bulls @ Minot Minotauros, 07:35 PM CST
Colorado Grit @ New Mexico Ice Wolves, 07:30 PM MST
Kenai River Brown Bears @ Anchorage Wolverines, 07:00 PM AKST
Chippewa Steel @ Fairbanks Ice Dogs, 07:30 PM AKST
Saturday, November 18
Philadelphia Rebels @ Danbury Hat Tricks, 07:00 PM EST
Johnstown Tomahawks @ Maine Nordiques, 07:00 PM EST
Janesville Jets @ Springfield Jr. Blues, 06:05 PM CST
Northeast Generals @ Rochester Jr Americans, 07:30 PM EST
Maryland Black Bears @ New Hampshire Mountain Kings, 07:30 PM EST
Aberdeen Wings @ Austin Bruins, 07:05 PM CST
Odessa Jackalopes @ Shreveport Mudbugs, 07:11 PM CST
St. Cloud Norsemen @ Bismarck Bobcats, 07:15 PM CST
Wisconsin Windigo @ Minnesota Wilderness, 07:15 PM CST
Lone Star Brahmas @ Amarillo Wranglers, 07:15 PM CST
Corpus Christi IceRays @ Oklahoma Warriors, 07:15 PM CST
North Iowa Bulls @ Minot Minotauros, 07:35 PM CST
Colorado Grit @ New Mexico Ice Wolves, 07:30 PM MST
Anchorage Wolverines @ Kenai River Brown Bears, 07:30 PM AKST
Chippewa Steel @ Fairbanks Ice Dogs, 07:30 PM AKST
Sunday, November 19
Colorado Grit @ New Mexico Ice Wolves, 05:00 PM MST