NAHL announces Combat Hockey Divisional Stars of the Week
January 21, 2013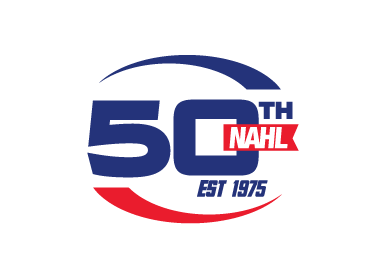 The North American Hockey League (NAHL) today announced the Divisional Stars of the Week presented by Combat Hockey for the week ending January 20, 2013. The Divisional Stars of the Week is a weekly feature during the 2012-13 regular season that honors the top performing players in each of the four NAHL divisions as nominated by their respective teams.
Central Division Star of the Week: Blake Cates, goaltender, Coulee Region Chill
In one of the bigger upsets this past weekend, Coulee Region goaltender Blake Cates,18, led his Chill to a weekend split in Austin against the 1st place Bruins. The Chill win came on Friday night as the Stillwater, Minnesota, native stopped 46 of 47 shots in a 7-1 win. The next night, Cates (6'1/210) stopped 43 of 45 shots in a 3-1 loss. Austin scored an empty net goal at the end of the game, but Cates kept the Chill in the game the entire way as they made a bid for the sweep. For the weekend, Cates stopped a total of 89 of 92 shots, good for a 96.7% save percentage as he allowed just three goals in the two games. "Blake has been solid in net for us as of late. He has given us an opportunity to win each night and that is all you can ask of your goaltender," said Coulee Region head coach AJ Degenhardt.
2nd Star: Mason Morelli, forward, Minot Minotauros
Honorable Mention (alphabetical): Eric Brenk, forward, Brookings Blizzard – Drew Brevig, defenseman, Brookings Blizzard – Jay Dickman, forward, Austin Bruins – Zack Holstrom, forward, Minot Minotauros – Jake Horton, defenseman, Aberdeen Wings – Peter Krieger, forward, Aberdeen Wings – Aaron Nelson, goaltender, Bismarck Bobcats.
North Division Star of the Week: Jon Carkeek, defenseman, Springfield Jr. Blues
The Jr. Blues moved into a three-way tie for 5th place in the North Division thanks to a successful trip to Alaska. Part of that was a weekend split in Fairbanks, one of the toughest places to play in the NAHL. Defenseman Jon Carkeek, 19, was a big help from the blueline as recorded a goal and two assists for three points as Springfield took three of four points against the Ice Dogs. The native of Phoenix, Arizona was at his best in Friday's 6-3 win as he recorded a three-point night and was a +3 in a 6-3 win. The next night, Carkeek (6'0/190) played well defensively in a 2-1 shootout loss. "Jon turned the corner in December and really started to get accustomed to the level of hockey that the NAHL plays at," said Jr. Blues head coach Tony Zasowski. "He does the little things… works hard in the corners, blocks shots, makes good passes, which all have helped in our recent success as a team."
2nd Star: Austin Priebe, goaltender, Janesville Jets
Honorable Mention (alphabetical): Todd Koritzinsky, forward, Janesville Jets – Jaycob McCombs, forward, Johnstown Tomahawks – Jeff McFarland, forward, Springfield Jr. Blues – Alex Okicki, goaltender, Kalamazoo Jr. K-Wings – Robbie Payne, forward, Kalamazoo Jr. K-Wings.
South Division Star of the Week: Scott Conway, forward, Texas Tornado
Tornado forward Scott Conway has proven in a short period of time that he is one of the best rookies and younger players in the NAHL. Having just turned 18-years-old last week, Conway (5'11/185) again showed off his skill this past weekend as he led Texas to a weekend sweep of Odessa and in the process increased the Tornado winning streak to eight games. The native of Kessimmee, Florida, had a six-point weekend in the two wins, which included two goals, four assists and a +5 rating. On Friday, Conway had a goal and two assists in a 10-2 win. On Saturday, he duplicated his performance on Friday with another goal and two more assists. For the season, Conway is tied for 1st in team scoring with 45 points and is tied for 4th in NAHL scoring. "Scott has really worked hard to get where he is right now and is very creative with the puck," said Tornado head coach Tony Curtale. "However, as good as he has been offensively, it is because he pays attention to both ends of the ice and he is a very good, all-around two-way player."
2nd Star: Michal Pastor, defenseman, Topeka RoadRunners
Honorable Mention (alphabetical): Ryan Cole, forward, Amarillo Bulls – Lawrence Cornellier, forward, Odessa Jackalopes – Sean Gaffney, forward, Topeka RoadRunners – Eliot Grauer, forward, Wichita Falls Wildcats – Ben Myers, goaltender, Corpus Christi IceRays – Nick Neville, defenseman, Texas Tornado – TJ Sarcona, forward, Amarillo Bulls – Rudy Sulmonte, forward, Corpus Christi IceRays.
West Division Star of the Week: Nick McKee, forward, Fresno Monsters
It was quite the NAHL debut for junior hockey veteran Nick McKee. After spending the last two seasons playing for Fresno's Tier III junior teams, the 20-year-old got his shot in the NAHL as the Monsters travelled to take on 1st place Wenatchee. The native of Bakersfield, California, helped the Monsters to a weekend road sweep of the Wild and in the process likely earned a regular spot playing in the NAHL for the rest of the season. McKee (5'8/175) played well in his debut on Friday night, but went scoreless. The next night, he almost single-handedly won the game for the Monsters as he scored all three Fresno goals in regulation and then scored the shootout winner for a 4-3 shootout win and sweep of the Wild. "This is how the process is supposed to work," remarked Monsters head coach Eric Ballard. "Nick is a guy who has been working his tail off for our Tier III team, he has paid his dues and he earned his opportunity and made the most of it. He put himself in great position to score goals and when he got his chances, he buried them. He played with a lot of hunger and desire and it was very cool to see."
2nd Star: Mikhail Bushinski, forward, Kenai River Brown Bears
Honorable Mention (alphabetical): Nick Hinz, defenseman, Fairbanks Ice Dogs – Trevor Husch, forward, Fresno Monsters – Devin Loe, forward, Fairbanks Ice Dogs.