Sunday Final: Fighting Falcons sweep Tomahawks
September 10, 2012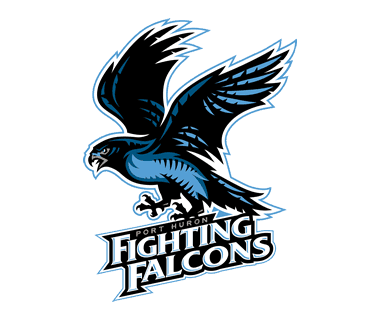 Johnstown 2 @ Port Huron 4 - It took until the 3rd period, but the Port Huron Fighting Falcons broke a scoreless tie with four goals in the final frame on their way to a 4-2 win and a home weekend sweep of the Johnstown Tomahawks on Sunday at McMorran Arena in Port Huron.
The first two periods was a goaltending duel between the Tomahawks Chris Truehl, who was making just his second NAHL appearance and Port Huron's Max Milosek. Port Huron penalty trouble late in the 2nd period led to the first goal of the game early in the 3rd period as Casey Nelson struck on the power play for the Hawks.
The lead would not last long as six minutes later, Nico Sierra scored a power play goal for the Falcons to tie the game at 1-1. The game appeared headed to overtime, but like they did the night before, the Falcons would score in bunches to put the game out reach. Kody Polin gave the Falcons a 2-1 lead with a power play goal with three minutes remaining. Just :33 seconds later, Matthew Uvodich would put the game out of reach with a goal and a 3-1 lead with two and a half minutes to go. Johnstown cut the lead to 3-2 with 1:46 to go as Jeff Bergh lit the lamp, but it would not be enough as Alex Acrhibald's empty-netter cemented the 4-2 win.
Truehl made 26 saves in the loss, while Milosek made 29 saves in the win. The Fighting Falcons sweep puts them atop of the North Division standings with a perfect 2-0 record, while Johnstown fell to 0-1-1. Next up for both teams in the NAHL Showcase.