NAHL announces Combat Hockey 3 Stars of the Week
November 21, 2011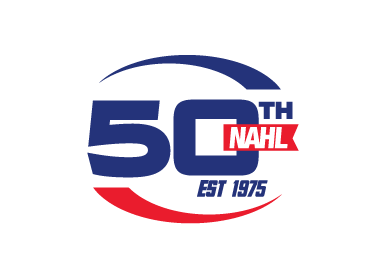 The North American Hockey League (NAHL) today announced the Three Stars of the Week presented by Combat Hockey for the week ending November 20, 2011. The Three Stars of the Week is a weekly feature during the 2011-12 regular season that honors the top performing players each week of the regular season as nominated by their respective teams.
1st Star: Tony Kujava, goaltender, Janesville Jets
Over the past weekend, Kujava was perfect for the Jets in their home sweep of the Coulee Region Chill. Kujava shutout the Chill both on Friday and Saturday night and moved his currently shutout streak to 190+ minutes. On Friday, Kujava stopped all 17 Chill shots in a 4-0 win. On Saturday, the 19-year-old netminder from Green Bay, Wisconsin, made stopped all 15 shots in regulation and overtime before stopping four of five shooters in a 1-0 shootout win for the Jets. The two shutouts gave Kujava his league-leading sixth and seventh shutouts of the season. Kujava is third in the NAHL in goals against (1.53), second in save percentage (94.0%) and has the best record in the league at 14-1-1. "Tony was sick for a time a few weeks ago, but he has bounced back very nicely and a big reason why we are winning right now," said Jets head coach Dane Litke. "Saturday was one of those classic games with both goalies playing unreal. Tony didn't face as many shots, but he kept his composure throughout the game and came up big in the shootout."
2nd Star: Brooks Behling, forward, Amarillo Bulls
Amarillo put together a 3-1-0 record this past week with a grueling four road games in four nights. Behling, the NAHL's leading goal scorer with 17 goals this season, played in three of those games and did not disappoint. On Thursday, the 20-year-old Behling recorded a shorthanded goal and added three assists for a four point night in Amarillo's 8-2 win in Odessa. A night later, the native of Pittsburgh, Pennsylvania, got even better as he recorded a power play goal, another shorthanded goal and the overtime-winning goal for a hat-trick as the Bulls beat the Texas Tornado, 4-3. On Saturday, Behling started the game, but was injured forcing him out of the early in the game along with Amarillo's win on Sunday in Corpus Christi. Behling piled up four goals, including two shorthanded, and three assists for seven points in his three games played during the week. "Brooks is continuing to play well and playing with a sense of confidence," said Bulls head coach Dennis Williams. "He is getting dirty goals and putting up numbers. We are putting him into more situations to be successful, and he has worked hard to become a legitimate leader and goal-scorer."
3rd Star: Gabe Levin, forward, Fairbanks Ice Dogs
Fairbanks scored a total of six goals in their two-game weekend road sweep against the Wenatchee Wild, and Ice Dogs forward Gabe Levin, 19, helped in the scoring of five of the six goals during the weekend to earn third star honors. On Friday, Levin scored a power play goal and assisted on two others (including the game-winner) as Fairbanks beat Wenatchee, 4-1. On Saturday, the forward from Marino del Ray, California, assisted on the game-winning goal, then scored a highlight reel goal on the power play as the Ice Dogs completed the sweep with a 2-0 shutout win. For the weekend, Levin had two goals and three assists for five points in two games. He is third in league scoring with 33 points and leads in the NAHL in assists with 25. "Gabe has demonstrated great work ethic and leadership qualities as our team captain," said Ice Dogs head coach Trevor Stewart. "I think overall we played better as a team this past weekend than we did a few week ago at home against Wenatchee and Gabe was a big part of that. He is a 4.0 student and a sure- fire future Division I hockey player."
Other players nominated were (alphabetical): Jayson Angus, forward, New Mexico Mustangs – Will Badner, forward, Traverse City North Stars – Karl Beckman, defenseman, Amarillo Bulls – Marc Biggs, forward, Texas Tornado – Tyler Bruggeman, goaltender, Austin Bruins – Aaron Davis, goaltender, Coulee Region Chill – Robbie Davis, forward, Topeka RoadRunners – Rick DeRosa, forward, Port Huron Fighting Falcons – Frank Dichiara, forward, St. Louis Bandits – Connor Girard, goaltender, Springfield Jr. Blues – Austin Hervey, forward, Kalamazoo Jr. K-Wings – Rance Hughes, forward, St. Louis Bandits – Joakim Jutras, goaltender, Texas Tornado – Patrick Kinkopf, defenseman, Alaska Avalanche – Mitch Kontny, forward, Alaska Avalanche – Jacob Meyers, goaltender, Alexandria Blizzard – Ian Miller, forward, Port Huron Fighting Falcons – Alex Okicki, goaltender, Kalamazoo Jr. K-Wings – Eric Rivard, forward, Traverse City North Stars – Jake Stafford, goaltender, New Mexico Mustangs – Trevor Waldoch, defenseman, Austin Bruins.