Janesville forward Taylor makes NCAA DI commitment
September 21, 2023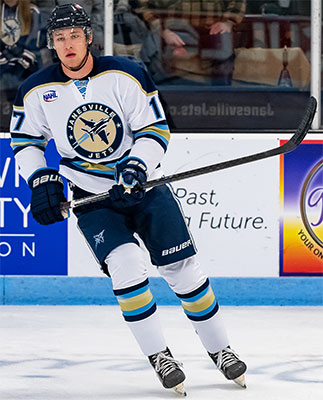 The Janesville Jets, proud members of the North American Hockey League (NAHL), are pleased to announce that forward James Taylor has announced his commitment to play NCAA Division I hockey for the University of Maine in Hockey East. He is the Jets first NCAA Division I college commitment of the early 2023-24 season.
"I'm extremely happy to commit to the University of Maine," said Taylor. "Being part of a strong organization is important to me and Janesville has done a great job so far setting me up for success. I'd like to thank all my coaches and teammates who have supported me along the way."
The University of Maine is located in Orono, Maine and it is truly a breathtaking campus. It is known as one of the most beautiful campuses in the country in the fall. The Maine Black Bears Men's Division 1 hockey team was founded in 1977. Since then, they have appeared in 11 Frozen Fours and have won two national championships. Last season the Black Bears posted a 15-16-5 record overall and 9-11-4 in conference to finish seventh in Hockey East. With 17 returners to the program this year, the Black Bears look to push back over a .500 record for the 2023-24 season. The Black Bears are currently led by head coach Ben Barr, who has over eighteen years coaching at the Division I level.
This is the nineteen-year-old's first season with the Janesville Jets. In his first five games in the NAHL he has recorded one goal and had three assists for four points. Taylor scored his first goal versus the Danbury Jr. Hat Tricks at the NAHL Showcase this past week. Putting the Jets on the scoreboard first with a tip in front from Nick Sajevic on the power play.
Head Coach Joe Dibble noted that, "James has been a great addition to the Jets this year. His size and presence on the ice plays a very crucial part in our offense, especially on the power play."
His size is a factor on the ice, measuring in at 6'5" and 225, he is a force to be reckoned with in front of the net.
Taylor, 19, was born and raised in Ottawa, Ontario. He has played every season of competitive hockey in Ottawa, until making his way down south to Janesville, Wisconsin this season.
Click here for an updated NAHL to NCAA commitment list