Northeast forward Schubert makes NCAA commitment
March 17, 2023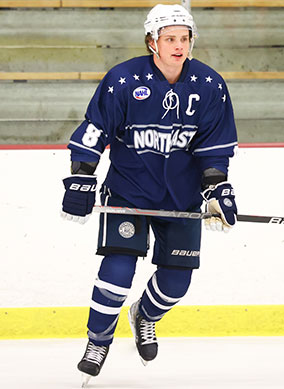 The Northeast Generals, proud members of the North American Hockey League, are pleased to announce that forward and captain Joe Schubert has committed to play NCAA Division III hockey for Norwich University.
Schubert, 20, joined the Generals after spending a season in the NAHL with the Odessa Jackalopes and New Jersey Titans in 2020-21.
So far during the 2022-23 season, Schubert has had a career-best season, recording 24 points in 48 games played.
While with the Generals the past two seasons, the 6'0/191 lbs. Schubert has played 104 games where he has tallied 22 goals, 24 assists and 46 points. In all, Schubert has played 144 NAHL Regular Season Games while accumulating 27 goals, 32 assists, and 59 points.
Schubert will join ex Generals Joe Nagle, Clark Kerner and Brady Gaudette on the Cadets. The Cadets are a perennial contender at the NCAA DIII level and have helped numerous players continue their careers after college.
"Joe is a great young man who I am so proud to have worn the C for the Generals. His work ethic is second to none and he sets a great example for his teammates. He has a knack for the big moments and I can't wait to see him continue that at Norwich," said Generals Head Coach Bryan Erikson.
Added GM Matt Dibble, "I have had the pleasure of knowing Joe for many years. He is a long time Roc City Elite player for me and is such a great person. He works hard, is fun to be around and sets to tone for his teammates with his relentless work ethic. I am extremely proud of Joe and can't wait to watch him in a Cadets uniform!"
Click here for an updated NAHL to NCAA commitment list