Norsemen win streak hits 5 with Sunday sweep of Bulls
January 30, 2023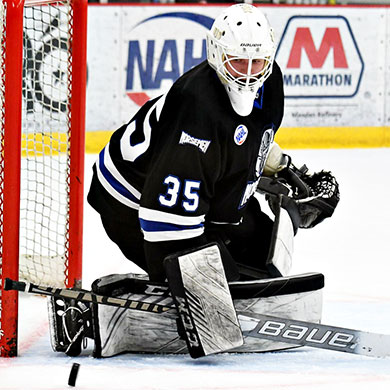 St. Cloud 2 @ North Iowa 1 – Thanks to 33 saves from netminder Ethan Dahlmeir, the St. Cloud Norsemen extended their winning streak to a season-high five straight games as they completed a three-game weekend sweep of the North Iowa Bulls thanks to a 2-1 win in the lone NAHL game on Sunday.
Tyler Dysart was a factor in both Norsmen goals, which both came in the 1st period. On the first goal of the game, he assisted on the opening goal of the game from Broten Sabo just over a minute into the contest.
Late in the 1st period, Dysart would then score a power play goal to make it a 2-0 game.
The Bulls found of the back of the net midway through the 2nd period as Jack Seaverson scored his 4th goal of the season. However, that would be all the scoring allowed in the contest.
Bulls goalie Mitch Day made 17 saves in the loss.