January 25, 2023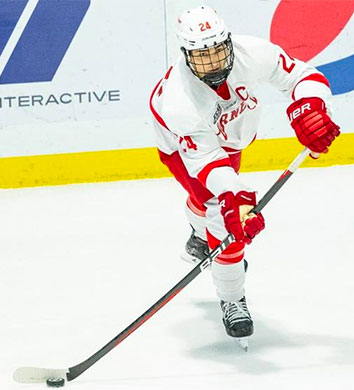 Atlantic Hockey Defensive Player of the Week: Brandon Koch, D, Air Force (Coulee Region Chill) - Air Force's Brandon Koch recorded three points on a goal and two assists to help Air Force end a nine-game losing streak in the Falcons' series against Niagara. The Hastings, Minn., native had the primary assist on the game-winning goal in Friday's 6-3 victory and scored an empty-netter to give the Falcons a two-goal lead late in the third period. On Saturday, he dished out the primary assist on Air Force's only goal of the night. Koch blocked six shots in the two games, his most in any series this season, including a season-high four in game two. This is his third career Atlantic Hockey weekly honor and his second this season.
Atlantic Hockey Goalie of the Week: Jacob Barczewski, Canisius (Janesville Jets) - Canisius' Jacob Barczewski posted a 1.44 goals-against average and a .950 save percentage in helping the Golden Griffins secure four points in its Atlantic Hockey series at Bentley. The O'Fallon, Mo., native stopped 23-of-24 shots in the series opener, including the final 21 shots he faced, a 5-1 victory over the Falcons. On Saturday, he turned aside 34 shots in a 2-2 tie in the series finale for his fifth 30+ save game of the season. This is his eighth career Atlantic Hockey weekly honor and his first this season.
Atlantic Hockey Rookie of the Week: Alexander Malinowski, F, AIC (Fairbanks Ice Dogs) - AIC's Alexander Malinowski had a point in all three games for AIC during the week, registering a goal and two assists as the Yellow Jackets posted a 2-1 mark on the road trip. The Linkoping, Sweden, native set up the tying goal late in the third period at Army West Point on Jan. 17 as AIC went on to an overtime victory. In Friday's series opener at Mercyhurst, Malinowski scored AIC's only tally of the night on the power-play, then set up the opening score in the Yellow Jackets' 2-1 win in the series finale on Saturday. This is his second career Atlantic Hockey weekly honor.
CCHA Forward of the Week: Mack Byers, St. Thomas (Philadelphia Rebels) - Byers led all CCHA skaters with four points on three goals and one assist, helping St. Thomas to a four-point weekend against first-place Bowling Green. On Thursday, he scored two goals, including the game-winner, with one assist, four shots on goal and one block at the defensive end, leading the Tommies to a 4-2 victory. He then scored a goal on Friday, with three shots. For the week, he was +4 while totaling seven shots and won 52.4% (22-of-42) of his face-offs.
CCHA Rookie of the Week: Lleyton Roed, Bemidji State (Minnesota Magicians) - Roed led conference freshmen with two points on one goal and one assist last week, finishing even on the weekend as Bemidji State split with Northern Michigan. Doing all of his damage on Friday, he netted a second-period goal after assisting on one in the first, en route to a 4-0 Beavers victory. He then recorded a game-high six shots on goal in a 5-2 loss on Saturday. Earning his conference-leading third Rookie of the Week honor, he continued his streak of notching at least one point in every weekend since November 11-12.
ECAC Forward of the Week: Matt Hubbarde, Dartmouth (Jamestown Rebels) - Matt Hubbarde (So., Dartmouth) had a five-point week for the Big Green, helping the squad to their first weekend sweep of the season as they brought down both Brown and Yale on the road. On Friday, Hubbarde assisted on Dartmouth's equalizer against Brown, then followed up the performance with a four-point night on Saturday against Yale, during which he contributed to all four of the Big Green's goals. Hubbarde scored a goal of his own on the power play and added three helpers in the team's 4-0 shutout of the Bulldogs.
ECAC Defender of the Week: Sam Malinski, Cornell (Bismarck Bobcats) - Sam Malinski (Sr., Cornell) was prolific from the blue line this week for the Big Red, tallying assists on five of the team's seven goals in their weekend sweep of Quinnipiac and Princeton. On Friday, Malinski had helpers on both the power play and at even strength as Cornell handed Quinnipiac their first league loss of the season, a 4-0 shutout that stunned the Bobcats. Saturday's contest saw Malinski add assists on all three of his team's goals in their 3-2 defeat of Princeton, delighting the Lynah faithful with three straight power play goals.
ECAC Goalie of the Week: Ian Shane, Cornell (Bismarck Bobcats) - Ian Shane (So., Cornell), fresh off his Hobey Baker Memorial Award nomination, helped the Big Red to a huge weekend sweep of top-ranked Quinnipiac and Princeton. Shane made 49 saves through 120 minutes of play, including recording a 21-save shutout of the league and national leader Quinnipiac for his third clean sheet of the season. In two contests, Shane allowed just two goals and finished the week with a .961 save percentage.