NAHL announces Combat Hockey 3 Stars of the Week
October 31, 2011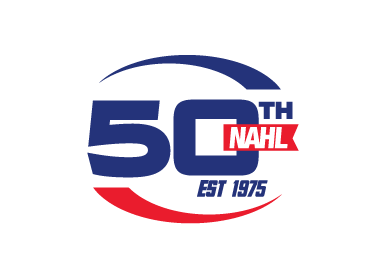 The North American Hockey League (NAHL) today announced the Three Stars of the Week presented by Combat Hockey for the week ending October 30, 2011. The Three Stars of the Week is a weekly feature during the 2011-12 regular season that honors the top performing players each week of the regular season as nominated by their respective teams.
1st Star: Greg Lewis, goaltender, Wenatchee Wild
Perhaps no player in the NAHL had experienced a more peculiar start to the season than Greg Lewis. Lewis, 20, amazingly had yet to win a game heading into this past weekend despite being ranked 2nd in NAHL goaltending. That unenviable statistic was swiftly brought to an end with an exclamation point this past week, as Lewis not only won both his starts on the road at Alaska and Fairbanks, but also posted back-to-back shutouts in the process. "I thought it was amazing he hadn't won yet and could only compare it to a starting pitcher who was firing on all cylinders, but hadn't won because of run support," said Wild head coach John Becanic. On Wednesday, Lewis stopped all 29 shots as the Wild cruised to a 7-0 road win at Alaska. The stiffer test came on Saturday night for the Mars, Pennsylvania native as the Wild looked for a weekend sweep at Fairbanks. Lewis would not disappoint, stopping all 22 Ice Dogs shots for his second shutout of the week in as many starts. "I think our guys were feeling a little guilty that he had played so well and no wins to show for it," continued Becanic. "Greg has played as good as we could have asked this season and it was nice to see him finally get those wins. He has always been a confident goalie, but this was important for all of us that we had a week like we did."
2nd Star: Ben Carey, forward, Wenatchee Wild
Wenatchee's four wins (all on the road) this past week, also came with an offensive upside. Wenatchee scored 21 goals in their four wins during the week and were paced offensively by Ben Carey. Carey, 18, who is an Air Force Academy recruit, had six goals during the week along with two assists for eight points in Wenatchee's sweep of both Alaska and Fairbanks. The majority of Carey's offensive output came in the weekday wins over Alaska, in which he was named the game's #1 star both nights. On Tuesday, Carey had two goals and an assist in an 8-4 win. On Wednesday, the Centennial, Colorado native had a hat-trick (including the game-winning goal) and an assist in a 7-0 win. In Fairbanks, Carey was held pointless on Friday night, but on Saturday struck for Wenatchee's first goal (also the game-winner) in a 3-0 win. "What's important about Ben's play right now is that his goals are coming at key times in the games. Not just the game-winners, but goals scored early on in the games to give us momentum," said Wild head coach John Becanic. "He is getting better at not only shooting more, but more importantly, hitting the net. He is earning his goals."
3rd Star: Robbie Payne, forward, Kalamazoo Jr. K-Wings
Kalamazoo went 2-1-0 in three road games this week in Jamestown and in the process, vaulted the Jr. K-Wings into 1st place in the NAHL's North Division. Leading the way for Kalamazoo is forward Robbie Payne, 18. After recording an assist in a 5-2 loss on Friday, Payne recorded an assist on the game-winning goal on Saturday's 2-1 win. However on Sunday, Payne had a game for the ages. The forward from Gaylord, Michigan exploded for three goals (including the game-winner) and four assists for an NAHL-season high seven points in Kalamazoo's wild 8-7 win over Jamestown. "I think Robbie is just a naturally gifted scorer," said Kalamazoo head coach Marc Fakler, who has his expansion Jr. K-Wings in 1st place. "He struck lightning in a bottle on Sunday, but he has put in a lot of hard work to make games like that happen." Payne's career night included a goal in each period, including the game-winner with less than seven minutes remaining in the 3rd period. Payne currently is tied for the NAHL lead in goals with 13.
Other players nominated were (alphabetical): Jordan Bancroft, forward, Janesville Jets – Brooks Behling, forward, Amarillo Bulls – Jeff Bergh, defenseman, Alaska Avalanche – Paul Byrne, defenseman, Springfield Jr. Blues – Gage Christianson, forward, Alaska Avalanche – Frank DeAugsutine, forward, Bismarck Bobcats – Dan Dupell, forward, Topeka RoadRunners – Christian Folin, defenseman, Austin Bruins – Taylor Herndon, forward, Texas Tornado – Ben Jaremko, forward, Coulee Region Chill – Jordan Lovick, forward, Texas Tornado – Brett Lubanski, forward, Kenai River Brown Bears – Ken MacLean, goaltender, Kalamazoo Jr. K-Wings – Peter Megariotis, goaltender, Port Huron Fighting Falcons – Jacob Meyers, goaltender, Alexandria Blizzard – Sean Muller, forward, Kenai River Brown Bears – Tyler Parks, goaltender, Springfield Jr. Blues – John Rey, defenseman, Amarillo Bulls – Tyler Richter, forward, Bismarck Bobcats – Kyle Schempp, forward, Traverse City North Stars – John Simonson, forward, Austin Bruins.