NAHL announces Combat Hockey 3 Stars of the Week
October 24, 2011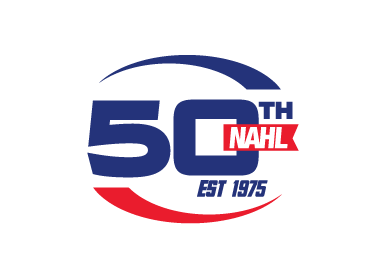 The North American Hockey League (NAHL) today announced the Three Stars of the Week presented by Combat Hockey for the week ending October 23, 2011. The Three Stars of the Week is a weekly feature during the 2011-12 regular season that honors the top performing players each week of the regular season as nominated by their respective teams.
1st Star: Anthony Stolarz, goaltender, Corpus Christi IceRays
Stolarz, 17, who was placed on The Hockey News hot list last month, showed this past week why he is such a highly-touted goaltender as he and the Corpus Christi IceRays fashioned two home wins over the 2nd place Texas Tornado. The two wins extended the IceRays win streak to a season-high five games as they are now just two points out of 3rd place in the South Division. On Wednesday, Stolarz allowed just one goal and made 26 saves in a 3-1 win over the Tornado. On Thursday, Stolarz got the start again and this time was even more spectacular in the game. Stolarz, who hails from Jackson, New Jersey made 39 saves as the IceRays were outshot 40-19, but thanks to Stolarz, came away with a 2-1 win as Stolarz earned 1st star honors. For the week, Stolars went 2-0-0, stopped 65 of 67 shots for a 97.0% save percentage and posted a goals against average of 1.00. "For a 17-year-old goaltender, I think Anthony plays with a certain type of confidence and swagger that his teammates have rallied around," said IceRays first-year head coach Justin Quenneville. "I think more importantly is that each and every start, he gives is a chance to win and the team has played better recently knowing that fact."
2nd Star: Kevin Novakovich, forward, Alaska Avalanche
Novakovich, 20, was instrumental in Alaska's three-game home sweep of the defending Robertson Cup champion Fairbanks this past weekend. The forward from Saratoga, California had three goals, including two game-winning goals on back-to-back nights and two assists as Alaska took a three game set from Fairbanks to increase their winning streak to seven straight games. On Thursday, Novakovich scored the third Alaska goal and assisted on another in a convincing 6-1 win. The next night, he scored the game-winning goal with just over five minutes remaining in the game to give Alaska a close 4-3 win. On Saturday, Novakovich again would make the difference, as Alaska came back from a 3-1 deficit to win, 5-4. Novakovich set up the goal that tied the game 3-3, and then eventually would score his second consecutive game-winning goal with just under seven minutes remaining in the game. "Kevin has really stepped his game up during our winning streak," said Avs head coach Corey Millen. "He is making his teammates better and our recent success has been a full team effort thanks to the kind of leadership that Kevin is displaying on a game-by-game basis."
3rd Star: Chad Hennum, forward, Odessa Jackalopes
Since being acquired in a trade with Aberdeen in late September, Hennum, 20, has flourished with the Jackalopes and it was none more apparent this past weekend as the forward from Elk River, Minnesota struck for four goals (an NAHL weekend high) and an assist as the Jackalopes split a pair of home games over the weekend. Hennum's breakout game came on Thursday night at home as he recorded a hat-trick, including the game-winning goal and an assist in a 6-1 win over New Mexico. On Saturday, Hennum had Odessa's only goal in a close 2-1 loss against 1st place Amarillo. In eight games with Odessa, Hennum has nine points. "I thought Chad played very well this past weekend," said Jackalopes head coach Paul Gillis. "He can put the puck in the net and score goals which is something that is at a premium in this league. I think we are becoming more organized as a team and getting better by the weekend thanks to performances like the one Chad had."
Other players nominated were (alphabetical): Karl Beckman, defenseman, Amarillo Bulls – Adam Chapie, forward, New Mexico Mustangs – Anthony Coles, forward, Jamestown Ironmen – Dan Dupell, forward, Topeka RoadRunners – Bodhi Engum, goaltender, Alaska Avalanche – Chris Fischer, forward, Austin Bruins – Alex Frere, forward, Kenai River Brown Bears – David Gandara, forward, Chicago Hitmen – Gregg Gruehl, goaltender, Amarillo Bulls – Connor Hellebuyck, goaltender, Odessa Jackalopes – Nick Kohn, goaltender, Chicago Hitmen – Tony Kujava, goaltender, Janesville Jets – Connor McBride, forward, Janesville Jets – Peter Megariotis, goaltender, Port Huron Fighting Falcons – Steve Obarzanek, forward, Aberdeen Wings – Alex Okicki, goaltender, Kalamazoo Jr. K-Wings – Robbie Payne, forward, Kalamazoo Jr. K-Wings – Eric Purcell, forward, Corpus Christi IceRays – Seth Ronsberg, forward, Alexandria Blizzard – Mitch Sand, defenseman, Port Huron Fighting Falcons – Cory Ward, forward, Aberdeen Wings – AJ White, forward, Michigan Warriors – Ryan White, forward, Topeka RoadRunners.