Schedules released for 18U Top Prospects and Prospects Challenge
May 18, 2022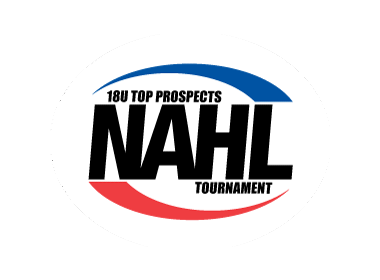 The North American Hockey League (NAHL) is pleased to announce that will host the 2022 18U Top Prospects Tournament and 2022 NAHL Prospects Challenge, bringing together some of the top hockey talent from multiple hockey organizations, which will both be held in cooperation with the 2022 NAHL Robertson Cup Championship.
All games can be watched live on HockeyTV
The NAHL 18U Top Prospects Tournament consists of six different teams made up of 18U players, including those from the North American Prospects Hockey League (NAPHL), the North American 3 Hockey League (NA3HL), the Tier 1 Elite League (T1EHL), the NAHL Combines, and Minnesota High School Hockey.
The 18U Top Prospects Tournament will take place from May 20-22, at Fogerty Arena in Blaine, Minnesota. Each team will consist of a 20-man roster (12 forwards, 6 defensemen and 2 goalies). 120 total players will be spread amongst the six teams, who will play in four games each during the event, which will include three round-robin games, followed by consolation and championship games.
Click here for an 18U Top Prospects Schedule
The NAHL Prospects Challenge is an extension of the NAPHL Fall League, in which 18U and 16U teams, will be put together and represented by NAHL teams. The NAHL Prospects Challenge was strategically designed to take place during the NAHL's Robertson Cup National Championship with all games in the area, which will allow more NAHL teams to participate and attract prospects from a greater geographical area.
The event is designed to maximize exposure for the players and bring together teams for likeminded and enhanced competition. Each NAHL member club will be eligible to enter one 18U team and one 16U team in the event. Teams will play a three-game round robin with top teams advancing and remaining teams playing a consolation game on Sunday. Games will take place at the Super Rink in Blaine and the TCO Sports Garden in Vadnais Heights from May 21-23.
Click here for an 18U Prospects Challenge Schedule
Click here for a 16U Prospects Challenge Schedule
Over the past five seasons, the NAHL has hosted the Robertson Cup National Championship in the state of Minnesota (2016-Edina, 2017-Duluth, 2018-22 Blaine). Doing so has not only brought everyone to a central location to compete for the oldest junior hockey trophy in the United States, but it has also drawn the interest of scouts. Over 100 NHL, NCAA, and NAHL scouts now annually attend the Robertson Cup, with dozens of NAHL players making NCAA commitments following the event each season.